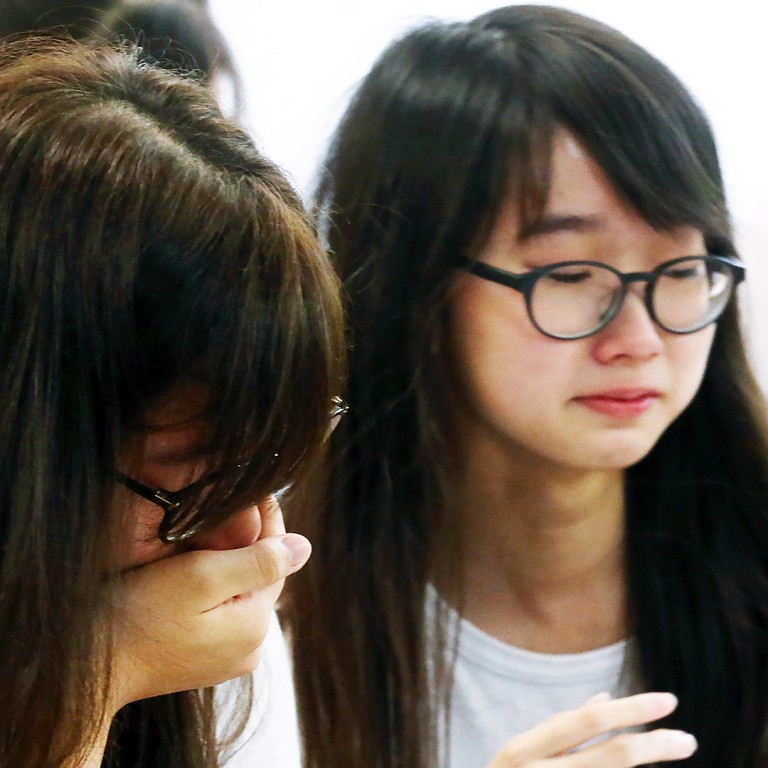 Depression hits half of Hong Kong secondary pupils and a quarter have considered suicide, study finds
Survey finds 51 per cent of respondents showed various symptoms
Just over half of secondary school pupils showed signs of depression, according to a city-wide survey covering about 10,000 pupils.
Experts described the situation as "serious", with almost 20 per cent of the interviewed youngsters exhibiting moderate to severe symptoms.
Researchers from Baptist Oi Kwan Social Service and the Institute of Education interviewed 10,140 Form One to Form Six pupils in 22 schools through questionnaires between October last year and April this year.
A total of 51 per cent of pupils had an inclination to depression at different levels, according to the survey, which covered schools in 11 districts.
"We do not see a rising trend in depression but the numbers are consistently high," said Dr Chan Siu-miu, assistant professor in HKIEd's department of psychological studies.
"Having 12.9 per cent of pupils moderately depressed and 6.5 per cent severely depressed is a serious condition," said Chan, who has conducted similar studies with the social service group in the past four years.
The most common signs of depression found among interviewees were crying, change of appetite and change of sleeping pattern.
"Youngsters might not be aware of the physical symptoms ... They might not understand why they get irritated easily," said Chan.
Hong Kong prisoners get more exercise time outside than our schoolchildren, research reveals
Almost 24 per cent of pupils had considered committing suicide two weeks before the survey, with around 1.9 per cent saying they would really do so if they had a chance.
Meanwhile, 29.3 per cent of pupils showed signs of anxiety, such as worrying about the future and being concerned that they were not good enough.
Pupils with both severe depression and a high level of anxiety comprised 10.3 per cent of those interviewed.
Studies, pressure from the Diploma of Secondary Education exam and worries about future prospects were the three issues that troubled pupils the most.
Depression and anxiety were found to be more common among girls.
"Girls' reaction to pressure was usually stronger … They might have a lower self-esteem and think they are not capable," Chan said.
Boys performed better in terms of resilience - the ability to adapt to changes effectively and flexibly - yet scored lower in building a positive mindset than girls.
Carol Lee Kit-lo, service coordinator for Baptist Oi Kwan Social Service, said activities such as spending time with family and friends and exercising regularly could help youngsters fight depression and anxiety.
"For those who do these activities more frequently, their symptoms [of depression and anxiety] are lower," said Lee.
Lee suggested that schools should use assessment tools, such as questionnaires, to measure the mental health of their pupils.
She also said intervention by social workers should be provided in severe cases and workshops could be offered to introduce the importance of mental health.
This article appeared in the South China Morning Post print edition as: Depression hits secondary pupils