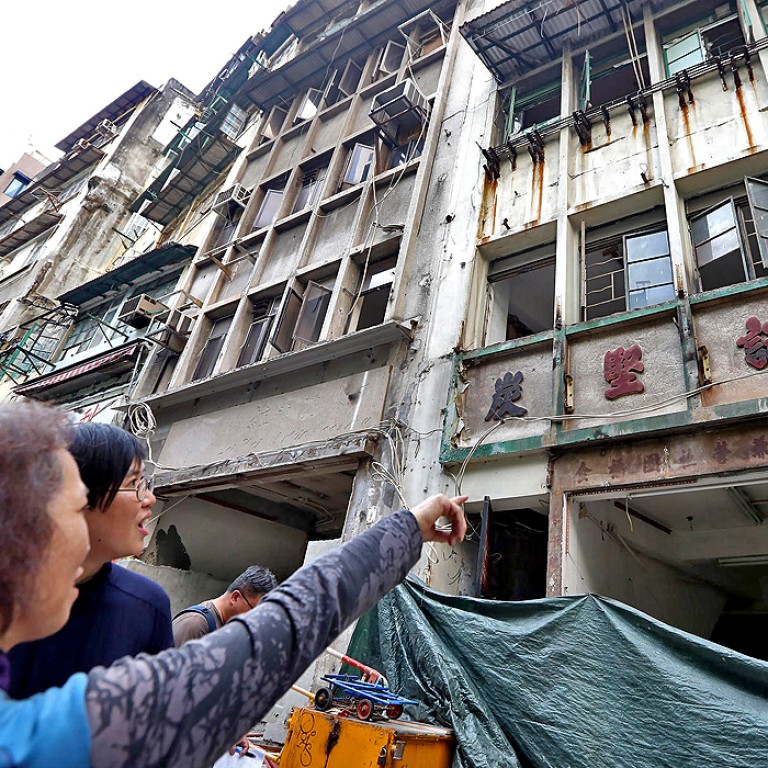 Save these colonial ruins: activists urge preservation of old Hong Kong buildings near Graham Street
Fears for forgotten buildings as nearby Graham Street market revamped
A group of community activists is calling on the government to assess and protect a row of ruined buildings hidden near the Mid-Levels escalator and possibly one of the earliest settlements in the former British colony.
It has also discovered an old shop front, which it says offers a unique insight into trading in the city decades ago.
Covered in bushes, the area of No. 27-35 Cochrane Street in Central at first sight looks abandoned. But after walking through a narrow alley accessible only from nearby Wellington Street, a row of old brick walls is visible.
Central and Western Concern Group consulted a heritage restoration expert, Wong Hung-keung, who said the walls may be the remains of tenement houses that could have been built between the 1830s and 1911.
On nearby Peel Street, where the Urban Renewal Authority plans to demolish old buildings to make way for a residential block, the concern group found an old drainage channel and a storefront bearing the sign "Ying Kee Hard Coal". Wong estimated the sign was at least 70 years old and showed that coal was once traded in Hong Kong.
The area around the walls is also designated for redevelopment by the URA as part of a plan to revamp the Graham Street market. Construction has already begun nearby, but the area near the walls has not been sealed off. Part of the area is used by restaurant kitchen staff for cleaning food and storage.
Central and Western Concern Group convenor Katty Law Ngar-ning said: "The Urban Renewal Authority said they have done a heritage assessment of the area, but they never mentioned this area. Do they even know the walls exist and why they are there?"
Law said she hoped the government could assess the historical significance of the walls and sign and make plans to preserve them after consulting the public.
"My fear is the Urban Renewal Authority will damage the walls before any assessment is done."
The Graham Street bazaar is one of the oldest wet markets in Hong Kong. Vendors have been selling fresh food like vegetables and seafood for over 140 years, attracting locals and tourists.
In 2007, the URA unveiled a plan to replace the street market and surrounding sites with housing, retail space, offices and a hotel at a cost of HK$3.8 billion.
In reply to Post inquiries, a URA spokesperson said there had never been a suggestion to preserve the space near Cochrane Street or the shop sign. The URA was not required to submit a heritage impact assessment report and the blueprint for its plan was approved by the Town Planning Board in 2007.
The Antiquities and Monuments Office said it would study the historical value of buildings after receiving suggestions from the public.