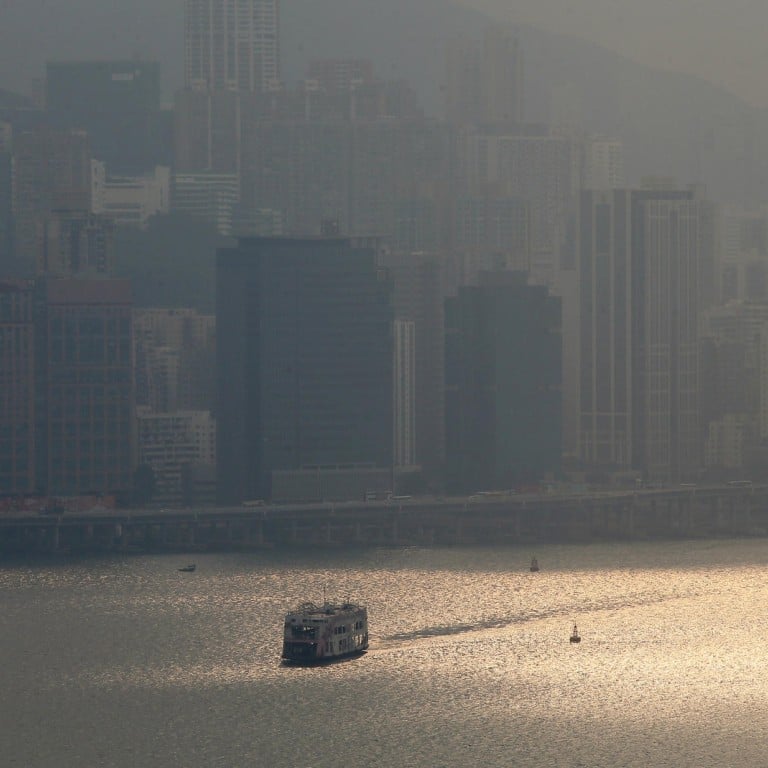 Bad air days: three Hong Kong districts rank worst for air pollution
Green group says residents of Tuen Mun, Kwun Tong and Tung Chung suffer most; it also highlights dangers from higher levels of ozone
Those who live and work in Tuen Mun, Kwun Tong and Tung Chung spent more hours exposed to bad air in the first 11 months of the year than anywhere else in the city, according to a green group's preliminary analysis.
On average, the duration of bad air days recorded by the Air Quality Health Index was longer than what was recorded on the previous air pollution index, which was in effect between 2000 and 2013. Kwun Tong recorded the longest consecutive amount of time with "serious" air pollution - the highest level possible - at 48 hours.
In terms of recording "high" readings or above, Tuen Mun and Tung Chung ranked first and third for the second consecutive year, based on monitoring stations in those districts. They clocked 395 and 334 hours respectively. Kwun Tong was second with 344 hours, ousting Yuen Long, which came second last year.
The government says a reading of "high" on the new index means that children, elderly people and those with heart or respiratory illnesses should reduce physical exertion and outdoor activities, and they should stay indoors if a "serious" alert is in place.
Cheng Luk-ki, head of scientific research at non-profit group Green Power, said ozone pollution - a hazardous secondary pollutant formed by volatile organic compounds reacting with nitrogen oxides - was most severe in western parts of the city.
In a separate analysis of Environmental Protection Department data between 1999 and last year, the group identified a link between warmer weather and ozone formation.
By plotting daily maximum ozone concentrations against maximum daily air temperatures, Cheng calculated that a one-degree rise in temperature would lead to an increase in ozone by 17.4 micrograms per cubic metre in Tung Chung and 13.2mcg in Yuen Long district.
Cheng said the situation was likely to worsen. "The Observatory projected a rise in average temperatures somewhere between 1.3 to 5.8 degrees over the next century from last year's levels," he said. "This would correspond to an increase in ozone concentrations of 19.9 to 88.7mcg."
Additional emission sources in the region - such as the planned third runway at the airport, the Hong Kong-Zhuhai Macau bridge, new boundary-crossing facilities and waste incinerators - would add to ozone pollution, he said.
Based on figures cited in a 1998 departmental report, the group said health care costs would soar by at least HK$988 million per year for the rest of the century - just from ozone.
Green Power CEO Dr Man Chi-sum said environmental impact assessments for new projects and towns still lacked the updated index parameters to account for ozone. "People actually live in these new towns," he said. "How can they still not look at ozone or the current index in compiling impact assessments?"
An EPD spokesman said days with high pollution at the ambient air stations cited usually coincided with high ozone in the entire Pearl River Delta region, weak north or northwesterly winds and lots of sunshine.
He also said because ozone was a secondary pollutant, it did not have to be included in environmental impact assessments.
The department said it would continue to cooperate with Guangdong to reduce pollution.
This article appeared in the South China Morning Post print edition as: Three districts rank worst for bad air days