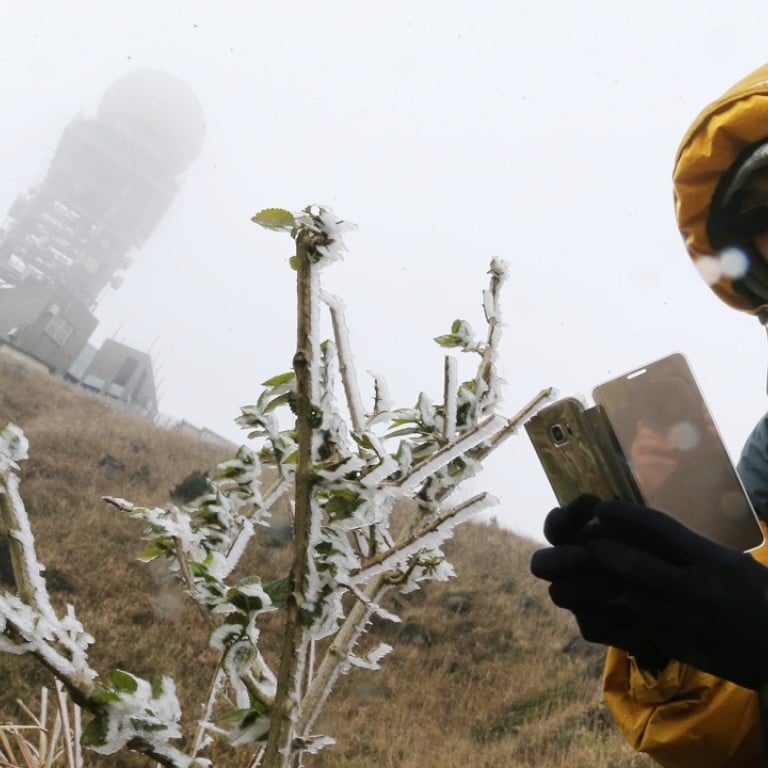 Big chill on the way ... but sorry Hong Kong, it's too warm to snow
Video shared widely online purportedly of flakes falling in Hong Kong shot down in flames by Observatory
Biting winds and the coldest weather in decades are forecast for southern China over the coming days, and what appeared to be Hong Kong's first snow in 40 years caused shivers of excitement yesterday.
The city endured frost, cold weather warnings and strong monsoon wind conditions, prompting the Observatory to declare that such conditions had not been seen since December 1991, when the mercury fell to 5.2 degrees Celsius.
A video shared widely online purportedly of flakes falling in Hong Kong sparked a flurry of interest, but it was shot down in flames by a senior scientific officer at the Observatory, Li Ping-wah, who described the idea of snow falling in Hong Kong as "rather suspicious".
Conditions in Hong Kong remained above freezing – around 6 to 7 degrees – "so the temperature is too high for it to snow", according to the Observatory.
Still, it was unclear how far the video was shot from the Observatory's weather recording stations. And the city's weather-monitoring body did issue the first frost warning of the year – a sign of the increasingly bitter weather to come.
The last time snow was seen in the city was in December 1975, when Tai Mo Shan was covered in a misty haze as snow lined the trees and ground.
Conditions across the nation are forecast to deteriorate amid record low mercury readings.
The Hong Kong government warned yesterday of a shortage of beds in public hospitals as doctors struggled to cope with a surge in admissions of patients suffering the effects of the protracted cold snap.
Li at the the Observatory, said: "We are now being hit by an intense cold surge, and the very cold weather and windy conditions will persist for the next couple of days.
"The wind is still strong on high ground and in off-shore areas. Combining the low temperature and high wind, the wind chill will be fairly significant."
Meanwhile, mainland China raised cold weather warnings as the big freeze continued to move south, with record low temperatures reported across the nation.
The lowest temperature in northern Guangdong could reach minus 6 degrees Celsius tomorrow, according to Southern Metropolis News.
Xinhua reported that the national observatory had geared up the weather warning from yellow to orange yesterday, the second highest warning on a four-tier scale.
Temperatures dropped by 6 to 10 degrees Celsius yesterday morning in parts of the north and northwest, with eastern Harbin being the worst hit. In parts of Anhui, Zhejiang, Fujian and Guangdong, temperatures are forecast to approach or even drop below the lowest levels on record, Xinhua said.
Temperatures were also expected to reach about five degrees in Taipei over the next two days, the Central News Agency said, adding that snow was rarely seen in the island except on the tallest mountains in central and southern Taiwan.