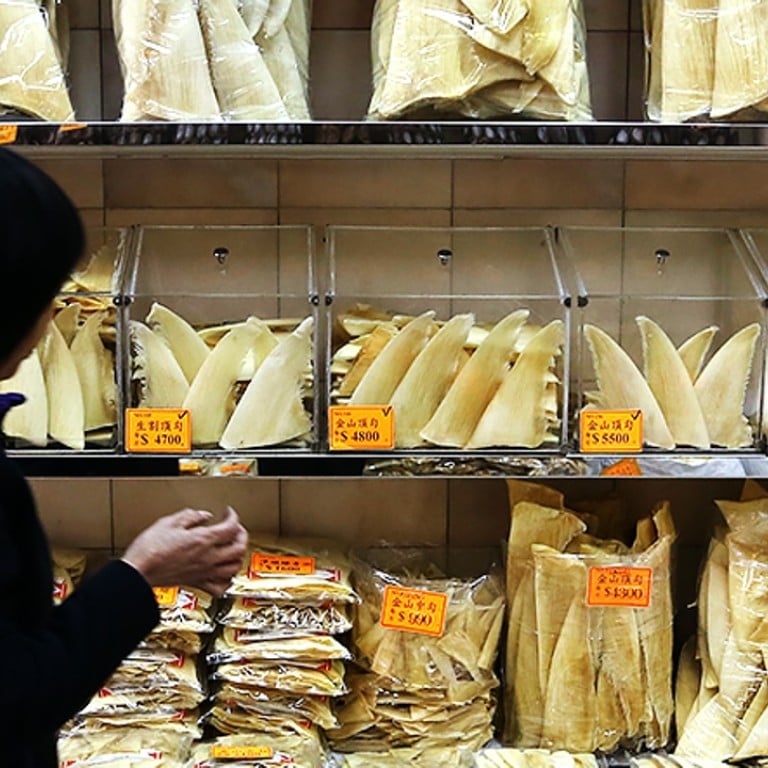 Shark fin soup still served at 98 per cent of Hong Kong restaurants as restaurants choose money over environmentally friendly practices
Findings 'depressing' as more than 85 per cent found to be linked to dwindling shark populations
Lunar New Year revellers looking forward to bowl of shark fin soup will have hundreds of restaurants to choose from this year – despite its highly contentious ingredients – as a new survey reveals the "shocking" prevalence of the dish in kitchens across Hong Kong.
Over 98 per cent of the 375 restaurants surveyed by the Hong Kong Shark Foundation serve the traditional dish, going against common assumptions that shark fin consumption is on the decline in the SAR.
"The results are shocking and are far worse that we'd expected," said Joan Chan, campaign director at the foundation which conducted the first survey of its kind in Hong Kong.
"Hong Kong people are consuming a lot more shark fin than we think," she added.
Among restaurants listed serving the dish were Fulum Palace, which has 15 branches in the city and U-banquet, which has eateries in Wan Chai, Jordan and Mong Kok. Both restaurant chains declined to comment.
"It may not be the most environmentally friendly practice but as a business, we have to make money," said one manager at a restaurant under the Hau Fook group.
Of all the restaurants surveyed, only two – Loong Yuen Cantonese Restaurant in Tsim Sha Tsui and Paradise Dynasty in Causeway Bay – omitted the ingredient entirely, both citing "company policy".
"Sometimes we get complaints [about not serving shark fin], so maybe one day we will serve it," said Raymond Lau, manager at Paradise Dynasty.
The survey contrasted recent trade data that showed a 30 per cent drop in shark fin imports from 2012-2014, a decline attributed to increasing pressure from green groups targeting the consumption of shark fin at wedding banquets, alongside a government bid to deter public officials from serving the dish at official events.
But the survey found that 85 per cent of the 2,470 menus including the product were heavily linked to dwindling shark populations.
One in four species of sharks and rays are threatened with extinction, according to scientists.
Alex Hofford, a wildlife campaigner at Wildaid, which has been pushing the government to impose a blanket ban on shark products described the survey's findings as "depressing".
"Restaurants are the last link in a long supply chain from the ocean to the plate. It's depressing that they are impervious to the decades of campaigning we've been doing [to end the consumption of shark fin]."