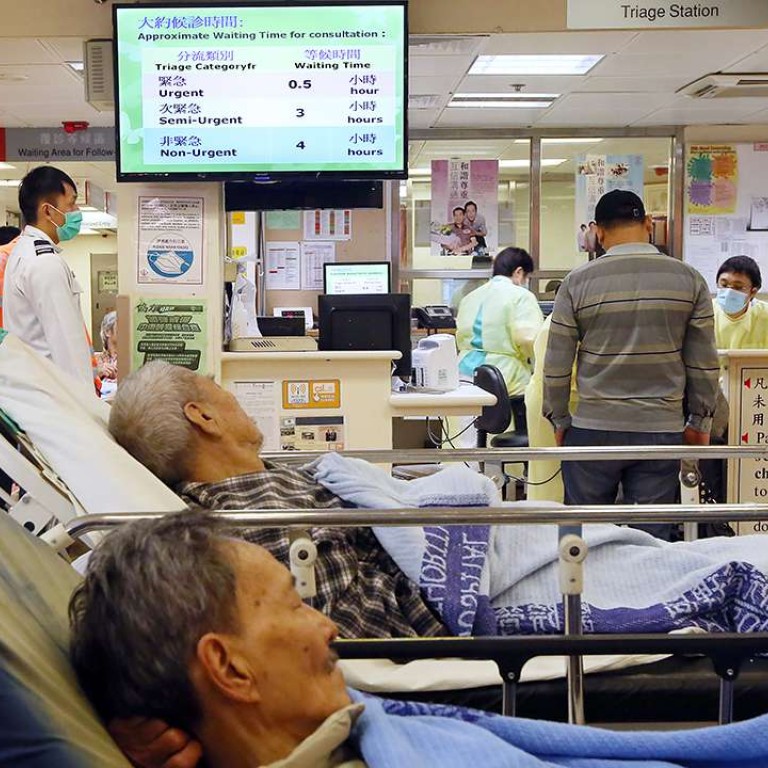 Hong Kong hospital crisis: overcapacity, overworked doctors — and peak flu season will make it worse
After bed occupancy rate exceeds 100 per cent on Tuesday, Dr Ko Wing-man says urgent measures like suspending non-emergency services to be weighed
Hong Kong's public hospitals have been stretched to breaking point by a surge in the number of patients seeking treatment for flu and chronic diseases during persistent cold weather.
The "unprecedented" problem has now spilled over from emergency units and medical wards to departments like orthopaedics and surgery, the Post has learnt.
The occupancy rate on all medical wards in 16 public hospitals has consistently been around 110 per cent, with some as high as 130, meaning temporary beds have even filled up all spaces in corridors.
Some patients complained of waiting for days in observation units before they could be moved into a room.
At accident and emergency units, patients classified as non-urgent were made to wait for as long as 24 hours before they were seen by doctors, with over 7,000 patients attending the units daily over the past week, compared with the average of 6,000.
To cope with demand, nurses have been asked to step in to assess patients with more stable conditions.
Secretary for Food and Health Dr Ko Wing-man warned on Wednesday that the situation was about to get even worse.
"The temperature is expected to drop starting from tomorrow – the overloaded situation will become more severe," Ko said after visiting several hospitals.
Hospital Authority chief executive Dr Leung Pak-yin conceded that public hospitals were facing an unprecedented challenge.
One senior nurse said medical wards were so full that corridors as well as the space outside the manager's room were filled with temporary beds.
"There isn't even space for us to move the blood pressure monitor machines. We should be worried about infection control in such a congested environment."
Public Doctors' Association president Dr Pierre Chan Pui-yin said some doctors were working almost 80 hours a week rather than the usual 44 hours and the workload for internal medicine specialists was way beyond the official figures.
Chan said internal medicine patients were transferred to other departments when wards reached above 100 per cent. But when other departments started filling up, the patients flowed back to the medical wards – hence the occupancy rates of 130 per cent.
"The actual workload felt by internal medicine specialists is more like 200 per cent extra, since they are in charge of the transferral and backflow of patients," Chan said.
He said it was not fair to ask nurses to see patients and even to prescribe medicine, since some may have complicated conditions.
A doctor from an orthopaedics department agreed and said the figures on medical wards did not reflect the real workload as other departments were sharing the burden.
"The doctors in internal medicine are trying their best to find any tiny excuse possible to put patients in other wards, such as orthopaedics or surgery," said the doctor from Caritas Medical Centre in Kowloon, who preferred to remain anonymous.
Dr Wong Yam-hong, from doctors' group Médecins Inspirés, said public hospitals were at "breaking point".
He criticised the authority's decision to send 30 frontline doctors to Beijing in April to attend a one-week national education class organised by the central government's Hong Kong liaison office while hospitals were so severely understaffed.
The overflow problem was highlighted in a Facebook post, believed to be written by a medic, that suggested one patient at Queen Elizabeth Hospital in Yau Ma Tei had to wait three nights in an observation unit before being admitted to the medical ward.
Dr Cheung Wai-lun, the authority's director of cluster services, described this incident as an "isolated case".
Cheung said the hospital had ordered a review of whether non-emergency services could be suspended to allow resources to be diverted to more serious cases. The authority would also consider transferring less serious cases to rehabilitation hospitals and expand the scope of a special overtime scheme for medical staff.