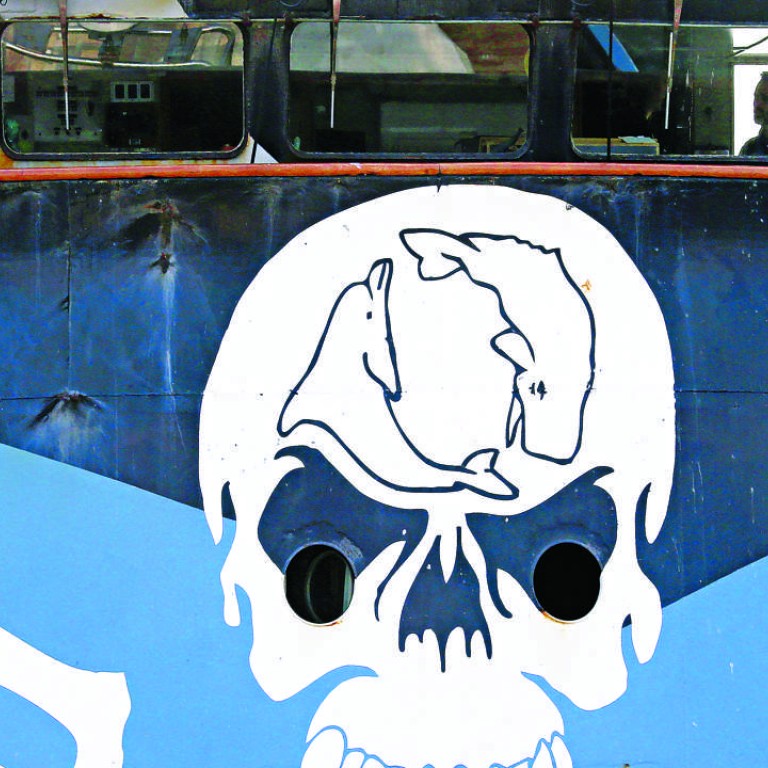 Sea Shepherd vessel engages in 'high seas pursuit' of mainland Chinese poachers in South China Sea
Skipper with conservation group recalls chasing suspected poachers from Indian Ocean to Zhuhai and calls on Beijing to prosecute them
A militant conservation group has urged China to "do the right thing" and prosecute those engaged in illegal fishing following a "high seas pursuit"of alleged poachers in the contested South China Sea last month.
The Sea Shepherd Conservation Society's flagship, the M/Y Steve Irwin, managed to chase one of six Chinese-flagged boats from the Indian Ocean back to the southern port of Zhuhai. The group claimed it was fishing illegally using drift nets.
The pursuit led the Steve Irwin into the South China Sea, where several countries including China – which lays claim to nearly all of it – are engaged in bitter territorial spats. The chase ended in Zhuhai, where the ship disappeared.
Dolphins, brown seals, blue and mako sharks as well as critically-endangered bluefin tuna were found in drift nets the Fu Yuan Yu 76 left behind before fleeing. The UN slapped bans on the use of drift nets in the 1990s.
Captain Sid Chakravarty said his crew had sent "all the evidence" to the Chinese authorities and Interpol. "We really hope the government will do the right thing," he added. "It is all up to them now." The group claimed the fishermen breached "at least 10" different national and international fisheries laws.
Speaking in Hong Kong on Wednesday during a fuel stopover – the first for a Sea Shepherd vessel – Chakravarty described the risky escapade, which saw one of the fishing vessels "take a swipe" at the Steve Irwin, "coming within 10 metres" of its bow.
The Fu Yuan Yu 76 led them to two "Chinese navy warships" just 70 nautical miles from the Spratly Islands. The ships demanded information and the activists reported the alleged crimes.
The Steve Irwin stumbled onto the fleet while pursuing a different group of illegal toothfish poachers near Antarctica. The skipper said the risks were factored in. "This was our first taste of the heat in the South China Sea," he added.
Chakravarty said operation "Driftnet" was a success overall as the poachers were no longer operating in that part of the Indian Ocean.
Asked whether more Sea Shepherd operations would take place in the region, Chakravarty said the situation in the South China Sea was "too heated" and no place for an NGO. "There isn't exactly an enforcement vacuum here right now," he said.