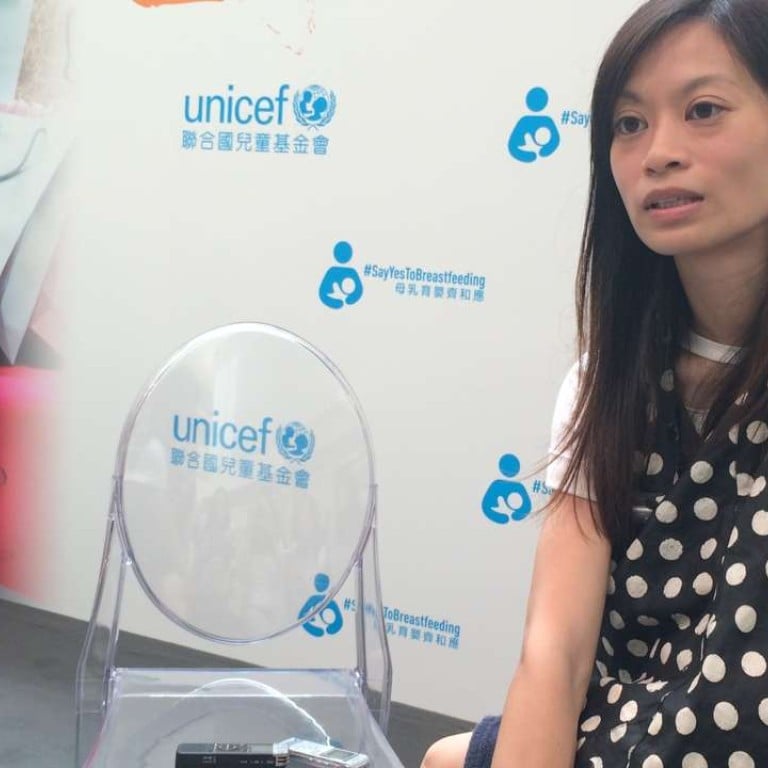 Unicef: Hong Kong mothers need more support with breastfeeding
Group calls for tighter regulations to ensure public buildings provide nursing rooms
Hong Kong is lagging behind when it comes to providing family-friendly facilities and the government should introduce stronger building guidelines to do more for breastfeeding mothers, say concern groups.
A Unicef Hong Kong survey found that 40 per cent of mothers in the city have had an unpleasant experience while breastfeeding in a public place, with as many as 90 per cent saying they've been stared at and 30 per cent saying they have been asked to feed their children elsewhere – such as in a toilet.
The group interviewed 3,545 mothers online between April 22 and 26, and 83 per cent of them said they had breastfed their children in public places, including shopping malls, restaurants and parks.
But 77 per cent of those who had not breastfed in public said they wanted to but were worried about the reaction of the public or embarrassing their friends and family.
Unicef called for wider support of breastfeeding friendly policies in shopping malls, after 95 per cent of mothers said they would be more willing to feed their children publicly if measures were in place.
As well as having nursing rooms available, mothers should be free to choose where they breastfeed, the group said.
Elements, a shopping mall in West Kowloon, was the first mall that pledged support for the breastfeeding campaign.
Ng Mee-kam, an urban planning professor at Chinese University, said incorporating requirements for a nursing room into building regulations could create a more harmonious society.
"Buildings in Hong Kong mostly consider individual viewpoints ... at the moment, planning is not family-based," said Ng, adding that the city had been too slow to implement family-friendly policies.
Her thoughts were echoed by Kiwi Liu Wai-yan, vice-chairwoman of the Hong Kong Breastfeeding Mothers' Association.
"Nursing rooms should be made compulsory in buildings of a certain size ... similar to disabled toilets," said Liu.
In Taiwan, a regulation was implemented in 2010 requiring nursing rooms in all government offices 500 sq ft or larger and transport hubs 1,000 sq ft or more.
Liu said support facilities for mothers should be enhanced, after ensuring mothers' breastfeeding rights in public places.
A spokesman for the Food and Health Bureau said a loose guideline encouraging provision of baby care rooms on private premises was issued in 2009, and added that additional measures would be considered if necessary to promote breastfeeding.