Focus
Get more with myNEWS
A personalised news feed of stories that matter to you
Learn more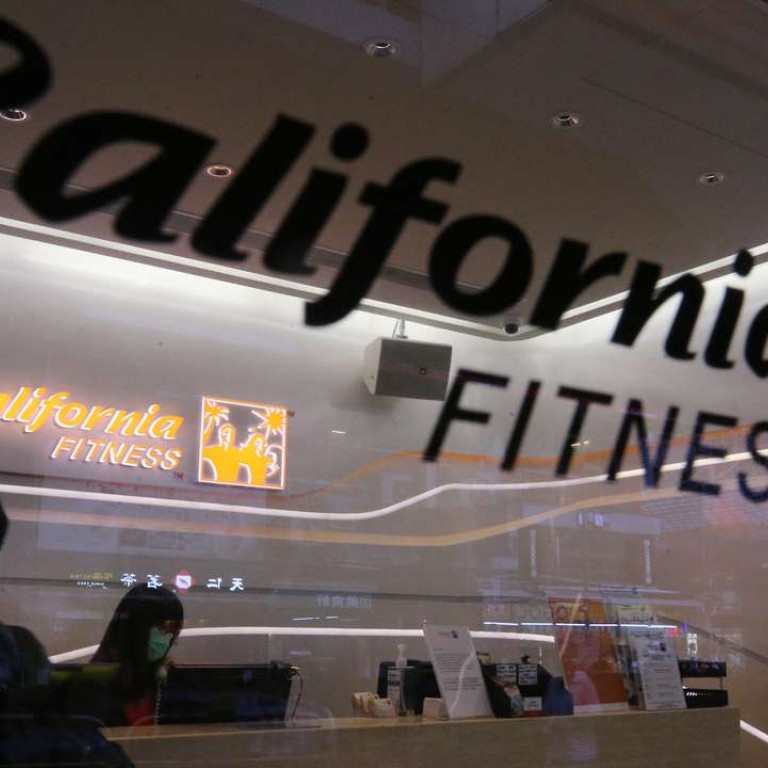 The dark side of Hong Kong's fitness industry
Sales tactics at city's gyms have come under fire for misleading and intimidating customers
Relentless pressure to meet ambitious sales targets, cutthroat competition between colleagues and staff meetings where under-performers are ridiculed in front of everyone else.
Such is the highly stressful work atmosphere for personal trainers at many of Hong Kong's top gyms, according to one personal trainer, a former employee of a major gym chain, who described the industry to the Post.
He said it was "a cruel business" and that the pressure to meet sales targets could lead to unscrupulous tactics.
Many trainers work on commission and are expected to sign up a constant stream of new customers to extended and complicated membership contracts.
This dark side of the fitness industry was highlighted last month when the Consumer Council took the drastic step of naming and shaming California Fitness for intimidation and misleading sales practices.
It accused the firm of pressuring new and existing members into signing hefty contracts for memberships and taking up expensive personal trainer classes.
California Fitness did not respond to questions from the Post about the issue.
Of 577 complaints against gyms last year, 296, or 51 per cent, involved California Fitness. The situation seemed to worsen when the council received 71 complaints between January and March against the chain, a 29 per cent surge year on year.
Billed as a major step forward for consumer protection in Hong Kong, an amendment to the Trade Descriptions Ordinance came into force in July 2013 outlawing aggressive or misleading trade practices with offenders subject to a fine of HK$500,000 and five years in prison.
From more than 9,100 complaints the Customs and Excise Department received until February last year, prosecutions were made in only 99 – or 1 per cent – of the cases.
Other traders were either let off with a warning, or avoided prosecution by providing a written undertaking.
While the Consumer Council handles complaints and conducts its own investigations, it is not a law-enforcement agency and hence cases have to be passed on to Customs for prosecution.
Formal charges have yet to be laid against the pair.
But the overall low prosecution rate has prompted the Consumer Council to call on Customs to step up enforcement.
Under the current framework, charges must be brought within three years of the offence, or one year upon the discovery of the case by the prosecutor.
Consumer Council chief executive Gilly Wong Fung-han last month urged the government to study existing legislation.
She said the intimidating and misleading methods used by the fitness and beauty industries had become more rampant in recent years.
She also called for legislation to introduce a cooling-off period to contracts as a way to safeguard consumer rights.
While the California Fitness case highlighted worst aspects of the trade, most operators in Hong Kong say their contracts are not onerous.
Fitness First, a global fitness chain which is set to open its ninth club in Hong Kong this summer, has 18,000 active members.
The club says it aims to differentiate itself from its so-called "budget" counterparts by providing premium and honest services.
Ken Mok, Hong Kong managing director, said transparency was one of the company's main goals when laying down business strategies.
For example, the longest membership that one can sign up for is 24 months and comes with a monthly payment option, avoiding exorbitant upfront costs.
Sales consultants are also banned from negotiating their own contract terms and maximise commission, while most personal trainers are hired straight out of school and went through in-house training to make sure they have good character. All the premium services reflect on the price tag.
"We don't aim for sales volume," Mok said.
He said the firm would rather charge customers more and ensure their satisfaction than compromise on quality.
Mok said he was not worried by the idea of a mandatory cooling-off period, pointing out Fitness First had maintained a "seven-day money back" policy since its first club opened in 2002.
Physical Beauty and Fitness, the largest chain in Hong Kong with 21 outlets across the city, also introduced a seven-day cooling-off period for customers in August 2015.
A spokesman said the measure allowed customers sufficient time to "assess their practical needs" and make changes or cancel if they are not satisfied.
Big fitness chains have the financial muscle to take the extra step to give consumers peace of mind.
But the city's smaller, independent gyms have reservations about proposed legislative changes.
High Fitness, which operates two centres in Tsim Sha Tsui and Mong Kok, said blanket legislation on the industry could hinder flexibility for business development.
Director Francis Lam said the cooling-off mechanism was a two-way street that needed to be thoroughly studied before being put in place. He said while it certainly boosted consumer confidence when buying pre-paid services, frontline staff would be under immense pressure when approaching customers.
Instead of stepping up regulation, Lam said businesses should focus on building a good reputation of their own.
He revealed that as much as 70 per cent of his clients were referred by current members, while others make enquiries after watching his training videos on social media. He said the company resisted cutthroat tactics, and did not offer free trials to lure new customers.
A trainer by profession, Lam said the company provided one-on-one, tailor-made programmes to suit the different clients' need.
He said many customers turned to smaller companies after getting frustrated by the strong-arm tactics at fitness club chains.
But Federation of Trade Unions legislator Tang Ka-piu disagreed.
Representing the labour constituency, Tang has assisted 24 victims of high-pressure sales tactics at fitness centres over the past year alone, involving a total sum of HK$2.6 million.
In one case, a victim was coerced into signing a contract worth HK$300,000 and, unable to pay the bill, he was referred to financial intermediaries and eventually racked up debts of over HK$900,000.
Tang stressed while the introduction of a cooling-off period would help eliminate unscrupulous trade practices, it is not a magic cure.
The lawmaker pointed out that existing legislation – the Unconscionable Contracts Ordinance – prohibits contracts signed by consumers from disadvantaged positions.
But Tang lamented a lack of administrative measures to fully use the law.
He said victims often received compensation only after going through exhausting court proceedings.
At a meeting with Commerce and Economic Development Secretary Greg So Kam-leung in April, Tang was told the government was inclined to trial the cooling-off period in industries with the most complaints, namely the beauty and fitness sectors.
"But how do we define what kind of businesses should be regulated and what shouldn't?" he said. "Clearly there needs to be clear-cut legislation to address this grey area."
Tang said there were a number of areas authorities could also explore, including an accreditation scheme for trainers and centres.
Martin Barr, founder of U Time Fitness, shared similar views. Originally from Australia, he said opening a gym franchise back home involved meeting the local council, complying with relevant legislation and paperwork, which in all takes eight to 10 months. In Hong Kong, he got his centre up and running in merely six weeks.
He said the level of expertise of some trainers at Hong Kong's mainstream gyms is a "joke", adding such fitness centres are overly driven by sales targets, rather than focusing their attention on customers' health.
U Time Fitness has also adopted a business model unique in the local fitness industry. There are no contracts at all, and anyone can use its facilities by subscribing to a monthly membership.
While a 10 per cent discount is offered to customers who sign up for a year, the package is only available upon request and not sold at the counter. Together with 24-hour access, the gym targets transient expats or those who do not feel like committing to expensive, long-term memberships.
Instead of seeing customers come and go with such a flexible model, Barr said member retention was much higher than originally expected, and he attributed the success to members feeling appreciated and satisfied.
Hank Wu, managing director of Spark Fight and Fitness, said hard selling was something best left in the past, and that all of his customers paid the same fees for the same services. He added they had transparency in mind when laying out the gym. With no consultant rooms, contracts are negotiated in the open.
"We are in the service industry after all," he said. "Everything relies on customer feedback."