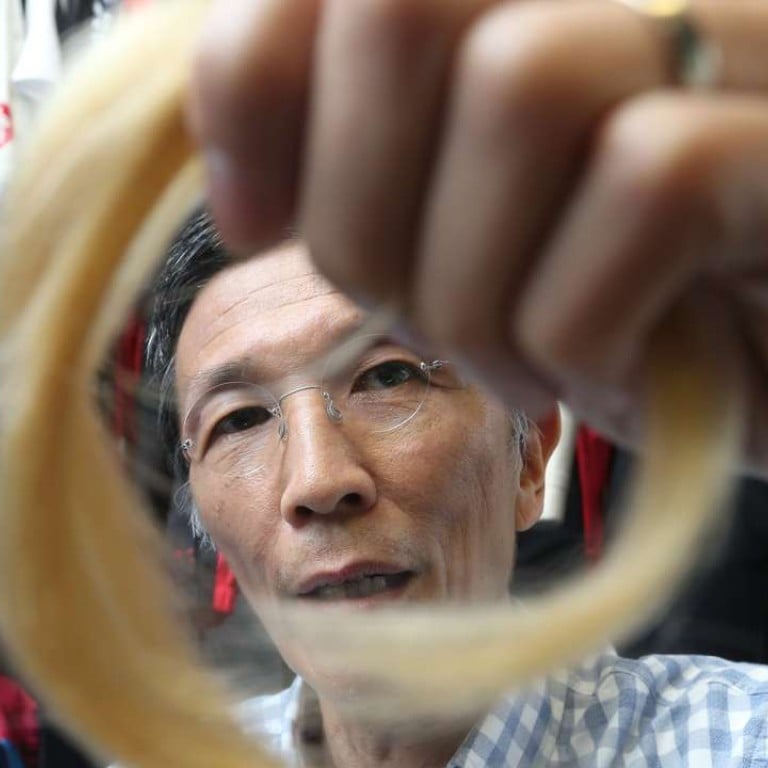 If you can't eat it, wear it: Hong Kong researchers come up with novel solution to food waste problem
Hong Kong Research Institute for Textiles Apparel comes up with a technique to transform waste into fibre, although further work will be required before it can be used to make clothes
After decades of debate over what Hong Kong should do with its mountains of food waste, a novel solution has emerged – wear it.
A new technology that kills two birds with one stone by turning food waste into a sustainable textile fibre has stirred interest from an "international fashion retailer" and offered a possible solution to the problem of the city's overflowing landfills.
Material scientists at Hong Kong's flagship textile research institute and City University have been able to find a way to convert food waste into polylactic acid, which can then be spun into fibres for use in textiles.
Hong Kong Research Institute for Textiles Apparel chief executive Edwin Keh Yee-man said with a bit more study, the fibre would be strong enough to produce yarns for fabrics and hopefully offer a usable material to garment manufacturers.
"Hong Kong has a very limited sorting of waste right now and this [technology] could be an answer to that problem," Keh told the Post.
WATCH: Food waste can be spun into fibres with this new technology
The three-step biological process discovered by City University scientists in 2013 involves putting starchy food waste high in sugar content through a lactic acid fermentation process called polymerisation – the process of forming polymer chains – and finally acid melt spinning, which turns it into fibre. It will take about 10 tonnes of food waste to produce one tonne of the material.
Keh said the finished product was too delicate and brittle for now, but further development would make it strong enough to spin into yarns for the textile and garment industry.
The new patent is one of the latest in sustainable textile technologies offered by the Innovation and Technology Commission-funded institute, which is now in its ninth year of operation.
The food waste-to-fibre innovation has stirred interest in at least one international fast fashion retailer in the city. But Keh pointed out that it would still take about three to five years to commercialise the technology and market the product.
Keh said textile technologies that helped provide solutions to such pressing social and environmental issues as food waste could help the city regain its competitive edge in the global textile industry and possibly even pave the way for an industrial comeback.
"What is left of Hong Kong factories is those of the old type. The factories of the future would be clean workshops, automated and full of robots."
Such sentiment would echo Chief Executive Leung Chun-ying's January policy address outlining a "re-industrialising" policy that would promote smart production and high-value-added technology industries.
Keh said the biggest challenge was not funding or technological prowess but that it was becoming increasingly difficult to source people with research talent.
"The biggest problem is ... everyone wants to become a [fashion] designer. Does the world really need 1,000 more designers every year? I don't know, but we certainly need more people supporting these designers on the practical side."
Some 9,000 tonnes of municipal solid waste is disposed of in Hong Kong's landfills each day and about a third of this is food waste, according to the environmental authorities. At the same time, Greenpeace estimates that the city discards as much as 110,000 tonnes of textile garments each year.
Greenpeace campaigner Bonnie Tang Man-lam welcomed the innovation but felt the only way to effectively reduce food and textile waste in the long run was for the government to tackle the problem at source. Even clothes made of food waste would have to end up in a landfill when they were thrown out, Tang said.