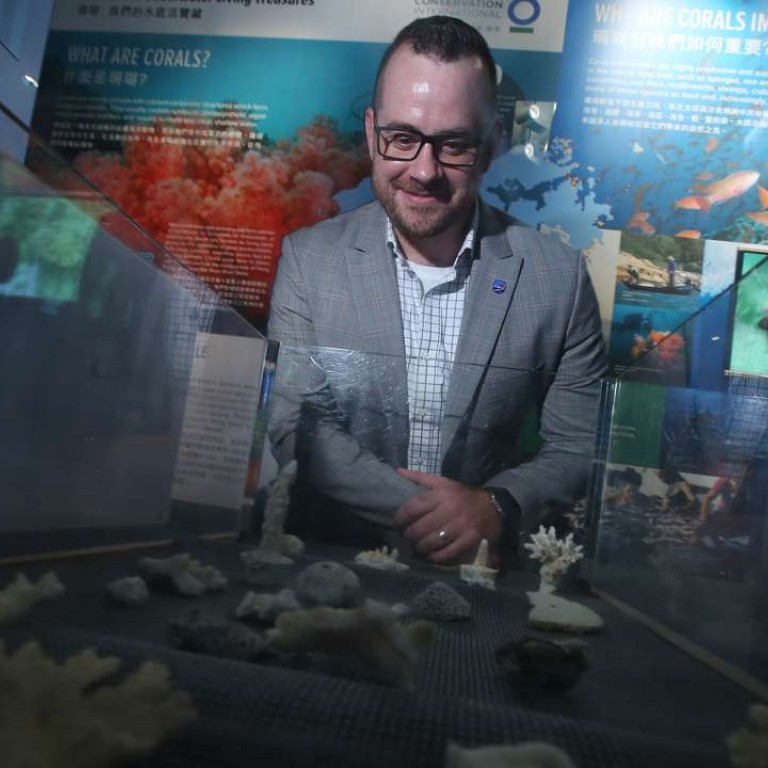 Hong Kong's coral in crisis as climate change and pollution take their toll
The waters around Hong Kong used to be filled with a wide variety of coral species, but many have succumbed to climate change, land reclamation and water pollution, and scientists are urging the government to take action to protect the ecosystem
It may not seem like it now, but Hong Kong waters used to be filled with corals.
Although scientists do not have conclusive data on the number of species that have been lost locally, studies show that there used to be an abundance of corals even in places like Victoria Harbour and Tolo Harbour - places that have now become so polluted that only one or two of the toughest species can be found clinging on to life.
"What we observe in all of these records is that the ecosystem in Hong Kong used to be quite dominated by corals," David Baker, coral expert and assistant professor at the University of Hong Kong's Swire Institute of Marine Science, said. "If you use your imagination, you might envision a place more like the Philippines, with very extensive coral reefs. But today we only have coral communities."
The issue of coral preservation has recently been brought into the global discourse by several shocking reports. Last week, researchers found that mass bleaching has killed more than a third of the coral in parts of Australia's Great Barrier Reef. In May, an official from China's Ministry of Environmental Protection revealed that more than 80 per cent of coral reefs have disappeared in the South China Sea since the 1970s.
At a cursory glance, Hong Kong corals seem to be thriving. The city currently has 84 hard coral and 26 soft coral species, many of which can be found at hotspots in Mirs Bay and Port Shelter. That's more than the number seen in the entire Caribbean Sea.
While this level of biodiversity is remarkable considering the extent of marine degradation caused by urbanisation, Baker said that it falls short in comparison to those seen in surrounding territories. Taiwan's Dongsha Atoll - just 340km away from Hong Kong - has 137 species of hard corals as of 2004, a study from the National Taiwan University's Institute of Oceanography showed. Further to the east in Okinawa, Japan - you'll also find about 200 coral species.
"Hong Kong is like a bubble of lower coral diversity relative to other places in the region, and that's most likely driven by human activities," Baker said.
Once home to a host of marine life, Hong Kong waters have drastically deteriorated as a result of climate change, land reclamation, water pollution and physical damage from divers and fishermen releasing anchors and nets. Sewage waste from the city and industrial waste from the Pearl River Delta are among the main pollutants, experts say.
When sewage waste is discharged into the water, the added nutrients - including nitrogen from protein-heavy food and phosphorus from soaps and detergent - cause certain life forms like algae to grow rapidly and take over the corals in a process called eutrophication.
The increased nutrients not only causes corals to become ill easily by allowing microbes to thrive, but also causes bioerosion, or the breakdown of dead corals, to occur at a faster rate. This prevents corals from being able to build proper coral reefs, which is why Hong Kong now only has coral communities. Eutrophication is directly linked to the loss of coral biodiversity, according to a study conducted by Baker and his team that is currently under review.
Guarajuba, Brazil is currently the only place in the world that is more eutrophied than Hong Kong where you can find hard corals, Baker added.
The Agriculture, Fisheries and Conservation Department has made an effort to educate the public and preserve local coral communities. In addition to improving the treatment of sewage, the government designated four marine parks and one marine reserve as areas for conservation.The government also installed buoys in coral areas including at Port Island and Sharp Island to mark where boat operators should avoid anchoring.
According to Baker, the next step for the government would be to take an active role in managing ecosystems by farming corals and transplanting them to areas that have suitable water quality. Since fish also provide cleaning services - by removing algae and controlling coral predators - fisheries regulations also need to be updated and enhanced to ensure more protection, he said.
"There isn't a whole lot of recruitment of corals in Hong Kong. We don't see a lot of baby corals popping up everywhere - and we don't know why that is," Baker said. "Until we know those answers, the only course of action is active management."
To foster public awareness on Hong Kong's corals, a new coral exhibition launched at the Hong Kong Maritime Museum on Wednesday, which was World Oceans Day. With two workshops free to the public, the programme is a collaboration between the museum and the Swire Institute, that will run until September 18.