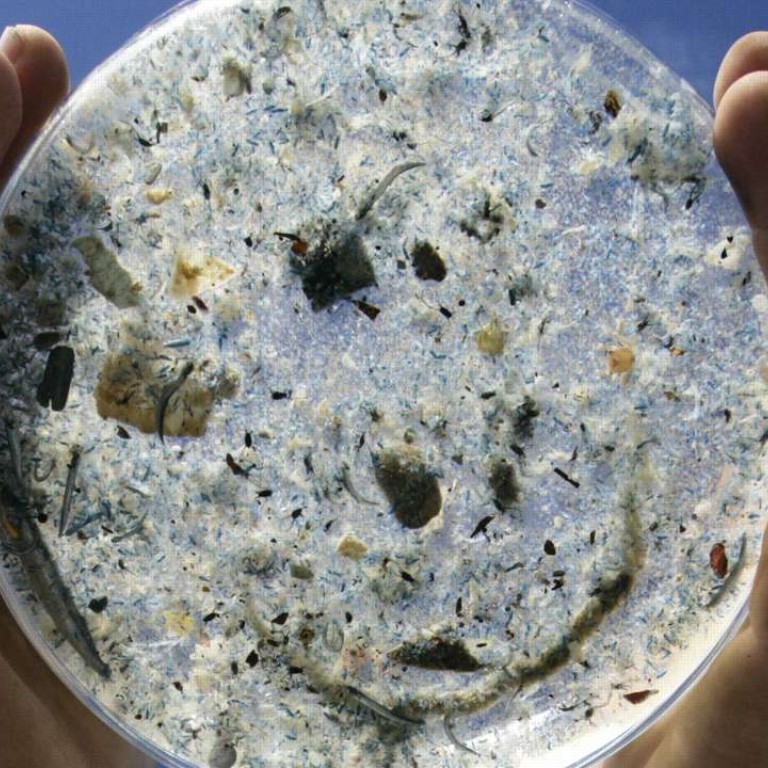 Mussels, lobsters and oysters: microplastic pollution finds way into 170 different types of Hong Kong seafood
Greenpeace notes that rates of tiny bits of plastic waste found in particular along Hong Kong's western shores are among the highest in the world
Exfoliation can be a gratifying ­cosmetic experience, lathering the skin with tiny plastic beads to remove dead cells, but one green group is calling for a ban on them because of the environmental and health risk.
Found in products ranging from facial scrubs to toothpastes, microbeads are small enough to be washed down drains and flushed into the ocean, where they can end up in the digestive tracts of fish and other marine creatures that humans eat.
According to Greenpeace's analysis of 58 international ­academic studies, microplastic pollutants, including microbeads, have been found in around 170 types of commonly consumed seafood including mussels, lobsters, oysters and fish such as bluefin tuna and grey mullet.
"Microbeads cannot be completely filtered out by [preliminary] wastewater treatment," ­senior campaigner Kate Lin Pui-yin said. "Once in the ocean, they do not decompose easily ... and before you know it, they end up in our dinner."
A Baptist University survey, commissioned by Greenpeace, also revealed a lack of public awareness. Around 85 per cent of 804 adults polled did not know certain products contained plastic microbeads. Two-thirds did not know they could pollute the sea.
Lin urged the government to legislate a ban on the sale of products containing microbeads, as the United States did last year.
Education University environmental scientist Dr Lincoln Fok, who studies the issue, agreed. But he noted microbeads were just a fraction of the city's vast microplastic waste problem. "Hong Kong has one of the highest mean abundances of ­microplastic waste in the world," Fok said.
Most of the tiny bits of plastic waste, measuring just 5mm or less, are washed up on the city's western shores. Last year, the academic ­recorded a mean abundance of 5,595 pieces per square metre across beaches during the wet season – 50 per cent higher than that of South Korea. The median was 800.
He surmised much of it was likely to have been flushed down from the Pearl River Delta. But man-made local sources, such as microbeads, could also be a factor.
Fok said the toxicity of microplastic could be potentially higher than bigger pieces as their larger surface area-to-volume ratio could absorb more organic pollutants.
Professor Terence Lau Lok-ting of Polytechnic University's Food Safety Consortium said the harm from consuming some microplastics – if non-toxic and not in large amounts – was limited and could be expelled from the body. He said gutting a fish thoroughly before cooking would help reduce chances of consuming the plastic.
The Environmental Protection Department said the potential environmental impacts in Hong Kong caused by microbeads were currently quite low but they would assess the need for further study and regulation when scientific research on the topic matured. 
This article appeared in the South China Morning Post print edition as: Health risk as tiny plastic beads enter food chain