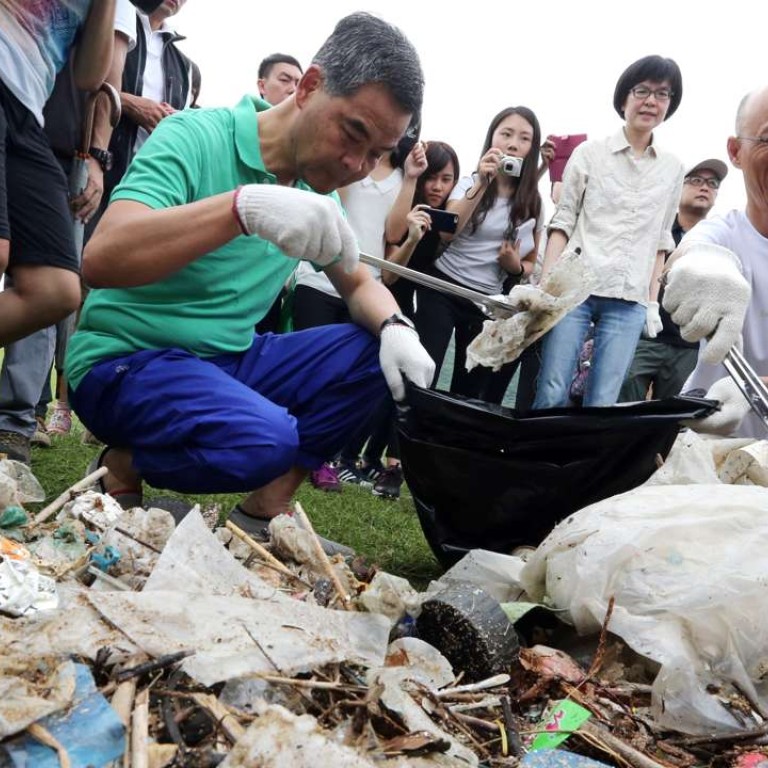 What a mess: Hong Kong to discuss rubbish deluge with Guangdong authorities
Chief Executive Leung Chun-ying made pledge as he took part in a shoreline clean-up operation
Hong Kong will discuss with Guangdong how to deal with the massive but "unusual" deluge of rubbish washing up on the city's southern shores in recent weeks, reportedly from heavy rain and flooding in the Pearl River Delta.
This comes as the Environmental Protection Department recently reported a "six to tenfold" increase in rubbish at certain beaches over the last three weeks, compared with the same period last year.
Graphic images of popular beaches such as Nim Shue Wan near Discovery Bay covered in refuse from plastic bottles to detergent cartons – many with simplified Chinese labelling – began spreading across social media earlier this month.
From July 1 to 9, government departments collected 78,000kg of marine refuse from affected beaches and coastal areas.
On Sunday, Chief Executive Leung Chun-ying took part in a government beach clean-up in South Lantau, though some activists branded it a one-off "show".
Armed with tongs, Leung and around 60 officials and workers combed Shui Hau's mangroves and shorelines collecting about 1,350kg of rubbish over half an hour.
"Among the rubbish we collected, a large bulk of it was boxed drink packs, plastic bottles and such," said Leung, flanked by his environment, development, treasury and home affairs ministers, among others.
Leung said the phenomenon was a a result of "special circumstances" and believed heavy rain and flooding in river cities was flushing large amounts of household waste into the sea off Hong Kong.
"Cooperation between Hong Kong and Guangdong on the environmental protection front has been very good in the past ... We will follow up with the Guangdong authorities on this."
He urged the city to work harder to cut domestic waste generation, which was also a source.
Environment chief Wong Kam-sing said an inter-departmental working group tasked with studying how to clean up shorelines would look into how climate change-induced extreme weather patterns would "make such unusual incidents happen more frequently".
Conservation group Sea Shepherd Hong Kong said that while most of the rubbish was from the mainland, a lot of it was local. It also suspected some to be coming from a massive hillside rubbish heap on Wailingding, a mainland island south of Cheung Chau.
Zhuhai, which has jurisdiction over the island, has denied the allegations, saying the hillside dump was a controlled collection point for the island's waste.
Gary Stokes, Sea Shepherd's Southeast Asia director, said recent events were "just what was needed to get the attention of those upstairs in government". "Our beaches are covered in trash daily but hopefully now we may see some action," he said.
But Eddie Tse Sai-kit of the Save Lantau Alliance urged the government not to just "put on shows" but immediately increase manpower and resources to clean up land-based rubbish in Pui O – a source of marine refuse – and to improve pollution detection.
This article appeared in the South China Morning Post print edition as: Talks with Guangdong on waste deluge