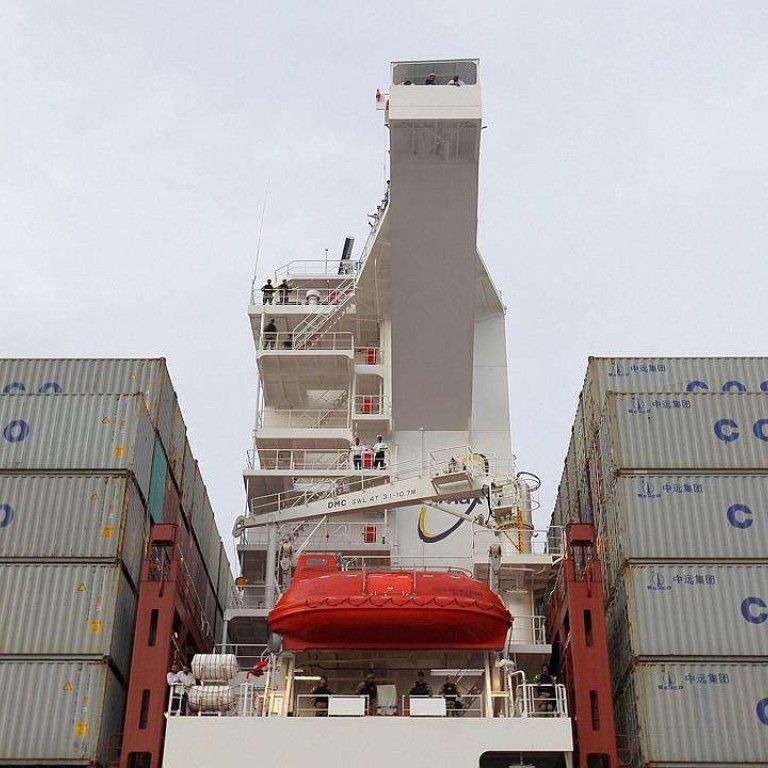 No to shark fin: China's biggest shipping line Cosco pledges total ban on carrying product
The announcement was made after a haul of endangered hammerhead shark fins was discovered on board their vessel, sparking outroar
The international shark fin trade has been dealt a body blow as China's biggest shipping and ­logistics company has pledged a total ban on their transportation.
In a letter addressed to the Hong Kong branch of the US-based wildlife conservation group WildAid obtained by the Sunday Morning Post, China Ocean Shipping Company (Cosco Shipping) "pledges to implement" a "no shark fin" policy.
Kang Bingjian, a company spokesman, confirmed the letter and the policy change, but could not give a time frame for the move.
Cosco Shipping is the world's fourth-largest container operator with 7.7 per cent of market share.
'Protecting wild animals'
Earlier this month
, a haul of endangered hammerhead shark fins weighing 880kg was discovered on board a vessel arriving from Panama owned by Cosco Shipping, prompting WildAid's Alex Hofford to write to the company on July 15 urging it to "follow its industry competitors by acting legally, ethically and morally".
Cosco's policy change means 68 per cent of shipping firms have committed to stop carrying shark-fins. Two of the 19 biggest companies, France's CMA CGM (third) and Taiwan's Evergreen Line (fifth), carry fins only if they are not endangered.
Hong Kong accounts for 50 per cent of the global shark fin trade annually, according to WWF data.
Of that, 92 per cent was ­imported by ship. Government data shows imports fell by 42 per cent between 2010 and 2015 to 5,717 tonnes.
'Threat of extinction'
Wan Min, director and president of Cosco Shipping, said he was committed to global environmental protection where "no shark-fin-related products are carried by our vessels through stricter monitoring and regulation". "We also pledge to implement the 'No Shark Fin' carriage ­policies as other container lines," he said.
Hofford praised the speed at which the shipping giant ­responded to his letter. "They listened with great care to the concerns of the public, and reacted quickly to the very real threats of shark extinction we described to them, for which we applaud them to the highest degree," he said.
Tracy Tsang Chui-chi, WWF-Hong Kong's senior programme officer for sharks, said: "Cosco will help to significantly reduce the shark fin trade in Hong Kong and internationally."