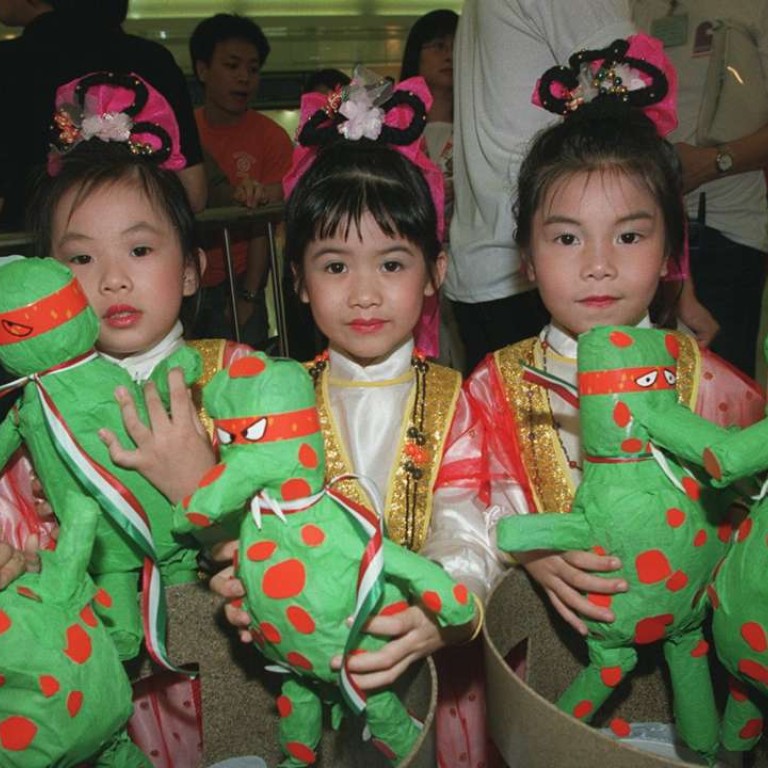 Beloved Hong Kong litterbug Lap Sap Chung gets clean start
The character, reincarnated as Ah Tak, returns in the latest campaign to rid the city of rubbish
Lap Sap Chung, the much-loved cartoon character who featured in Hong Kong anti-litter campaigns for decades, has been given a new name and a clean start.
Sightings of the green-coloured character around Hong Kong, such as a retro poster in the Yat Tung wet market in Tung Chung, led many to speculate on social media that the government was reviving its message of keeping the city clean.
It turns out the Food and Environmental Health Department has launched a new campaign to keep the city clean, appointing the newly named Ah Tak its "keep clean ambassador".
The latest incarnation is a 3D green dragon wearing blue overalls and purple boots who is social media savvy.
According to an FEHD spokesman: "Ah Tak loves cleanliness. He is righteous and civic-minded."
Netizens have welcomed the revamp of the 1970s character. One said he hoped Ah Tak might "motivate everyone to clean up [our] city". Some called for a "sea version" in light of concerns about the levels of
rubbish in Hong Kong waters and beaches
.
Lap Sap Chung, or "litterbug", was created by colonial government art director Arthur Hacker as part of a campaign to "inculcate and foster a sense of civic pride" in Hong Kong, according to Government Information Services.
The character was introduced to the Hong Kong public on November 1, 1972, in Statue Square. The Post reported at the time that nearly 10,000 people attended the unveiling of a six-metre papier-mache likeness of the "green, wart-studded creature".
It was later blown up in a mock sacrifice, leaving the mess to be cleaned up by women with brooms who were known as Miss Super Cleans.
Other stunts to hold the public's attention were held around town. In one, a person dressed as Lap Sap Chung was confronted by the Miss Super Cleans and beaten with their brooms. In another, a throng of cleaners chased the character down a beach to send a message of keeping local beaches clean.
The malevolent cartoon character was labelled "public enemy number one" in the Keep Hong Kong Clean campaign of the 1970s. The character was meant to be repulsive, but ended up captivating and charming Hongkongers. For many, it became a symbol of their childhoods.
The extended campaign was considered a success as the cleaniness of local streets significantly improved.
More information on Ah Tak is to be available at the Health Education Exhibition and Resource Centre, Block S4, in Kowloon Park on Sunday afternoon.