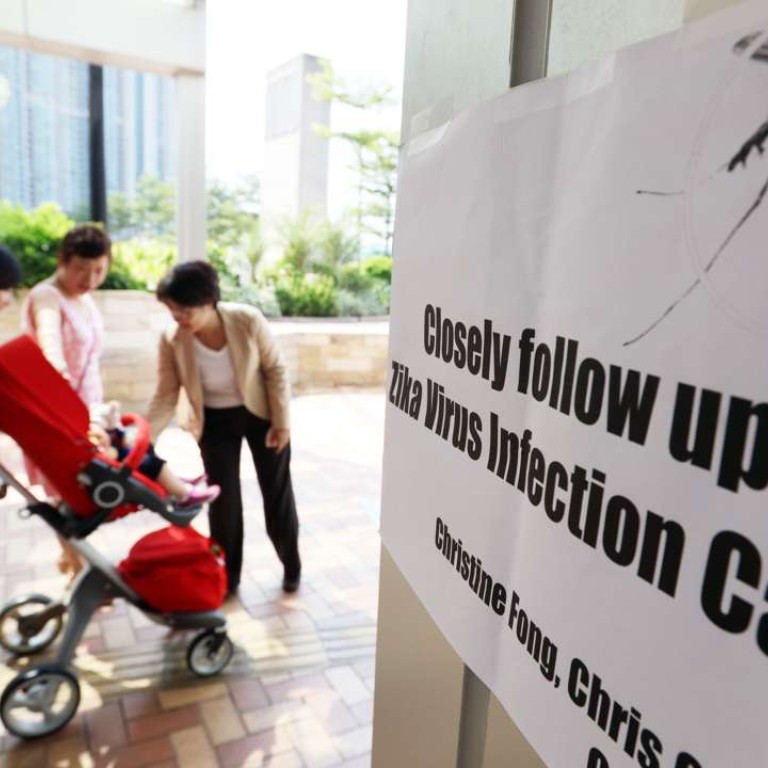 Hong Kong on alert after first case of Zika virus infection confirmed
The patient had travelled to the Caribbean, where she was bitten by mosquitoes
Hong Kong health authorities are investigating the city's first case of Zika virus infection – an expatriate woman who travelled to the Caribbean this month.
The 38-year-old patient is currently in a stable condition in an isolation ward at United Christian Hospital in Kwun Tong. It was understood she had refused to cooperate with the Department of Health at first, and police had to be called in to help.
The woman, who lives in Lohas Park in Tseung Kwan O and works at the International Finance Centre in Central, had a good health record, but developed symptoms such as joint pains and red eyes since last Saturday.
She sought help at Matilda Medical Centre in Central on Tuesday, but did not require admission. Her blood and urine samples tested positive for the virus on Thursday night and the Department of Health's Centre for Health Protection was informed.
"Matilda Medical Centre has strict infection control measures," a statement from the centre said. "We have also stepped up measures on mosquito control in all facilities. Education on prevention of the Zika virus will also be reinforced to our patients, staff and visitors."
The woman had travelled to the Caribbean island of Saint-Barthelemy from August 6 to August 20, during which she was bitten by mosquitoes, before returning to Hong Kong on August 22.
Three family members she travelled with showed no symptoms.
"We will report the case to the World Health Organisation and continue to maintain close liaison with the WHO as well as overseas, neighbouring health authorities to closely monitor the latest developments," Centre for Health Protection controller Dr Leung Ting-hung said.
The centre urged the public to adopt strict anti-mosquito measures and practise safe sex during travel. It warned pregnant women not to travel to affected areas.
The mosquito-borne virus causes a serious birth defect called microcephaly, manifesting in an underdeveloped brain and small head. Those infected display flu-like symptoms such as mild fever, rash, joint pain and red eyes.
The Food and Environmental Hygiene Department said last night it would conduct an anti-mosquito operation in Tseung Kwan O, Central, Clear Water Bay and other areas the patient had visited after her return.
Anti-mosquito measures will also be strengthened from this month to October. The main target is Aedes albopictus, a potential local medium of transmission to humans. The species' relative, Aedes aegypti, which is not found locally, has been considered the most important vector for transmission.
The virus has also been found in human semen and transmission by sexual contact has been confirmed.
Since the outbreak of Zika in 2015, more than 50 countries have reported transmission of the virus.
Four Southeast Asian countries close to Hong Kong – Indonesia, Thailand, the Philippines and Vietnam – have also had signs of possible endemic transmission.
China has so far recorded 22 imported Zika cases, with seven of them passing through Hong Kong while returning from South America to the mainland.
The World Health Organisation declared Zika a public health emergency in February, when the virus mainly affected Latin America and the Caribbean.