Focus
Get more with myNEWS
A personalised news feed of stories that matter to you
Learn more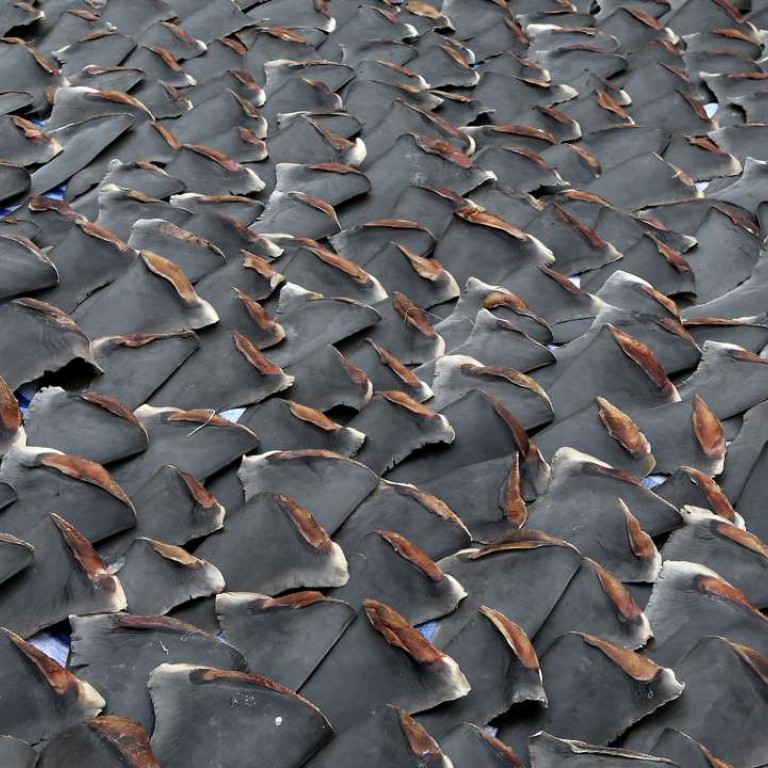 Why appetite for shark fin continues to grow despite efforts to stem the slaughter
When Chinese shipping giant Cosco
pledged to stop carrying shark fin
in July, it was hailed as a huge blow to the controversial international trade that has shrunk the species' population.
Cosco is the world's fourth largest container firm, with 7.7 per cent of market share, and its policy change meant 68 per cent of shipping firms had committed to stop carrying shark fins.
The shift is the result of ongoing campaigning against the now notorious trade, though activists say more work is needed to end the business altogether.
Millions of sharks are slaughtered each year, their fins sliced off and shipped to Hong Kong. There they are laid out in the open to dry and crispen, and then exported to China to be processed.
Much of the final product finds its way back into soups on banquet tables across the city.
The fight to end shark fin consumption has been gaining traction over the last decade, spurred by a boom in the trade as deepening pockets across China heighten demand for a dish viewed as a status symbol owing in part to a decadently high price tag.
Shark numbers have shrunk dramatically since China's economic rise. World Wide Fund for Nature (WWF) data shows only 15 shark and related species were threatened in 1996, and that that number rose twelvefold in the decade to 2006.
Environmentalists say governments and international bodies have been slow to act, with CITES, the international treaty against the cross-border trade in endangered species, putting only eight kinds of shark on its "banned" red list. They will be looking to see if that number climbs substantially at an upcoming CITES meeting in South Africa, which begins on Saturday.
But some shark species being nearly impossible to tell apart once they have been packaged means illicit hauls can easily be masked as legitimate trade, making the CITES banned list difficult to enforce.
Campaigner Andrea Richey, of Shark Foundation, who has lived in Hong Kong for 25 years, left a high-powered career a year ago to devote time to fighting the killing and consumption of sharks.
She says she felt the situation was urgent enough to warrant overhauling her life, worrying that if normal people did not step up, irreparable damage to the oceans would continue unabated, eventually harming entire food chains over which the predators preside.
Almost 200 species are reported to be threatened with extinction in a political and consumer climate which environmentalists say enables their steady decline.
Earlier this year Hong Kong customs officers
seized a mammoth 880kg haul
of banned hammerhead shark fin imported from Panama, exposing how vulnerable the system is to abuse and adding weight to calls from campaigners for a blanket ban on shark fin trading.
It was the city's second largest haul on record, and was discovered aboard a Cosco vessel, before its promise to ban the cargo.
Those calling for a blanket ban recognise that on a policy level, particularly in Hong Kong, the business is unlikely to end altogether any time soon. Profiteers from the trade, especially the 500 or so traders in the city, have too much political sway.
Efforts to stem the flow of shark fin by air and sea have proved more fruitful than ­attempts to make a mark in the political arena. Since environmental groups started urging airlines and shipping firms to refuse to carry fins altogether, 35 airlines and 16 shipping lines have got on board, including Cosco.
Alex Hofford, of WildAid, a campaign group, says a heartening decline in shark fin imports reported by the census and statistics over the last five years is in part caused by the increasing number of shark fin-free carriers.
Shark fin imports to Hong Kong dropped by 42 per cent between 2010 and 2015, and during that period there was a 72 per cent drop in imports by air, to 450 tonnes each year.
"It's a bit like playing whack-a-mole," Hofford says of the process. When some big names,
like Cathay Pacific Airways
, join the pledge, smaller outfits scramble to fill the gaps opening up in the market. But in the last five years, import data shows a drop of almost 50 per cent, he says.
"That drop comes from making life hard for traders," he says.
But while efforts to stimy supply chug on at full force – with US logistics giant
FedEx next in the firing line
– reducing demand in Hong Kong continues to pose a challenge. And that is despite growing awareness of the problematic, unsavoury story behind the soup.
With centuries of history attached to the tasteless traditional Chinese delicacy which is claimed – without any scientific basis – to have health benefits, old consumption habits die hard.
Earlier this year Hong Kong Shark Foundation joined WildAid
in a fiery protest
at one of the 15 Foo Lum Palace restaurant outlets. Donning blood-spattered shark costumes and placards with shocking images, they vocally decried the management's decision to keep the soup on their set menus.
The bitter protest followed results from a survey by the foundation
revealing that
98 per cent of Chinese restaurants open for Lunar New Year had the dish on their menu.
Campaigners – many of whom have been on the case for over a decade – described feeling disheartened by the findings, which contradicted an earlier survey that suggested the dish was on its way out.
It challenged an increasingly common belief that the younger generation in particular, geared by a growing awareness of the trade and appreciation of sustainable living, were starting to say no to ecologically irresponsible consumption habits.
In a Bloom Association survey from 2015, 90 per cent of respondents indicated that they found serving shark fin soup at a wedding banquet unacceptable. And 94 per cent said they were unwilling to consume threatened species.
"Shark fin isn't very fashionable, a lot of people don't want to admit to eating it," says Hofford, who queries the authenticity of some of the respondents' disavowals.
"A lot of people, if you ask them if they eat shark fin soup, they'll say no," he says.
"But if they're with family or their bosses, they won't refuse to eat it."
He says a fear of going against the grain, or appearing disrespectful, played a key part in the dish's ongoing consumption.
"Changing cultural habits is our biggest challenge," Richey says, adding that passive consumption – eating the soup not because you particularly want to but because you feel it inappropriate to say no – is a huge factor in its continued sale.
"It's a tradition that dates back to the Ming dynasty, and traditionally a sign of wealth and luxury, like a Gucci bag."
She says that tradition may be why many well-heeled Hongkongers might still feel hesitant about excluding the dish from ostentatious dining extravaganzas.
Campaigners call for restaurateurs to pursue eco-friendly alternatives to the soup, or remove it altogether. Restauranteurs counter that to do so would negatively affect their bottom line. With more than two hundred high-end restaurants serving shark fin, they say the risk of losing customers to competitors is strong.
"It's up to the restaurants to step up en masse," Hofford said, adding that he regularly writes letters to restaurant managers across Hong Kong on behalf of WildAid.
Protesters demand FedEx stop shipping shark fin
A unified front in the restaurant industry against serving up the stringy soup would have a significant effect on the shark population. Like the logistics companies buckling one after another under campaign pressure, Hofford hoped restaurant chains would start to fall like dominos.
Catering giant Maxim's has already taken the soup off its a la carte menu, if not its set menus, and a number of leading hotels, including the Shangri-La chain, now refrain from serving the dish. The Hong Kong government has banned the soup from official functions.
But, as is clear from ongoing correspondence between campaigners and restaurant managers, the widespread will to risk a dwindling customer base and eradicate the dish from kitchens across Hong Kong simply isn't there yet.
This article appeared in the South China Morning Post print edition as: Stemming the slaughter