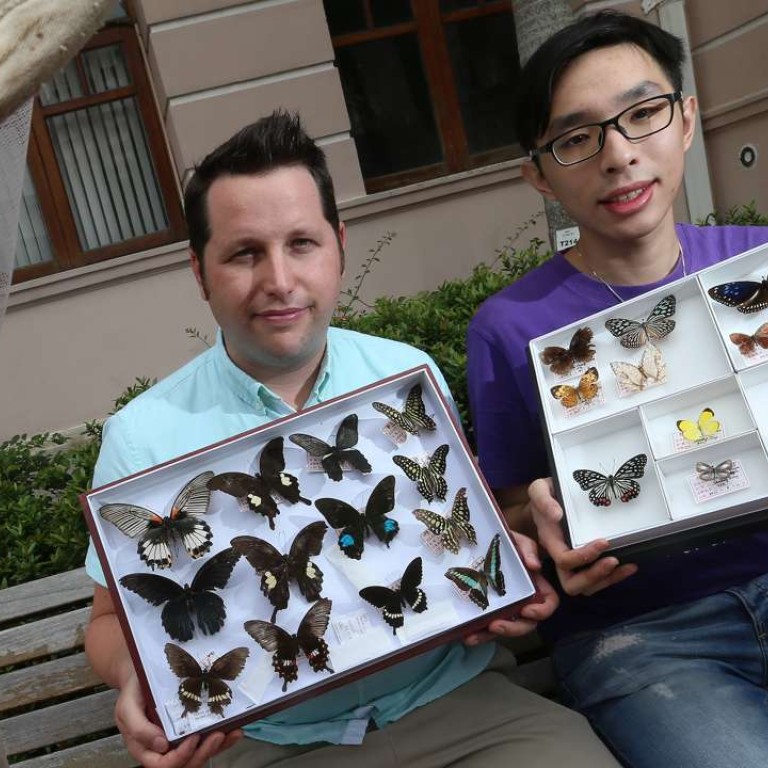 Hong Kong's urban parks need 'nature corners' to nurture city's 'rich diversity' of butterfly life, HKU experts urge
Study by University of Hong Kong ecologists finds environmental and spatial designs of downtown parks crucial to protecting city's 250 species, in the absence of more dedicated nature reserves
If you spot a rare butterfly in one of Hong Kong's urban parks, consider yourself lucky.
A new study by a team of University of Hong Kong ecologists has found the environmental conditions and designs of the city's parks to be a crucial factor in determining whether butterflies show up, and what sort, adding impetus to raising the conservational value of these important urban habitats.
Factors such as temperature, floral density, abundance of nectar plants, canopy cover and plant cover were found to be important determinants for the formation of communities of common butterfly species in parks.
The presence of rare species however, was found to be less affected by environmental variables and more by "spatial" ones such as whether parks were close to other rare butterfly habitats that could disperse them to other parks.
Researcher Toby Tsang Pak-nok, who worked on the study, said the findings proved that apart from the woods and countryside, urban areas were also vital habitats for butterflies, and he emphasised the importance of retaining biodiversity in what were already limited urban green spaces.
"The quickest and best way is of course to set up more nature reserves for conservation, but other parts of society may feel development is needed too, so this is just not plausible," Tsang said. "The best thing we can do then is maximise the conservation value of urban parks."
The team's research, published recently in the scientific journal Landscape Ecology, was conducted between April and November 2014 at nine urban parks in heavily built up Kowloon, including Kowloon Park and Kowloon Tsai Park.

A total of 51 species were recorded, with four classified "rare" or "very rare" – the peacock royal, metallic cerulean, forget-me-not and cornelian – by the Agriculture, Fisheries and Conservation Department.
"There are about 250 butterfly species just in Hong Kong, whereas in the entire United Kingdom there are only 60 species. We have a very, very rich diversity of life here," said Dr Timothy Bonebrake, head of the university's Global Change and Tropical Conservation Laboratory. "Butterflies are very sensitive to environmental change."
The scientists recommended park managers set up "nature corners" for butterflies and other fauna in parks, free from human disturbances such as insecticide spraying and vegetation trimming.
Concern group Green Power's latest annual butterfly survey of Hong Kong's 10 main butterfly "hotspots" recorded a total of 162 species – 53 of them rare and 39 considered very rare. The numbers held stable but drops were recorded in Sai Kung's Pak Sha O and Lai Chi Chong and in Mui Wo on Lantau Island.
"Reductions in green area and green space will definitely have a detrimental impact on butterfly species," Bonebrake said.
This article appeared in the South China Morning Post print edition as: 'Nature corners' urged for urban park butterflies