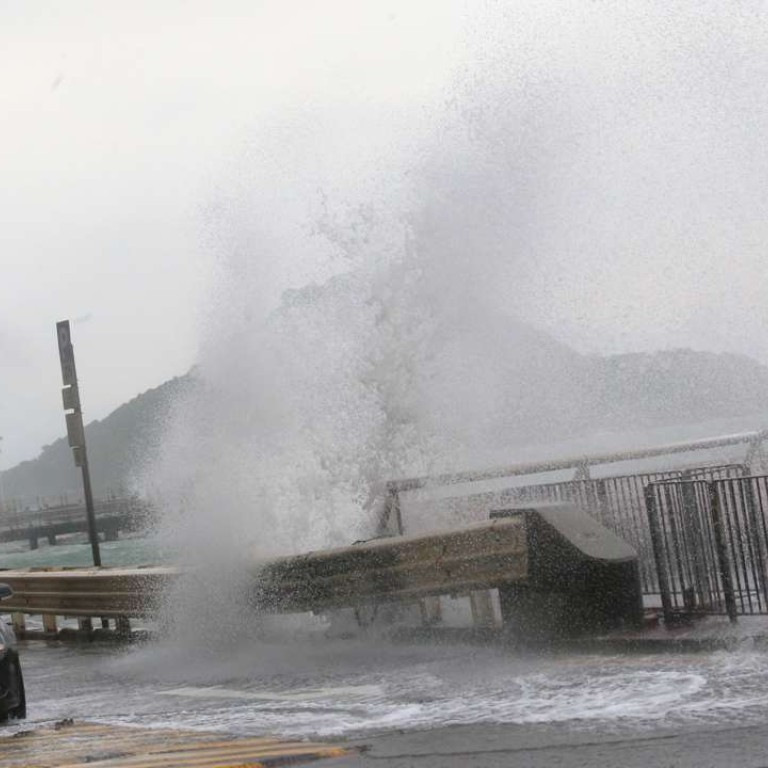 Update

|
Typhoon Haima leaves one dead in Hong Kong as city counts the cost
Observatory lowers all storm warning signals after a day of wild weather leaves one man dead and forces businesses to close, with one expert putting losses at HK$5 billion
Hong Kong was paralysed on Friday by a powerful late-season typhoon that triggered the first No 8 storm warning in October in more than two decades, and left one man dead, although the city managed to escape major damage as the storm swept past.
But Typhoon Haima, named after the Chinese word for sea horse, may have cost the city an estimated HK$5 billion in lost business, and Hong Kong International Airport was left with a backlog of hundreds of cancelled or delayed flights.
Watch: Typhoon Haima brings Hong Kong traffic to a standstill
The No 8 signal was raised at 6.10am, as the typhoon came within 250km of the city, shutting down schools, businesses, courts, stock markets and offices. It remained in force for 11 hours, coming within 110 km at one stage.
The last No 8 storm signal issued in the month of October was for Typhoon Sibyl in 1995.
Students, office workers and others had an extra day off, making it a long weekend, while most government services were suspended and the Hong Kong Stock Exchange remained closed for the day.
Francis Lun Sheung-nim, chief executive of financial group GEO Securities, said: "I would estimate the cost per working day in Hong Kong would exceed HK$5 billion, that would be the kind of number."
Terence Chong Tai-leung, of Chinese University's department of economics, agreed that a day's worth of Hong Kong's US$310 billion GDP figure was lost. But he said some of the losses would be made up through overtime or extra transactions when the stock market reopens.
The government received nearly 200 reports of fallen trees, including two gigantic trees near Causeway Bay Typhoon Shelter, which blocked six lanes of traffic on Gloucester Road.
Airport services were severely hit, with 740 flights cancelled or delayed.
The signal was lowered to No 3 at 5.20pm as the storm pulled further away from Hong Kong, but the Airport Authority said the weather was still unstable and the backlog would be cleared starting at midnight, with both runways open to speed it up. Travellers were warned to check with their airlines before heading for the airport.
The Observatory cancelled all typhoon signals at 10.10pm.
Visitor Alfred Happenhofer, who was heading home to Vienna, made the trip to the airport even though he knew his 1pm flight had been cancelled. "I guess I will be staying here to work on my laptop," he said, adding that it was his first typhoon in multiple visits to Hong Kong.
Despite the usual warnings to stay safe, storm chasers and tourists were out and about, braving the elements by waterfronts and at beaches for photo and video opportunities.
One such excursion outside proved fatal for a 50-year-old man who was found dead along the waterfront at the Ocean Shore housing estate in Tseung Kwan O.
Police suspected he was walking along the rocky shore when he lost his footing and fell, injuring his head. He was discovered at around 4.30pm by a teenager passing by.
Bryan Chan, who lives in Kennedy Town, brought his daughter along to catch the wind and waves. "Compared to the ­other typhoon, which brushed past us, this one is hitting the city right in its face so we are experiencing its full effect," he said.
The Tsim Sha Tsui shoreline became a hot spot for wind-swept selfies with Victoria Harbour for a backdrop.
Indonesian tourist Heru Sunarto, visiting the city for the first time, said he found out about the typhoon only when he could not get a ferry to Macau. "It is so quiet here now, very different from what we thought Hong Kong would be like," he said.
Haima, which made landfall over eastern Guangdong province, between Zhuhai and Shanwei, was expected to cause more serious damage along the mainland coastline, according to provincial meteorological expert Lin Liangxun.
Meanwhile, the Home Affairs Department reported about 170 people had sought refuge in 22 temporary shelters set up across various Hong Kong districts. The Hospital Authority said 12 people, six men and six women aged between 22 and 94, had sought medical treatment.
One female, 49, was taken to Prince of Wales Hospital for head injuries after strong winds caused a metal bar to break free from a signboard and fall on her in Chik Fai Street, Sha Tin at about 9.43am. Firemen removed the signboard.
Later, an expat canoeist, 25, was rescued by marine police after his vessel capsized in big waves off Tso Wo Hangin Tai Mong Tsai Road, Sai Kung, at about 11.30am. Police said the man was unhurt.
Executive director of airport operations Ng Chi-kee said the new flight schedule for Saturday 6am and onwards would be out by about 6pm on Friday, after they finished dealing with the airlines.
Ng said the number of support staff in the airport, ranging from those in the repair department to those customer service, would be increased in order to prepare for the weekend flights.
"We are expecting flights to gradually resume to take off by 6am tomorrow morning, and that will be the peak [for airport operations]," Ng said.
A total of 58 provincial cities and counties issued typhoon warnings, while neighbouring Shenzhen activated its highest-level emergency response system.
Shenzhen resident Mac Xu had planned to tour Hong Kong for a day before catching his Emirates flight to Dubai in the early hours of Saturday.
He decided to turn up at the airport 12 hours early on Friday to check his flight status with the company after learning about the typhoon.
"I am quite worried that I won't be able to get on the flight because it's to meet a business partner," Xu said. "I may still go out to shop if anything is open because the flight company told me it should take off as scheduled."
Lee Hong, a Beijing resident who was sitting on the floor next to the Hong Kong Airlines counter after her 3pm flight home was cancelled, said the company had not done enough for its customers.
"The typhoon forecast was out two days ago. They said they would get me on a flight one day earlier, but later they asked me to stay on my original flight as they predicted it would take off as scheduled," Lee said. "I feel that a lot fewer passengers would be held up if the airlines had made better preparations for the typhoon."
Retired Hong Kong resident Ms Li said she had come to the airport to make sure she was on the standby list for her light to Tianjin as she could not get in touch with Hong Kong Airlines customer service on the phone.
"Their website is down, and their hotline mailbox is full, " Li said.
Earlier, Haima hit the Philippines hard, killing several people as it destroyed homes, downed power lines and sent 100,000 scrambling for shelter.
Hong Kong, while it picks up the pieces today, is looking forward to better weather after two typhoons and a black rainstorm warning, with the Observatory forecasting sunnier skies and calmer conditions throughout next week.
This article appeared in the South China Morning Post print edition as: paralysed city counts cost after pounding by haima