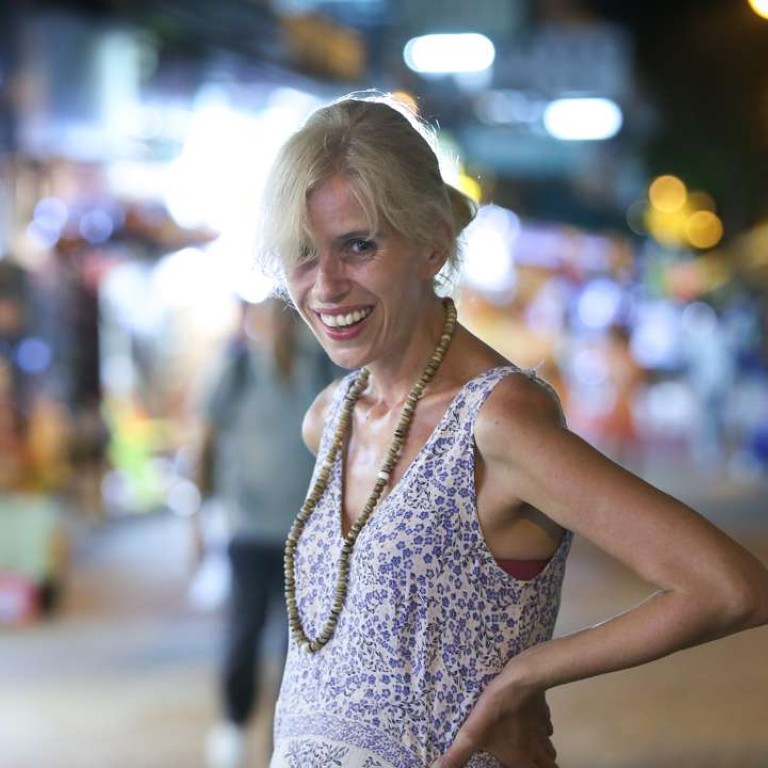 How a bipolar sufferer came down to earth after a flight of fantasy
For years filmmaker Sadie Kaye struggled with the emotional highs and lows caused by the brain condition – then she set out to conquer her mood swings and help others like her in Hong Kong
On a skiing trip in France, Sadie Kaye experienced a surge of confidence. Believing herself to be an expert skier, she decided to take on the steepest slope on the mountain range.
Yet as she began her descent from the top and hurtled down the icy cliff, her body froze. The world became a blur. In an instant, she realised that she actually didn't know how to ski at all and had never skied in her entire life. She crashed, twisting her ankle.
In 2011, several years after the incident, Kaye was diagnosed with bipolar disorder, a brain condition that causes shifts in mood, energy and activity levels that lead to periods of intense emotion. It was only after her diagnosis that she realised she had experienced a delusion during a manic episode that day on the French Alps – a common symptom among severe bipolar patients.
"My brain told me that I was a fantastic, practised skier. My friends were like, are you crazy? Why did you lie? I felt so awful, but I really believed it," Kaye said. "[I pretended] I had lied about it because it seemed less weird ... than saying my brain had told me that I could ski and I had all these memories that turned out to be completely fake."
A filmmaker originally from Hong Kong, Kaye lived abroad before returning to the city about a year after being diagnosed. Her experience inspired her last year to establish Bipolar Hong Kong, a peer-led support group that aims to provide a safe space for sufferers and fight the stigma attached to mental illness.
An estimated 1 in 20 people in Hong Kong have bipolar affective disorder, according to a 2007 study by the University of Hong Kong. There were nearly 1,000 patients polled at 11 private clinics in 2009, a study by the Society for Advancement of Bipolar Affective Disorder showed. Those between 15 and 25 years old have the highest risk of onset.
Although there has been increased awareness of bipolar disorder, the scope of the condition means that sufferers are often misdiagnosed with other illnesses like schizophrenia or personality disorder. Overseas studies show that almost half of bipolar patients were only diagnosed after having been treated by psychiatrists for eight years, according to the Hospital Authority website.
"With bipolar, you're not always manic or depressed. You usually have long periods of mood stability," Kaye said. "I went undetected for so long because ... I had an overactive thyroid and my symptoms were exacerbated by contracting viral meningitis when I was younger."
According to Kaye, Hong Kong lacks adequate resources to support patients and a shortage of psychiatrists increases the chances of misdiagnosis. Patients usually would only seek help at hospital if they were experiencing depression rather than mania. As a result, they are often misdiagnosed and given antidepressants, which can cause negative effects, she added.
In Hong Kong, there's a stigma surrounding not only bipolar disorder but also mental illness in general, she said.
"Mania can be good. So many creative people have bipolar disorder," Kaye said, adding that patients come from all walks of life. "You're very quick thinking, you have no fear of failure, you're very driven and super productive. It can be good to a point, but then it goes too far and you've just completely lost track of reality."
Now in the process of registering the group as a non-profit, Kaye hopes to continue to increase awareness of the disorder. For patients, she said that it's important to find a suitable type of treatment and tell your psychiatrist if something isn't working.
"It's not going to trap you when you get a diagnosis, or stop you from living a fulfilling or successful life. If you're having treatment and you're taking your medication, there's no reason why you can't do anything you want to."