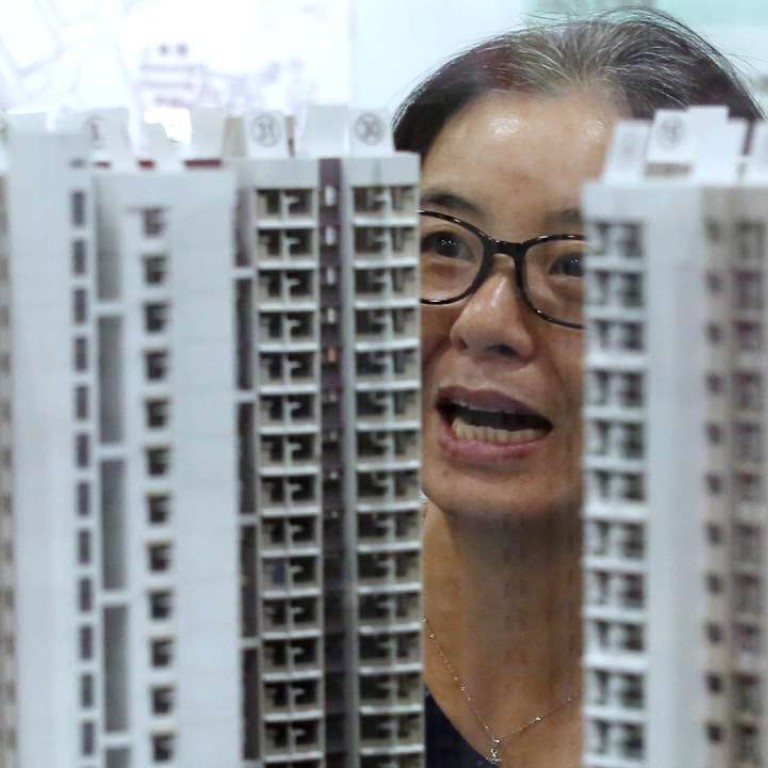 Time for Hong Kong to think out of the box to solve its liveability crisis
Soaring prices for flats that are getting smaller, congestion, air pollution ... it's no wonder 40 per cent say they would leave if given the chance
While Hong Kong is undeniably one of the top places to live in the world in terms of personal safety and efficiency, residents are becoming more concerned about the city's liveability as it struggles to combat soaring rents, overcrowding, exorbitant living costs and air pollution.
Although Hong Kong provides a high level of safety and access to quality public services such as health care and transport, experts say the government can do more to provide affordable housing and minimise congestion by improving the utilisation of public spaces.
Commenting on what makes a "liveable" neighbourhood in Hong Kong, Jason Li, relocation services manager for property company Santa Fe Relocation Services, said the most important factors were access to transport, shopping, restaurants and overall atmosphere.
"Families tend to prefer close proximity to schools, while younger professionals usually enjoy easy access to dining and entertainment," he said. "Neighbourhoods are constantly evolving and as retail and dining businesses continue to expand beyond typical areas like Central and Tsim Sha Tsui, this makes other areas more desirable."
A survey by local think tank Civic Exchange released in October showed that seven out of 10 Hongkongers thought the city had become a worse place to live, with more than 40 per cent saying they would leave if given the chance.
Other recent studies have suggested Hong Kong is becoming a less attractive destination for expats, with increased living costs cited as the major turn-off. This year it fell from 26th to 44th place in the Expat Insider survey, compiled by expatriate networking website InterNations. Taiwan, a new entry in 2016, topped the poll.
"Hong Kong is convenient to live in and has good transport links," said Yip Ngai-ming, professor and urban studies course leader at City University of Hong Kong. "But it is also congested and polluted. Although we do have all the country parks and trails."
Yip said he thought it was difficult to compare the liveability of Hong Kong with cities around the world. It was more appropriate to compare it "like-for-like" with another Asian city such as Singapore, which was ranked highly, he said. Key markers of liveability include the development of infrastructure, public transport and areas of natural beauty, he added.
"One other good thing about Hong Kong is that the neighbourhoods are very mixed. There is not much segregation and ghettoisation, like in America," Yip said. "Our streets are overcrowded, but some are completely deserted because of the construction of shopping malls. That is a defect of our design. It could be a lot more lively if that was improved by the government."
The issue of Hong Kong's liveability was raised last week after the city's development chief dismissed the need to impose
minimum size limits on new flats
, even as developers are building apartments that fall below living space requirements enforced by many countries. Some flats are as small as 152 sq ft, the
Post
reported.
The government sets a minimum of 70 sq ft of space per person in public housing.
Paul Zimmerman, southern district councillor and CEO of nonprofit Designing Hong Kong, said it was crucial for the government to impose minimum standards and encourage the development of bigger flats. At the moment, Hong Kong has many small flats and the average size is getting smaller. The result is that bigger apartments remain highly unaffordable, preventing people from being able to move up to a bigger home when the family grows, he said.
"The free market will determine how many people huddle together in a space that is available. But that doesn't mean you cannot set minimum standards for the sizes [of flats] that property developers are building. They're becoming ridiculous," Zimmerman said.
"There's no movement and mobility in the market. It's not possible because we are not building bigger flats."
The lack of affordable housing made the city an expensive and crowded place to live in – a problem that is compounded by the fact that it's not easy to move out of the city if you're working there, he said.
"You can live outside and work in London [for example]. But you can't live in Dongguan and work in Hong Kong. It's not easily an option because the moment you go outside the boundaries of Hong Kong everything is different, from education, health care, food safety, insurance [and more]," Zimmerman said. "That puts a lot of stress on Hong Kong."
According to Zimmerman, the city also needed to improve its public space and infrastructure to minimise congestion in the coming years, particularly with the expected influx of visitors as a result of new transport links between Hong Kong and mainland China. The government would have to establish a strategic plan to ensure that there were sufficient parking spaces for vehicles and that they were located outside of the urban areas, he said.
Average daily trips between Hong Kong and the mainland increased by more than half from 394,000 in 2005 to 610,000 last year, according to the government's Hong Kong 2030 Plus consultation document released in October. New boundary crossing facilities such as the Guangzhou-Shenzhen-Hong Kong Express Rail Link, the Liantang/Heung Yuen Wai Boundary Control Point and the Hong Kong-Zhuhai-Macau Bridge are currently under construction.
"The biggest challenge to our liveability is that we are growing our connections with the mainland. If we're really going to increase traffic flow between the mainland and Hong Kong ... we have to rethink how people park," Zimmerman said.
Adding pressure to traffic congestion, the number of private vehicles in Hong Kong had increased by an average of 3 per cent annually for the past two decades, the report said. Should this trend continue, the number of vehicles in the city would reach 1.23 million by 2041, almost double that of last year's figure, the Post reported.
Zimmerman said another factor that contributed to liveability was people's perception of the city's political future. "Whether people have a positive or negative outlook [on politics] would moderate their responses [as well]," he said.
In addition to congestion and housing, experts also urge the government to design public spaces that are more walkable and green.
There needed to be wider pavements, more public seating and shading to make areas more pedestrian friendly, Zimmerman said. Rather than random footbridges that had detours, the city needed more efficient secondary networks like elevated pathways and tunnels that could be enjoyed freely, he added.
Maura Wong, CEO at Civic Exchange, echoed Zimmerman's sentiments and said the city had a lot of potential to raise its level of liveability by making the city more walkable.
"Hong Kong is already very walkable. But it's not by design but by default," she said. Research showed that the more people walked around their neighbourhood, the stronger sense of community residents would develop for their neighbourhoods, Wong added.
Only 10 per cent of daily commutes are done by private cars, which means that most people choose to walk and use public transport. But the distance one has to travel to get to the MTR station is becoming increasingly less pleasant, Wong said.
"As most shops are moving into shopping malls, streets in Hong Kong are losing its human touch. We used to just hang gaai [walk the streets]. So back then our streets are where people go. It's a destination," she said. "It helps the city to better utilise public space. Streets could be more pleasant to walk. They should be more pedestrian-friendly and people-centric."
Associate Professor Alain Chiaradia, programme director of the master of urban design at the University of Hong Kong, said the city's transport system was "one of the most successful" in the world. But there was too much emphasis on efficiency over enjoyability in regards to getting around the city, adding that the situation could be improved by introducing more pedestrian-only roads.
Chiaradia said the government's second long-term planning strategy, Hong Kong 2030 Plus, could prove to be a turning point in how the city was structured in the future, particularly if it introduced
pedestrian-zoned town plazas
.
Hong Kong's geographical location meant it was surrounded by mountains and greenery, but as a result of the urban sprawl it was not always easy to access it, he added.
"The landscape makes Hong Kong very special, but at the same time it is not that easy to get there. If you want to find the entrance to the country trails, you have to look for it," he said. "Efficiency is one of the words I have heard most since I arrived here, but you start to question its meaning."
Additional reporting by Josh Ye
What are some of the most liveable districts in Hong Kong? Experts take their picks
HONG KONG ISLAND
Wan Chai
Rent: HK$66 per square foot for The Avenue
Cost of living: Loaf of bread HK$12.3, fresh milk HK$25.5
Outdoor spaces: Southorn Playground is a popular area to play football and basketball. It attracts elderly residents playing Chinese chess. Wan Chai, which borders Mount Cameron, has good links with some major hikes via Wan Chai Gap, including section four of the Hong Kong trail towards Wong Nai Chung Gap.
Safety: Crimes reported in the Hong Kong Island region fell by about 4 per cent from 12,817 in 2014 to 12,327 last year, according to police statistics.
Environment: 75 on Air Quality Index
Transportation: Served by Wan Chai MTR on the Island Line, soon to have a new station on the Central to Sha Tin line. Also served by trams between Kennedy Town and Shau Kei Wan, multiple buses and the ferry to Tsim Sha Tsui.
Diversity : 29,817 people classed as ethnic minority
Iconic character: Professor Yip highlighted Wan Chai as one of Hong Kong Island's most "vibrant and diverse" communities.
Quarry Bay
Rent: HK$44-46 per square foot for The Orchards. Rents dropped by an average of 13 per cent compared with the second half of 2015, meaning Quarry Bay saw the biggest fall in residential rents in the first half of 2016, according to online property firm Spacious.
Cost of living: Loaf of bread, HK$10.8, milk HK$25.5
Outdoor spaces: Quarry Bay Park is situated between the waterfront and Tai Koo Shing housing estate. A 270-hectare extension of Tai Tam Country Park is great for a morning hike and gives good views of Mount Parker and the north face of Mount Butler.
Environment: 36 on Air Quality Index
Transportation: Served by Quarry Bay MTR on the Tseung Kwan O Line and Island Line. Also Tai Koo station on the Island Line. Served by buses and minibuses to Kornhill, Cyberport, North Point, Shau Kei Wan and Kennedy Town. Also served by trams between Kennedy Town and Shau Kei Wan.
Diversity : 41,496 classed as ethnic minority (Eastern district)
Iconic character: "Quarry Bay is going to change. A lot of new developments are coming in," Zimmerman said. "Tai Koo Shing is really well done in terms of pedestrian space."
KOWLOON
Sham Shui Po
Rent: HK$35-46 per square foot for the Gardenia
Cost of living: Loaf of bread HK$12.3, fresh milk HK$25.5
Outdoor spaces: Sham Shui Po Park offers gardens, a basketball court, jogging track, swimming pool and tai chi courts. Residents can roam the 7.85 hectares of Shek Kip Mei park, home to an outdoor artificial climbing wall, tennis courts and an amphitheatre. Meanwhile Nam Cheong Park is surrounded by dense rows of trees, providing a welcome break from the neighbouring busy streets, and includes a children's playground.
Safety: Crimes reported in the Kowloon West region rose by about 0.4 per cent from 18,078 in 2014 to 18,151 last year.
Environment: 41 on Air Quality Index
Transportation: Served by Sham Shui Po MTR on the Tsuen Wan Line. Also close to Shek Kip Mei on the Kwun Tong Line. Part-time pedestrian only zones introduced across the neighbourhood to reduce congestion.
Diversity : 18,087 people classed as ethnic minority
Iconic character: "Sham Shui Po has a diversity I love," Yip said. "There are old streets, and you have the markets and you can get great food."
Tai Kok Tsui
Rent: HK$38-42 per square foot for Lime Stardom
Cost of living: Loaf of bread HK$12.3, fresh milk HK$25.5
Outdoor spaces: Home to Cherry Street Park, which offers a playground for children aged two to 12. Anchor Street Playground, Lok Wan Street Park and the Ivy Street rest garden are other small parks which offer residents some peace and quiet.
Environment: 61 on Air Quality Index
Transportation: Served by Olympic MTR and close to Nam Cheong station, both on the Tung Chung Line. Served by multiple buses and minibuses.
Diversity : 38,003 people classed as ethnic minority, (Yau Tsim Mong District)
Iconic character: "Tai Kok Tsui is not as attractive but its food is arguably better. And the shops are creative," Yip said.
NEW TERRITORIES
Sha Tin
Rent: HK$26-35 per square foot for Dragons Range
Cost of living: Loaf of bread HK$12.3, fresh milk HK$28
Outdoor spaces: Sha Tin Park, situated along the Shing Mun River, includes an aviary garden, an amphitheatre, a children's playground and a waterfall. Popular hiking trails start in Hin Tin Village and Sha Tin Tau Village and head to Lion Rock Mountain. The area is popular with cyclists, with a route along Tolo Highway to Tai Po.
Safety: Crimes reported in New Territories South dropped by about 2 per cent from 11,345 in 2014 to 11,135 last year.
Environment: 30 on Air Quality Index
Transportation: Five MTR stations in the district; Tai Wai, Sha Tin, Fo Tan, Racecourse and University. Extensive cycle network. Roads upgraded in early 2000s to cope with traffic demands.
Diversity : 28,387 people classed as ethnic minority
Iconic character: "Sha Tin has room for everyone. The middle class can afford a nice apartment there. The super rich can buy houses there. It has some international school as well as some local schools. There are a number of sports facilities, which are quite accessible," Zimmerman said.
Sai Kung
Rent: HK$31-37 per square foot for Marina Cove
Cost of living: Loaf of bread HK$12.3, fresh milk HK$25.5
Outdoor spaces: Perhaps one of the major attractions of the area, Sai Kung district is home to stunning beaches, trails and areas of natural beauty. Highlights include Tai Long Wan beach and the areas in and around Clearwater Bay. The Hong Kong Unesco Global Geopark includes some of Sai Kung's hexagonal rock columns.
Safety: Crimes reported in the Kowloon East region, which includes Sai Kung, dropped by about 2 per cent from 11,264 in 2014 to 11,006 last year.
Environment: 30 on Air Quality Index
Transportation: Parts only accessible by minibus. Ferry services between coastal points on the peninsula and in and around the islands. Wider district served by Tseung Kwan O Line on the MTR.
Diversity : 29,414 people classed as ethnic minority
Iconic character: "There are some good villages out there with great access. You can walk to the water, or up to the mountains," Zimmerman said. "If you're going into the village area, people have to be careful where they buy because the layouts can be random."
Sources: https://waqi.info, rental prices provided by Santa Fe Relocation Services. Environment reading based on a single day in November 2016. Cost of living based on cost of Garden Life bread and Trappist milk. Safety based on police statistics