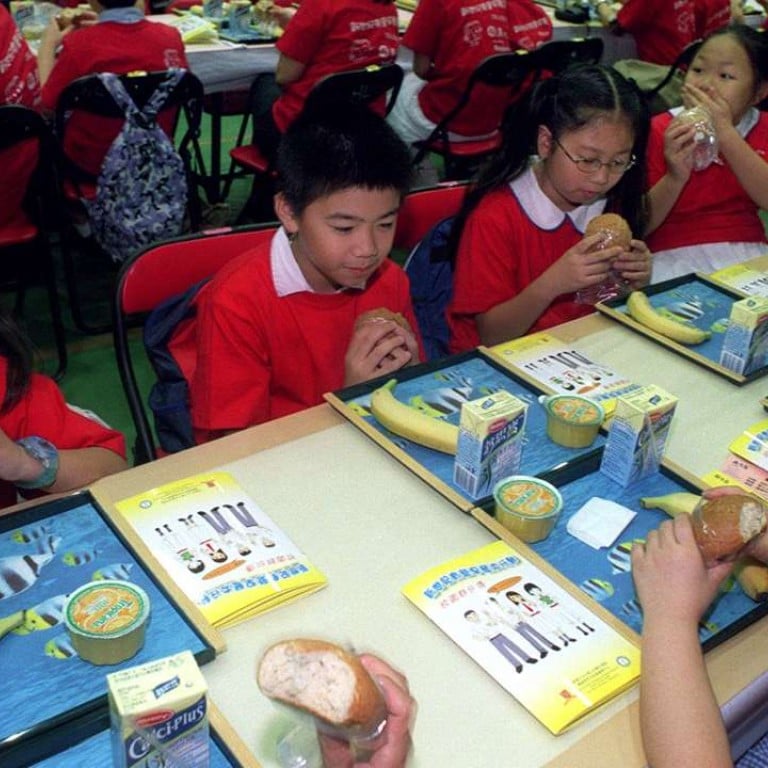 Hong Kong pupils who eat breakfast daily '18 months ahead of those who skip the meal'
University researchers raise the alarm after finding that children eat breakfast less often as they get older
Children who eat breakfast every day perform as well in tests as pupils who are 18 months older but skip food in the morning, a Chinese University study found.
One academic said starting the day with a good meal was more beneficial for youngsters than signing them up for extra tutorials.
But the right food is equally important, with a combination of carbohydrates and protein being the optimal meal.
Researchers at the faculty of education analysing data from 15,000 schoolchildren and 12,000 parents over the past six months were alarmed to discover that fewer pupils eat breakfast regularly as they grow older.
While 75 per cent of Primary Three pupils eat breakfast seven days a week, this falls to 60 per cent in Primary Six and only 41 per cent by Secondary Three.
Thirteen per cent of Secondary Three pupils indicated they never ate breakfast, compared with 6 per cent for Primary Six and 3 per cent for Primary Three.
Children who ate breakfast every day scored 30 to 50 points more in two internationally recognised tests – the Programme for International Student Assessment and the Trends in International Mathematics and Science Study.
Using a baseline of 500 points for Hong Kong students, those who ate breakfast regularly scored up to 55 points more than their counterparts of the same age who skipped breakfast.
"The effect is equivalent to an additional 1.5 years of education. This means that children who have just started Primary Three will be as good as those in mid-Primary Four," Professor Hau Kit-tai, an education psychologist, said.
"We wish to convey the message to parents that helping their kids develop the habit of eating breakfast is much more effective than signing them up for tutorials or other academic programmes."
Research has found that the cerebral glucose utilisation rate – the amount of sugar needed for the brain to function – is double for children aged four to 10 compared with adults.
Paediatrician Lilian Wong Hiu-lei explained the importance of children kick-starting their day with a proper meal. "[Children] with regular breakfast habits take in an average of 20 to 60 per cent more nutrients, are less prone to obesity problems and enjoy better cardiovascular health."
As children generally need more sleep than grown-ups, their glycogen reserves could be depleted overnight, reinforcing the need to refuel in the morning.
"Optimally this should be done before class or work – saving your meal until late in the morning may not be as effective," Wong said.
The researchers said bakery goods such as bread were the most beneficial, while proteins and cereal also had a positive impact. But processed meat, convenience food and soft drinks were found to have a negative impact on academic performance.
The best meal combined carbohydrates, proteins and fruits as it provided a balance of energy and nutrients.
Dr Chan Chok-wan, board chairman of the Hong Kong Paediatric Foundation, said the government should require schools to serve breakfast.
"Standardising breakfasts for our children can also improve their dietary habits and ensure they absorb essential nutrients and minerals at the same time," he said.
This article appeared in the South China Morning Post print edition as: Breakfast better than extra lessons, study finds