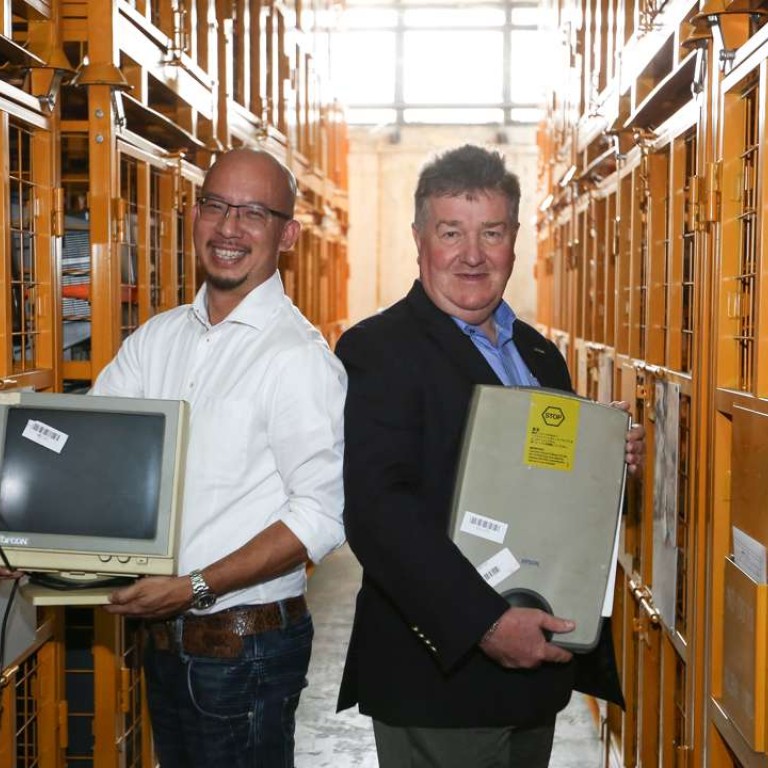 Hong Kong's first integrated recycling plant for e-waste part of plans to make polluters pay
Operator looks to increase city's recovery rate for electronic waste to at least 80 per cent as government implements "polluter pays" laws
The operator of Hong Kong's first integrated recycling plant for electronics is hoping to increase the local recovery rate of such waste materials once its new facility and collection network become fully operational "on time and on budget" next year.
Packed into yellow steel cages, stacked two storeys high in a Sheung Shui warehouse are 200 tonnes of old bulky television sets, inkjet printers, scanners and refrigerators that the government contractor has been collecting since July. It will reach full capacity at 600.
The junk will be trucked off to the government's first integrated treatment and recycling facility when it opens in the middle of next year at the Tuen Mun EcoPark – one of several measures to accommodate the government's new "polluter pays" laws on certain types of electronic waste.
The producer responsibility scheme will include televisions, fridges, washing machines, computer products and air-conditioning units.
Passed in the legislature in March, once in effect, importers or distributors of the appliances will have to pay to help fund collection and disposal of waste electrical goods.
"In Europe, recycling is something expected, but in Hong Kong we're still learning," said ALBA IWS director Nigel Mattravers, the government contractor tasked with building and operating the facility and network.
The contractor is building five regional collection centres, including the one in Sheung Shui, to sort, store and record the e-waste, and eight satellite centres for collection only. Apart from helping businesses or NGOs conduct "take-back" services, the public can also drop e-waste off directly at the collection centres.
About 70,000 tonnes of waste electrical and electronic equipment is disposed of in the city each year, 80 per cent of which is shipped off to regions such as Africa and Southeast Asia, while the rest is handled locally and dumped in a landfill.
The new facility will be able to handle 30,000 tonnes per year but the operator claims it will be able to increase capacity by extending operating hours if necessary.
"Much of this material is handled very badly across the world. At this facility we will recover all the hazardous materials from these appliances and make sure they are properly disposed of ... and processed in a safe and environmentally sound fashion," Mattravers said.
The products will be detoxified, dismantled and turned into secondary raw material such as plastics, alumina, copper or iron, which can be reused for manufacture or landfilled locally "in a clean manner".
Mattravers said the target was to increase the local recovery rate to at least 80 per cent.
The Environmental Protection Department said reliance on exports to manage e-waste was not sustainable in the long run because demand for second-hand products overseas would decline over time.
Harmful materials found in e-waste, if not properly treated or disposed of, can harm the environment and human health.
ALBA IWS logistics manager Lawrence Cheung said the operator would have strict guidelines on waste collection such as by collecting only from a registered retailer or licensed recycler to avoid collecting illegally imported e-waste.
A two-year investigation by environmental group ­Basel Action Network last year found Hong Kong to be a dumping ground for unwanted e-waste from the United States, in violation of the Basel Convention, which bars importation of hazardous waste.