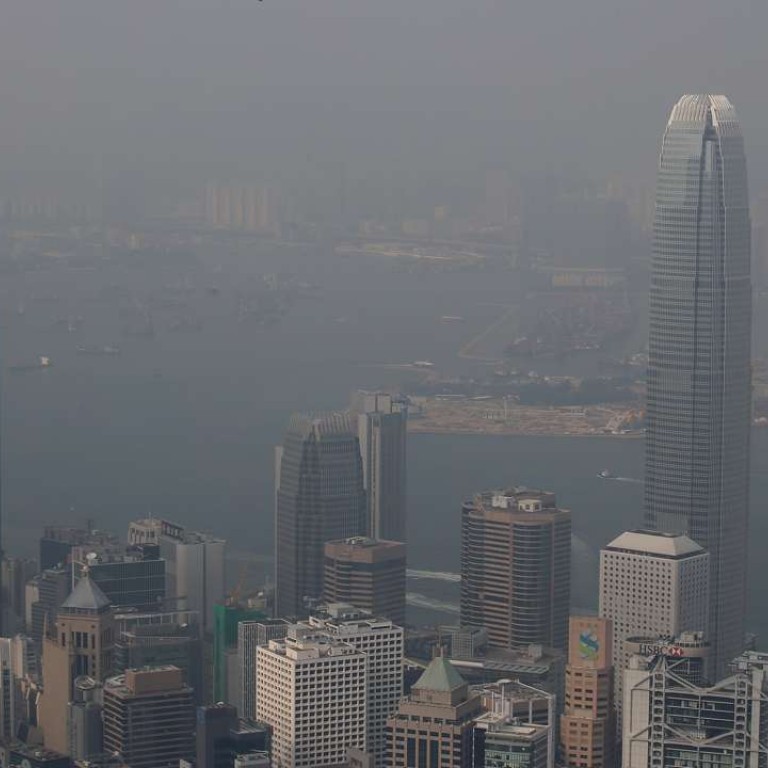 Smog from China shrouding Hong Kong poses 'very high' health risk
Monsoon brings choking pollutants from mainland China, with Tung Chung and Tuen Mun hit worst
Several districts in Hong Kong experienced poor quality air on Sunday that posed a "very high" health risk, as a monsoon from the northeast brought the dreaded smog that has shrouded large parts of the mainland.
By 6.30pm, 11 out of 16 stations in different districts recorded Air Quality Health Index readings ranging from 7 to 10, posing high (7) to very high (8 to 10) health risks, according to the Environmental Protection Department.
The readings reached 10 in Tung Chung and Tuen Mun, 9 in Yuen Long and Tsuen Wan, 8 in Causeway Bay roadside, Central roadside, Sha Tin and Central and Western, and 7 in Kwai Chung, Tai Po, Grass Island and Mong Kok.
In Tung Chung, the level of harmful PM2.5 particulates had reached as high as 141.3 micrograms per cubic metre, almost six times the World Health Organisation's safety limit of 25 and well above Hong Kong's limit of 75.
At the roadside monitor in Causeway Bay, the reading hit 116.2, while in Tsuen Wan it reached 113.1.
But the World Air Quality Index, which compiles data from more than 600 cities in over 70 countries, recorded even higher pollution levels across the city, with maximum PM2.5 readings ranging from 126 to 196 yesterday.
"Hong Kong is being affected by an airstream with higher background pollutant concentrations," a department spokesman said. "The light wind hinders effective dispersion of air pollutants. The sunshine enhances photochemical smog activities and the formation of ozone during the daytime, resulting in high pollution in the region."
He said pollution levels were expected to remain higher than normal until a replenishment of monsoon from the northeast was expected to bring windier and slightly cooler weather in the next few days.
Watch: Beijing continues to choke on thick smog
Under "very high" health-risk levels, children, elderly and people with heart or respiratory illnesses are advised to reduce physical exertion and outdoor activities to a minimum. Other people are advised to avoid activities in areas with heavy traffic, as well as reduce physical exertion outdoors.
Colder weather is expected from Thursday, with temperatures expected to dip to as low as 13 degrees Celsius on Saturday.
Meanwhile, the poor air quality was not the only concern of participants in the Streetathon community race on Sunday – 337 runners suffered injuries and seven were sent to hospital.
As of Monday morning, three women were still receiving treatment at United Christian Hospital. One, aged 36, remained in critical condition in the intensive care unit. Another, aged 30, whose condition was reported as serious on Sunday, was in a stable state. The third woman, aged 34, was also in a stable condition and remained in the medical ward.
Additional reporting by Elizabeth Cheung
This article appeared in the South China Morning Post print edition as: 'Very high' health risk as smog shrouds Hong Kong