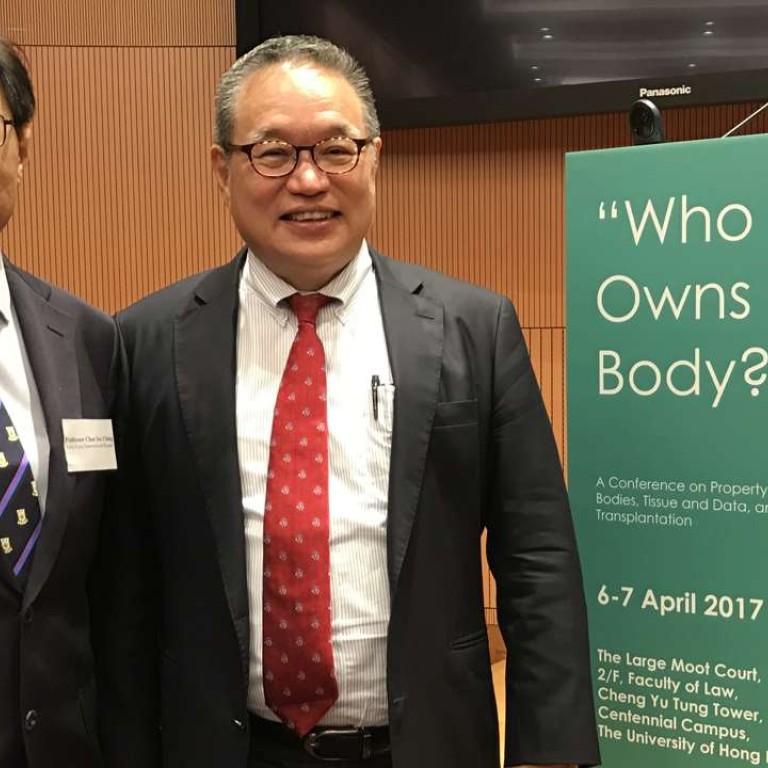 Hong Kong urged to clarify legal issues before launching opt-out organ donation scheme
City should first legislate on the definition of brain death, HKU professor says
Hong Kong is not yet ready for an opt-out organ donation scheme as legal issues and further medical matters need to clarified, an expert in the field says.
Terry Kaan Sheung-hung, co-director of the University of Hong Kong's Centre for Medical Ethics and Law, issued the caution as health minister Dr Ko Wing-man revealed that the government was thinking about introducing an opt-out scheme to increase the transplant rate.
Under such a system a person would be considered a willing donor upon their death unless stating an objection in advance.
The organ donation rate in Hong Kong is among the lowest in the world, with only 5.8 in every million people donating in 2015, compared with 39.7 in Spain. By the end of March more than 248,000 people had registered at the centralised organ donation register.
Kaan said the city should first legislate the definition of brain death, a condition in which a person's brain no longer functioned but the heart might continue to beat with the support of a ventilator.
"Now without law, we don't have any certainty with legal definition," Kaan, an associate professor in law at the university, said.
Currently in Hong Kong, two senior doctors are required to carry out separate tests to determine brain death, but there are no laws that define the condition.
"A certification of brain death based only on professional guidelines may be open to legal challenge by those that do not agree with that standard," said Kaan, who was part of a Singaporean government advisory committee on transplantation from 1998 to 2014.
Speaking at a conference on legal issues surrounding organ transplants last Thursday, Kaan drew on the experience of Singapore, where such a definition was established when an opt-out scheme was introduced in 1987.
Under that arrangement, anyone aged 21 or above is automatically considered for donations of their kidneys, liver, heart or corneas unless an objection has been stated.
Kaan said studies had to be done to understand how many more organs could actually be retrieved, given that the city had the world's longest life expectancy for women.
"People in Hong Kong tend not to die prematurely – how many desired organs would you get?"
Also, the quality of organs might not be as good as expected, while cancer, a leading cause of death in Hong Kong, was another factor.
These are problems now facing Singapore, where the donation rate is barely 6.5 per million people.
Kaan said the government should carry out a thorough study.
"We need to be clear whether it's worth doing. Do we have clear statistical basis for the law?" he said.
Professor Chan See-ching, an expert in liver transplants who attended the conference, said the opt-out scheme should be carried out prudently and provide easy access for people to object.
A Food and Health Bureau spokeswoman said they were waiting for results of a Census and Statistics Department's household survey, which asked the public about organ donations including an opt-out scheme. Results will be available early next year. She said the public would be consulted before any big changes were made.