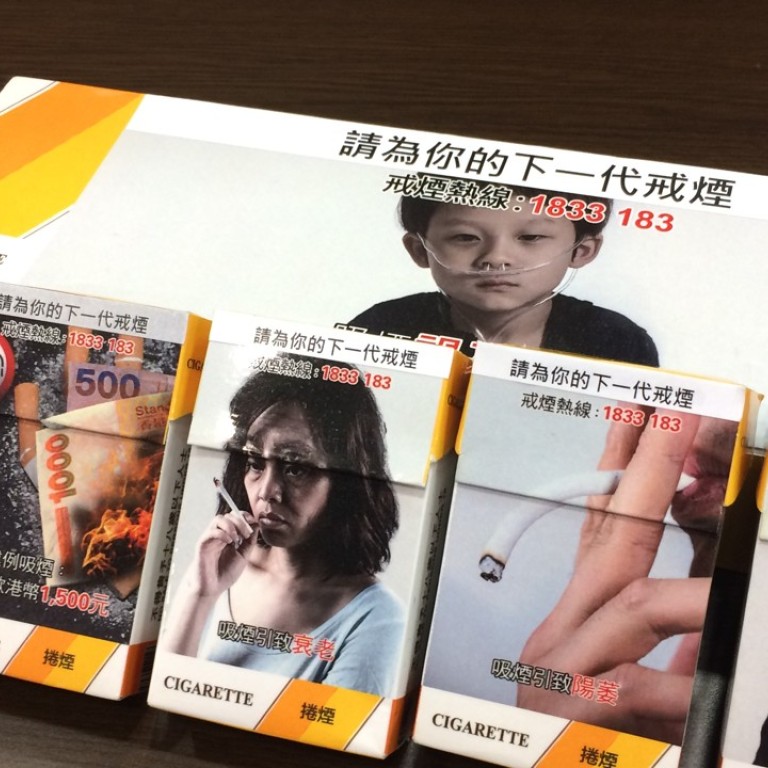 Heat rising in Hong Kong's war on tobacco
Smoking kills and costs taxpayers billions to treat. But a legal move to increase the size of health warnings on cigarette packets has met fierce resistance
Tobacco control is a sensitive subject, with the battle lines firmly drawn between those who advocate government intervention to protect public health, smokers who resent any intrusion in what they see as a matter of personal choice, and the vested interests that rely on addiction to make money.
It is in this context that Hong Kong now finds itself caught up in a new debate over expanding health warnings on cigarette packets. And while it may sound like a simple issue in itself, the tobacco industry, the anti-smoking lobby and the government are locked in a high-stakes battle that is being fought in the city's legislature.
About 10 per cent of Hongkongers are smokers, reflecting a gradual decline from 23 per cent in 1982. The government wants to push that statistic further down.
To discourage smoking, the Food and Health Bureau has tabled an amendment in the Legislative Council to the existing tobacco-control law aimed at increasing the size of health warning labels on cigarette packets to 85 per cent from the current 50 per cent, and the number of warnings from six to 12.
Will it make a worthwhile difference?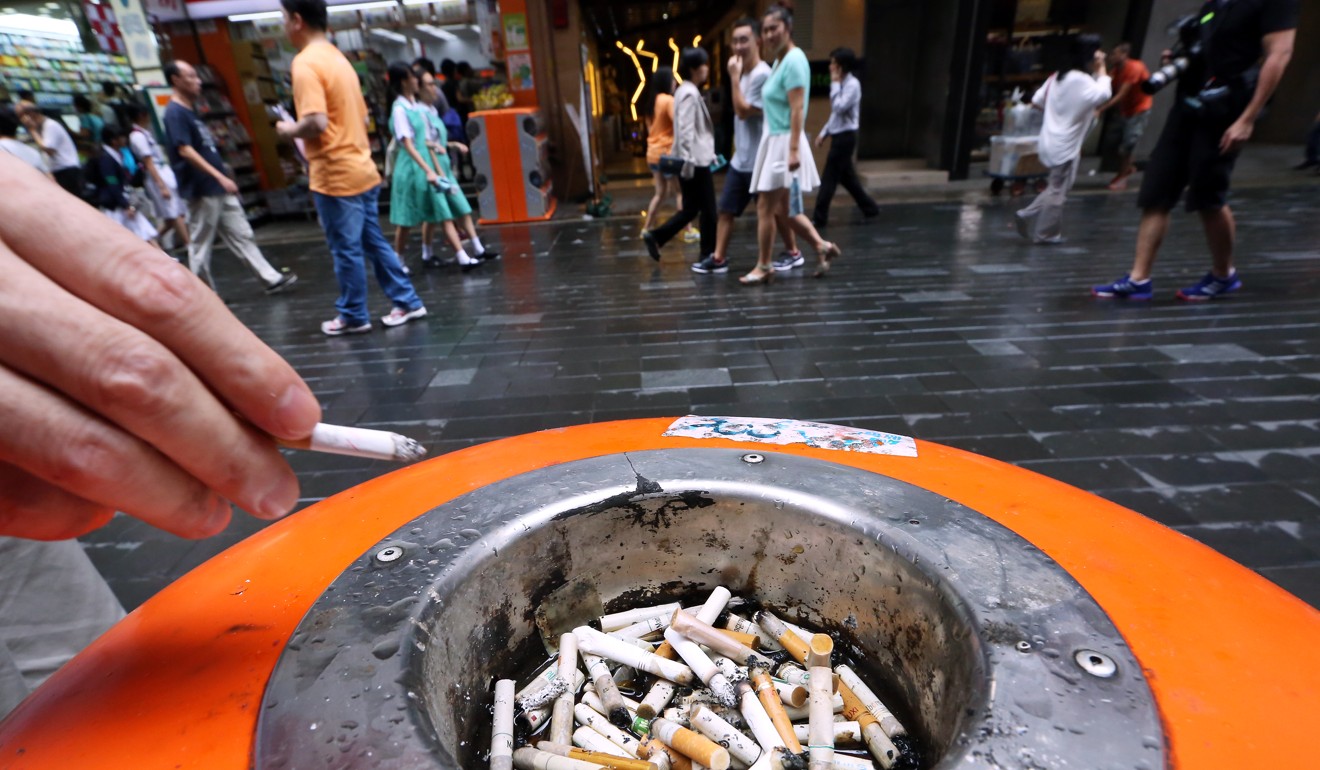 "Hong Kong has roughly 700,000 smokers. Even if the measure helps just 1 per cent of them to quit smoking a year, then it would have helped 7,000 people quit smoking," said Professor Lam Tai-hing, head of community medicine at the University of Hong Kong.
"Considering that half of all smokers die from smoking, that would have saved 3,500 lives."
The amendment was gazetted on April 21, although it is subject to negative vetting by lawmakers. Those who oppose the move question the effectiveness of bigger and tougher warning labels, but experts point out that the evidence is right there.
"The Hong Kong government is doing the right thing by making the warning labels more appropriate, stronger and evidence-based," said Dr Geoffrey Fong, a tobacco-control specialist from the University of Waterloo in Canada, who was recently in Hong Kong to help drum up support for the packaging legislation.
"This is the most harmful consumer product ever created. If you have a product that's dangerous, the government has an absolute responsibility to make the warning as strong as possible. It has been shown in the scientific literature that increasing the size of a warning helps."
Research by HKU and the Hong Kong Council on Smoking and Health found that 72.5 per cent of the population supported enlarging pictorial warnings to cover 85 per cent of every cigarette pack.
The UK, France, and Australia are among the countries that have gone a step further by enforcing plain packaging along with strong pictorial health warnings. The entire European Union will go plain packaging in 2019.
Hong Kong is lagging far behind. The city introduced health warnings covering 50 per cent of packs in 2007 along with 11 countries; a decade later, all of them have increased the size of warning labels except Hong Kong.
Whether the amended law will be passed by Legco is another matter altogether. Veteran international tobacco control advocate Professor Judith Mackay, a Hong Kong-based senior policy adviser to the World Health Organisation, told the Post recently that the legislative process had become "toxic".
"I've never, in the last three decades, seen such opposition, lobbying or filibustering of a tobacco bill in Legco," she said. "An army of tobacco executives, lawyers and their allies have descended on Hong Kong to try to obstruct, delay and prevent the legislation going through.
"One veteran legislator confided to me that he, too, had never witnessed such intense lobbying on any topic. He said that he himself felt the pressure and that this was having a 'chilling effect' on even those who were supportive of the bill."
Lawmaker Kwok Ka-ki said he and most members of the pan-democratic camp supported the amendment. "There should not be any politics in this issue. This is a public health matter."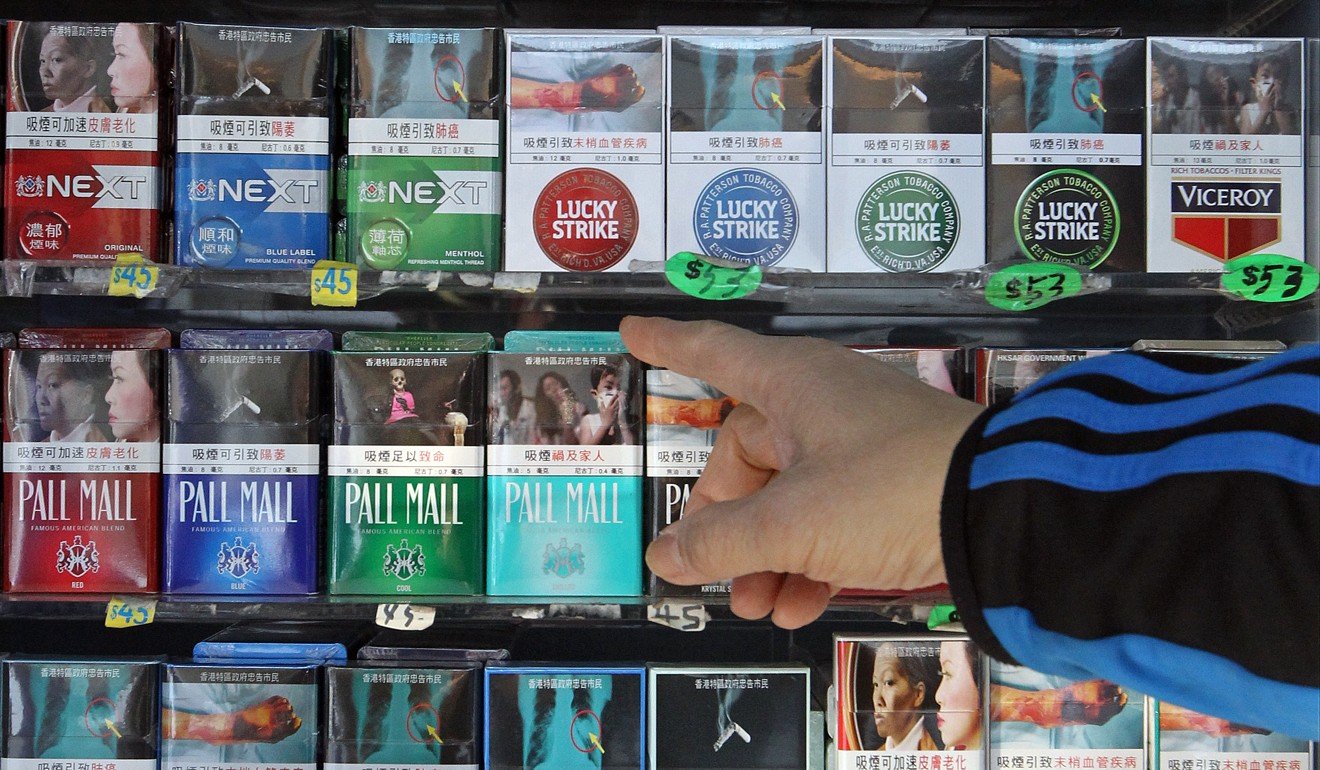 But he also observed "strong" lobbying on behalf of the tobacco trade to water down the amendment.
"The tobacco trade is big business and I don't know what sort of benefits it may give to people. Hong Kong still does not have a law requiring political parties to disclose who their donors are," Kwok said.
He noted that opponents of the amendment were more emotionally invested in the issue than supporters because they, being part of the tobacco trade or smokers themselves, were directly affected.
Kwok warned that the whole of society was paying the price for smoking, and the health costs were staggering.
"Ten years ago HKU estimated the medical cost was HK$6 billion a year for Hong Kong as a result of smoking; now it should be close to HK$10 billion. The entire city is paying for this, whether you smoke or not."
Fong put the economic cost to the United States at US$1 trillion a year.
Lawmaker Shiu Ka-fai, who represents the wholesale and retail sector, is one of those who oppose bigger and stronger cigarette packet warnings.
"The government has not given me any evidence or data to convince me that increasing the size of warning labels will push down the rate of smoking," he said.
He acknowledged the active lobbying of Legco by the tobacco trade and said he was doing the same to persuade other lawmakers not to endorse the amendment.
Shiu warned of the impact on retailers, citing the plight of those who run newspaper stands in particular.
"Nowadays the sale of newspapers is way down; they count on the sale of cigarettes a lot as it is a regular income. If you can't sell cigarettes today, you can sell them tomorrow. But you can't sell today's newspaper tomorrow."
Shiu argued that the warning label should cover 75 per cent of the front of a cigarette packet and 100 per cent of the back. "Many" legislators supported this option, he said, adding that economic interests, rather than just health concerns, should be taken into consideration.
Joseph Lee Kok-long, chairman of Legco's health panel, was also sceptical about the benefits of enhanced warning labels.
"I agree that smoking is damaging to health and I support moves to fight smoking in principle. But there are questions as to whether the size increase to 85 per cent is a suitable way to fight smoking, especially when there are practical difficulties facing the cigarette trade," Lee said.
In a reply to inquiries from the Post, the Food and Health Bureau said: "The government will continue to take a multi-pronged approach in implementing its tobacco control policies comprising publicity, education, legislation, law enforcement, taxation and promotion of smoking cessation."
Bacon Liu, chairman of the Coalition of Hong Kong Newspaper and Magazine Merchants, warned that business would be hit hard if the 85 per cent labelling requirement was enforced.
"Cigarettes account for about a third of the income of newspapers stalls, with each packet earning about HK$3. It is something crucial for our livelihood," he said. "If we do not sell cigaretters, many will have to shut down."
He also warned that the move would lead to more cigarette smuggling.
Why is there so much resistance to what appears to be a simple health protection measure? For Mackay, the reason is simple enough: "Because it works. This is a scream test. If they scream, it shows it works in putting people off cigarettes."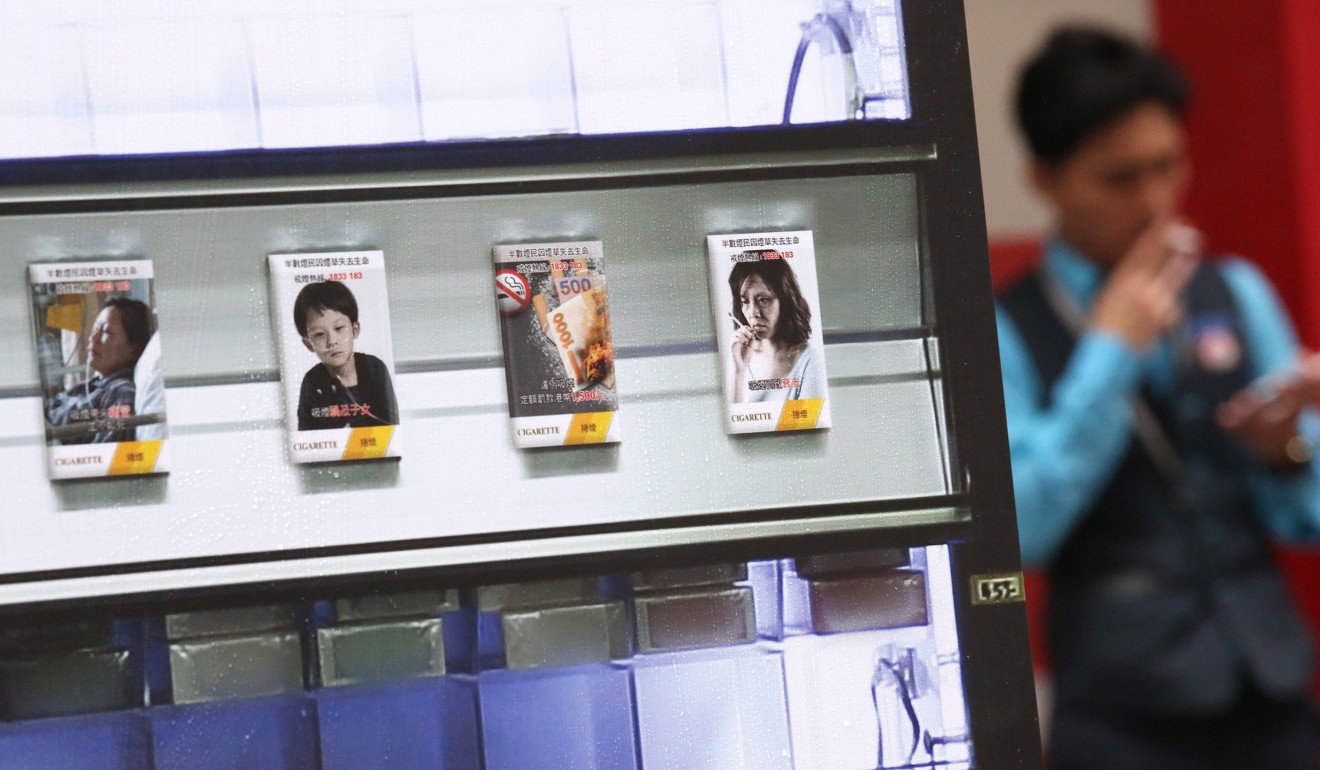 She said health warnings, higher tobacco duty and smoke-free areas were the top three ways to reduce smoking.
"Even though cigarette advertising is banned, the brand design on the packs is a form of point-of-sales advertising," she said.
Australia's example sheds some light on the issue. Since 2012 the country has enforced compulsory and graphic health warning signs covering most of the surface area of each cigarette pack, along with plain packaging that reduces branding to drab olive-coloured packets.
That means all brands look the same, and research shows the move is working in reducing smoking.
According to research published in 2016, the move drastically reduced the brand appeal of cigarettes, resulting in "lower smoking behaviours and increased intentions to quit".
Australia's smoking rate has been dropping every year, but Shiu pointed out that the country had since raised tobacco tax twice.
The HKU survey found that less than half of current smokers supported increasing the size of warning labels to 85 per cent, but also that 79 per cent of the general population was already in favour of plain packaging for cigarettes.
"The next step we need to do to fight smoking is to go plain packaging," Kwok said.
That is likely to be a far harder sell.