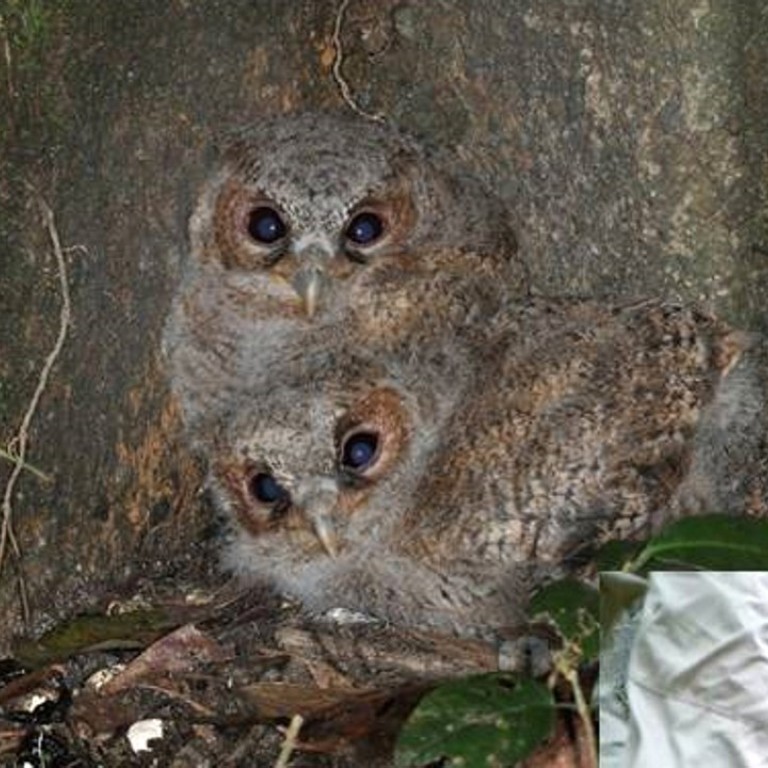 Hong Kong nature lover offers HK$10,000 for safe return of baby wild owls
Event organiser William Sargent says two chicks were taken from nest near hiking trail in Tung Chung
A Lantau resident has offered a reward of HK$10,000 for the safe return of a pair of baby wild owls that were taken from their home in the Tung Chung countryside.
William Sargent, 41, an event organiser who has lived in Hong Kong for 35 years, said the tiny birds had been nesting with their parents in a corner at ground level near a hiking trail in a country park off Tung Chung Road.
But on Wednesday, he discovered that the owl chicks had disappeared.
Watch: Owl footage from hidden camera
Sargent posted a clip on YouTube with footage from a hidden camera his friend had installed near the nest. It featured the owls, a man taking photographs of them, and later in the video, the voice of a different man speaking in English and another language.
He also posted a notice in Tung Chung and on Facebook group "Hong Kong Snakes" calling for information about the birds and the suspected poacher.
Sargent raised HK$10,000 from members in the group and is offering it as a reward to anyone who can help bring the owls home.
"It's very upsetting to see this happen to the beautiful creatures. And it's devastating for the parents, which came back but didn't find the babies," he said.
Sargent urged anyone who knew the birds' whereabouts to contact him.
Hong Kong Bird Watching Society research manager Yu Yat-tung believes the animals concerned are collared scops owls, or Otus lettia, the commonest of eight species in the city. They are listed under the Convention on International Trade in Endangered Species of Wild Fauna and Flora (CITES).
"They live wherever there are trees, both in countryside and in urban areas," Yu said.
He urged the government to step up prosecution against hunting, disturbance, possession, sale or export of the wildlife protected by the Wild Animals Protection Ordinance.
A spokeswoman from the Society for the Prevention of Cruelty to Animals said it had received a report from a member of the public about the case on Thursday and had contacted the Agriculture, Fisheries and Conservation Department for a follow up.
She also reminded the public not to disturb wild animals and to call the society if they come across injured individuals.