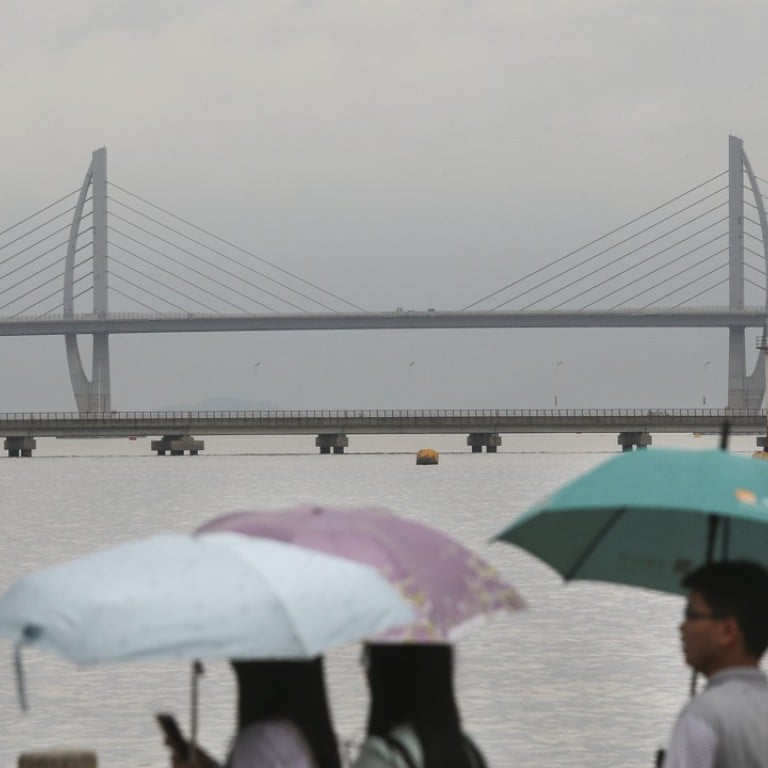 Two Hong Kong workers on mega bridge construction injured in generator fire
Officials say recent fatalities have 'sounded alarm bells' for greater punishment for contractors who flout rules
Two workers involved in the construction of the multibillion-dollar bridge that will link Hong Kong, Zhuhai and Macau, were injured in a fire at the site on Friday evening.
The industrial accident came less than three weeks after the Labour Department pledged to discuss with justice officials the possibility of beefing up penalties for contractors who flout construction safety rules following a spate of deaths this year.
Shortly before 6.30pm Friday, a 36-year-old worker, surnamed Lin, was repairing an electric generator at the construction site over the waters at Chek Lap Kok when the machine caught fire and burned his hands.
He was rushed to Princess Margaret Hospital in Kwai Chung for treatment, with both hands wrapped in protective plastic film.
"The other worker, aged 40, bearing the same surname, hurt his hands when he was trying to put out the fire. He was also sent to the same hospital," a police spokeswoman said.
The Labour Department said it would look into the cause of the mishap while the police classified the case as an industrial accident.
In March,
two workers were killed and three others
injured at the same site. The platform they were dismantling underneath a viaduct outside Tai O suddenly collapsed. The workers were hooked on to harnesses and fell into the sea along with the platform.
Commissioner for Labour Carlson Chan Ka-shun said earlier that the 11 fatalities at construction sites across the city in the first four months of this year had "sounded alarm bells", compared with a total of 18 deaths for the whole of last year.
"If all of society and the Legislative Council think that beefing up punishment will bring about better deterrence, we are definitely happy to study the matter," Chan said on a television programme.
Since construction of the bridge began in 2011, 10 workers have died and more than 600 have been injured in 275 incidents.
But Chan stressed that his department had already conducted more than 1,380 inspections on the bridge since 2011.
A total of 51 suspension notices were served to contractors working on the bridge.