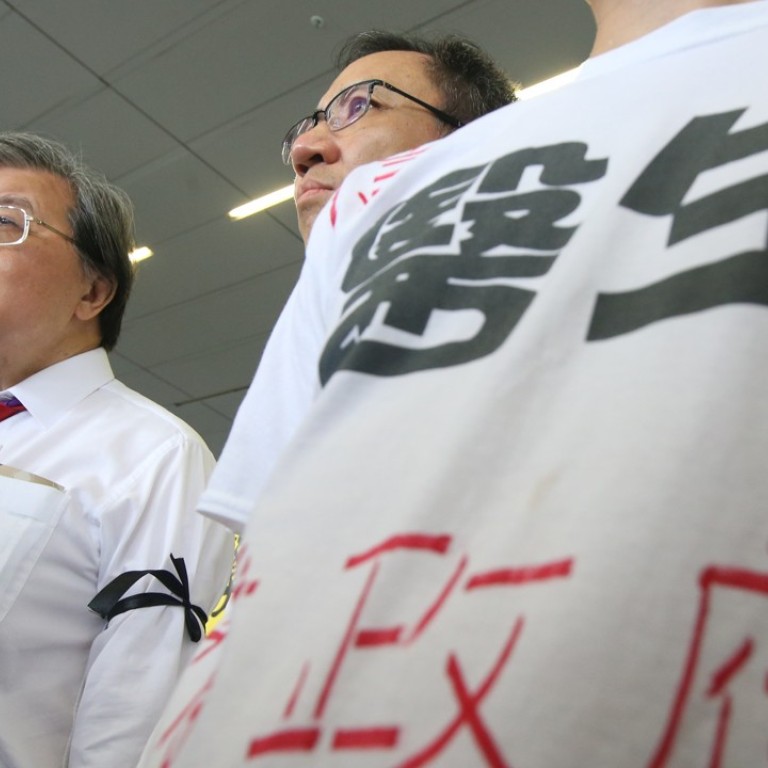 Chief executive to appoint fewer Hong Kong Medical Council members in bid to break reform deadlock
Government will put forward revised reform plan for doctors' watchdog in wake of initial failure to push through changes aimed at boosting accountability
The chief executive will give up his power to appoint four members to the Hong Kong doctors' watchdog under a new proposal aimed at breaking the deadlock over its composition, a government source said on Wednesday.
But the Medical Association refused to accept the proposal and threatened to stage a sit-in if the government did not increase the number of elected members on the Medical Council.
"The target of this reform is to speed up the wait for a hearing. We hope to complete the majority of cases requiring an inquiry within two years," the source said.
The council has long been criticised for operating as a closed shop and taking too long to discipline doctors. It receives over 500 complaints a year and takes six years to hold a hearing after receipt of a complaint.
There is currently a backlog of about 940 cases and it will take three years to clear them, the source added.
Under the plan, four more lay members would be added on top of the existing four in the council – with three from patients' groups and one from the Consumer Council. None of the four would be appointed by the chief executive, unlike in the rejected proposal.
In addition, two appointed positions for representatives from the specialists' training body, the Academy of Medicine, would become elected seats, with voting taking place among academy members.
The revised plan would allow two thirds, or 20 out of 32 council members, to be chosen through elections among doctors, the academy, patients' groups and consumer representatives, the source said.
The chief executive currently appoints 14 members to a 28-member council. Under the revised proposal, he or she would name 12 out of 32 members.
The government will gazette the new reform bill on June 2 and table it in the Legislative Council five days later.
The ratio of appointed and elected members in the council was at the centre of the debate last time, with professions expressing worries that too many government appointees would undermine the professional autonomy of the independent body that disciplines doctors.
They also worried the government would allow substandard overseas or mainland doctors to practice in Hong Kong if its supporters dominated the council.
Medical Association president Dr Gabriel Choi Kin expressed disappointment with the latest proposal, saying the changes were too small. He said the two seats allocated to the academy should be filled by direct election among all doctors.
The association is now conducting a survey among its members on the latest plan before deciding further action.
Civic Party lawmaker Dr Kwok Ka-Ki said the government did not learn the lesson from last year's dispute and had refused to make bigger changes.
This article appeared in the South China Morning Post print edition as: City leader gives up watchdog role in bid to break deadlock