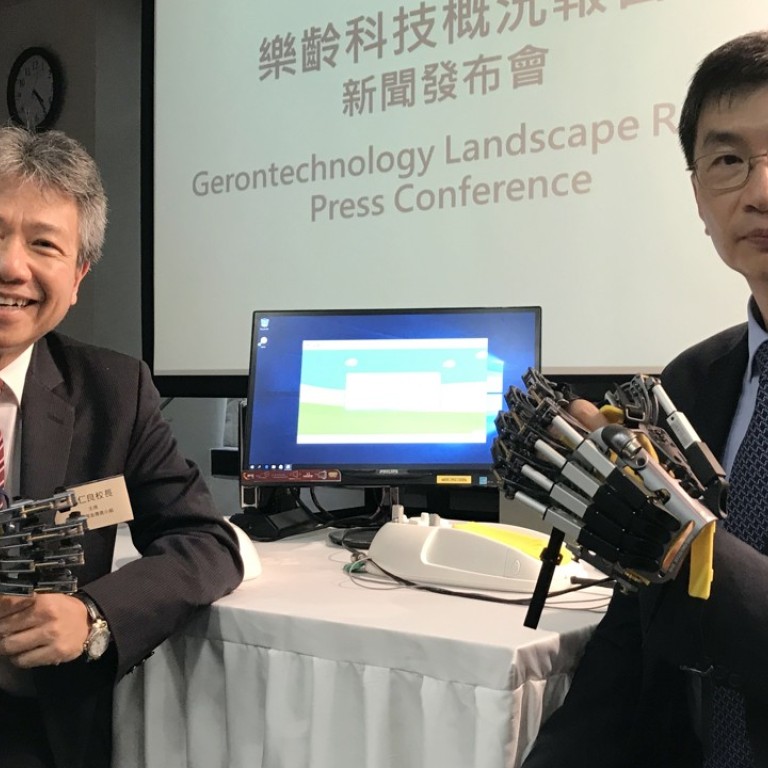 Tech products for elderly not getting enough support in Hong Kong, study finds
Results come ahead of city's first Gerontech and Innovation Expo cum Summit
Not enough is being done to support the use of technological products for the elderly in Hong Kong, the city's first landscape study on gerontechnology – the scientific field combining the study of ageing and technology – has found.
The findings come ahead of this upcoming weekend's Gerontech and Innovation Expo cum Summit, the first of its kind in the city. The event aims to raise public awareness on technological intervention for elderly care.
The study, funded by the government's Social Innovation and Entrepreneurship Development Fund, reviewed 72 products and services which could be widely used by Hong Kong's elderly. It also identified 24 reasons why gerontechnological products have not been widely adopted here.
Watch: Stair climber demonstration
Those obstacles included lack of public awareness of the role of technology in elderly care, insufficient funding for local start-ups, weak collaboration between different stakeholders and lack of testing grounds for new products.
"Our start of using technological products for elderly services in Hong Kong was slower than in other countries," said Chua Ho-wai, chief executive of the Hong Kong Council of Social Service, which jointly conducted the study with Our Hong Kong Foundation.
"Usually, people think of manpower and finance when talking about ageing in place, but they seldom consider technology too," said Kenny Shui Chi-wai, the foundation's senior researcher and one of the study's authors.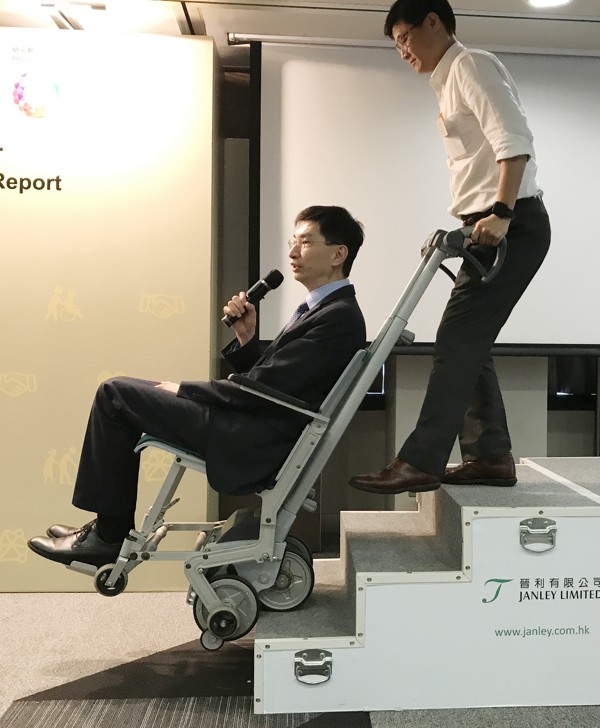 For example, the elderly health care voucher, which provides HK$2,000 a year for medical services and products, cannot be used to purchase technology products.
A smart textile designed to protect people from injury in case of accidents was also more widely used in the sports sector than for elderly care.
Funding to support local research in developing innovative products was also deemed insufficient. According to the study, Hong Kong spent 0.7 per cent of its GDP on research and development in 2013, compared to 2.1 per cent in Singapore and 4.1 per cent in South Korea.
"Our total R&D in percentage of GDP is not enough. We have some good seeds, but not enough," said Stephen Wong Yuen-shan, the foundation's deputy executive director and head of its public policy institute.
While the government has earmarked HK$10 billion to support innovation and development and set up a HK$2 billion Innovation and Technology Venture Fund, these moves do not specifically target the needs of the elderly.
Wong said the government should take the lead in spending more on R&D, in hope that the private sector would follow suit.