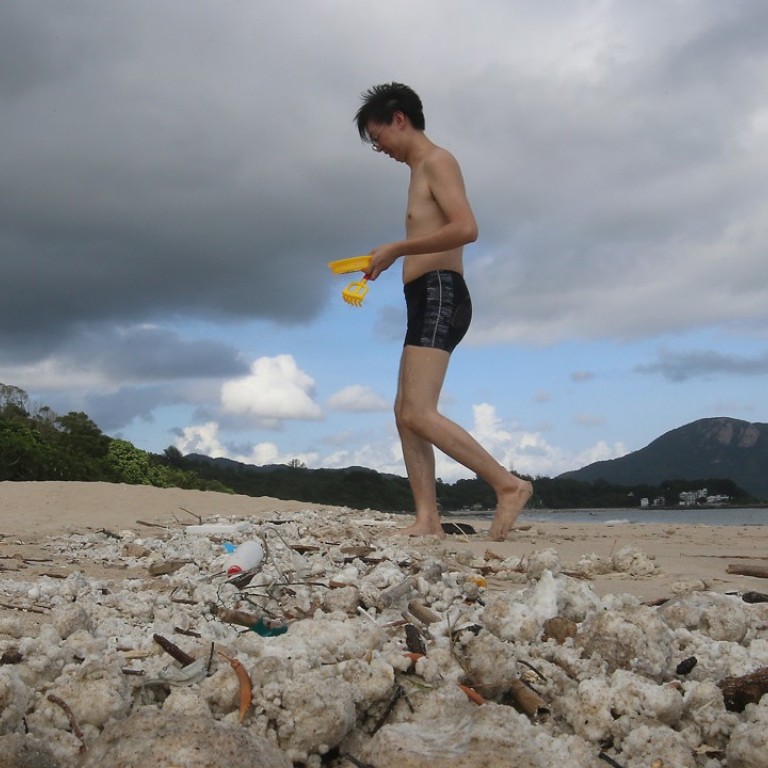 Swimmers spotted on closed Hong Kong beaches despite palm oil spill
Authorities say substance is not toxic to humans but doctors warn of health risks such as allergies
Dozens of tourists and beach-goers have ignored warnings about an oil spill that has spread to the Hong Kong's southern shorelines, choosing to brave the waters on Tuesday despite the closure of 13 beaches.
Some 50 people were seen swimming in Repulse Bay and Deep Water Bay, located on the southern coast of Hong Kong Island, the Post found during visits to the sites.
The two are among 13 beaches closed after 1,000 tonnes of palm oil leaked from a ship collision in mainland waters last Thursday.
Red flags were put up at the beaches, meaning that swimming was considered unsafe and members of the public should not enter the water.
Yet some people, including children, still went for a dip on Tuesday afternoon, unfazed by warnings broadcast over loudspeakers. Others swam as far out as the buoys near the shark net.
Lifeguards, who were on duty, kept a close watch but did not stop people from entering the water.
Park Jae-yong, who arrived in Hong Kong from Seoul with his wife on Saturday, was planning for a swim at Repulse Bay.
"I would not have noticed had you not told me about the situation ... I'll still swim anyway – it's just too hot to stay on the beach," he said, pointing to many others in the water.
Zhang Yifan, a 20-year-old from Hangzhou, said it was unfortunate that a spill in mainland waters had affected Hong Kong.
"I hope the authorities can react faster in future," she said. Much like other visitors, Zhang said she did not see any pollutants along the shore.
Environmental authorities have assured residents that palm oil is non-toxic to humans.
Elvis Au Wai-kwong, deputy director for environmental protection, said most of the large floating oil slicks had already been cleared and the situation, compared with two days ago, was "largely under control".
"Preliminary lab results from samples taken at 11 beaches show the oil content is extremely low and 90 per cent of the samples were too low to even register or measure," Au said.
"This proves that the oil is not harmful to human health. There is no need to worry."
He stressed that palm oil – which melts only at 59 degrees Celsius – was "just like normal marine refuse" that had to be removed from the beaches to ensure cleanliness.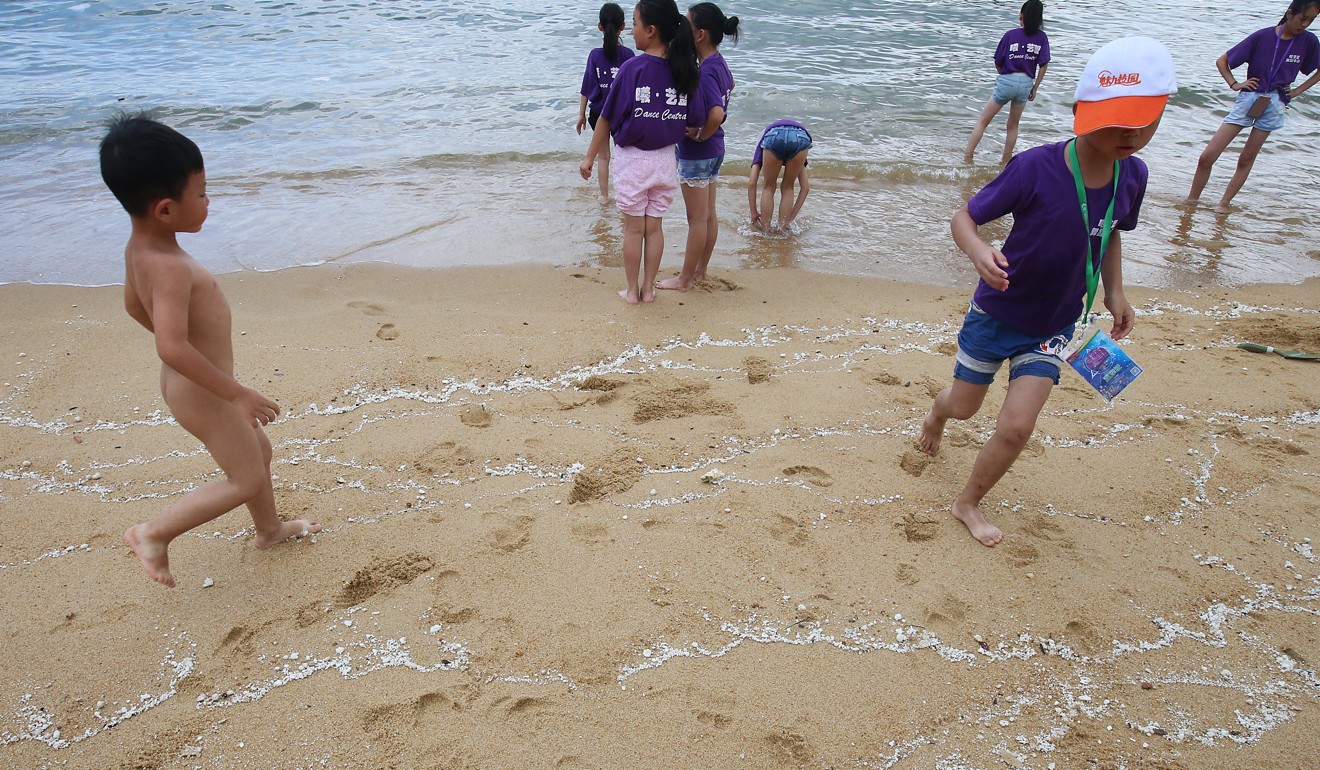 However, a doctor pointed out that there might still be some health risks for swimmers.
Medical Association president Dr Gabriel Choi Kin said some people could develop an allergic reaction to the palm oil after swimming in the sea.
Swimmers who accidentally swallowed the polluted seawater could also choke and develop a lung infection.
"It depends on the density and severity of the oil spill. But if swimmers accidentally consume seawater polluted with palm oil into their respiratory tracts and lungs, it can be quite dangerous," Choi said.
This may lead to aspiration pneumonia, a lung infection that can develop after ingesting food or liquid into the lungs. Bacteria can grow in the lungs, leading to fatal results.
"If oil gets into respiratory tracts, it's even harder to clean than water," Choi added.
Meanwhile, some 130 volunteers gathered on Tai Wan To beach on the western coast of Lamma Island to pitch in on cleaning efforts.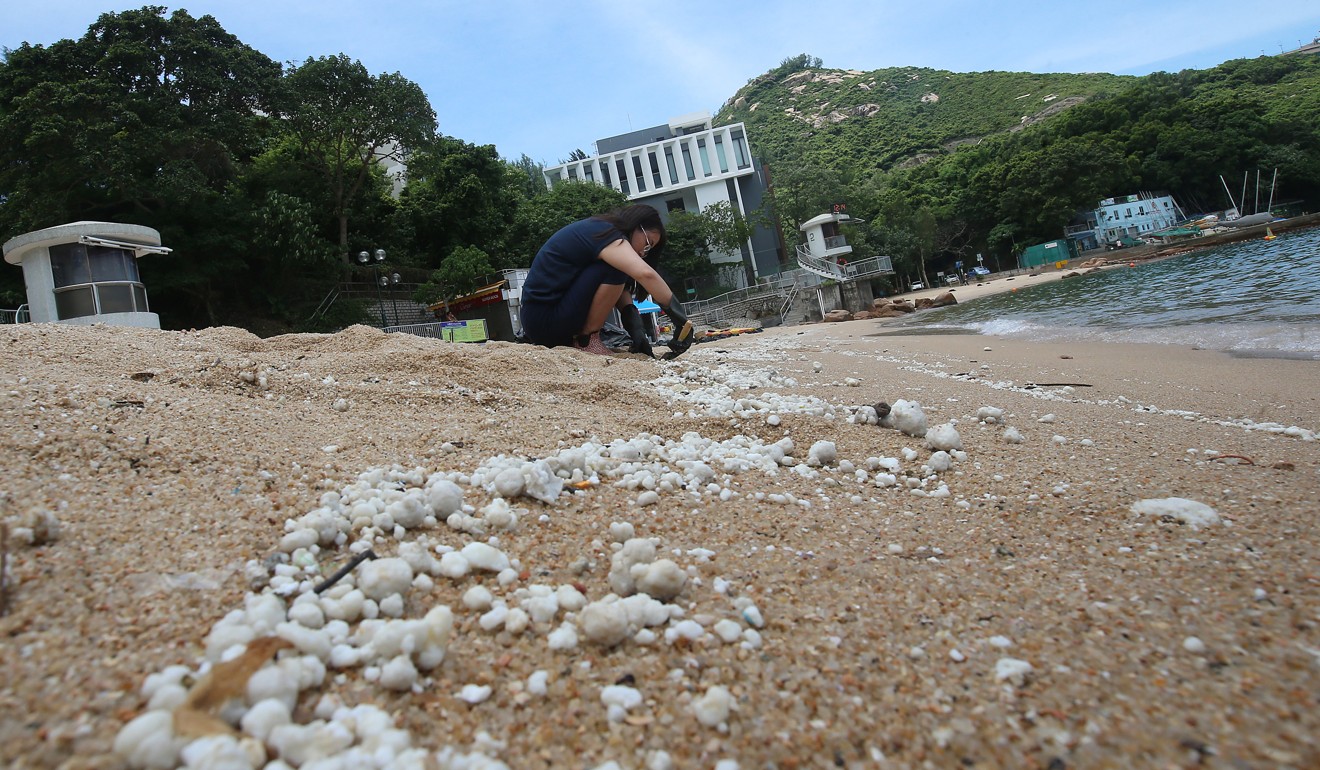 Globs of white, fist-sized congealed palm oil were spotted in the area. The biggest was the size of a football.
One of the volunteers, Carlos Tang Fei-lung, 30, said the actions of both the mainland and local governments to tackle the problem were delayed.
"What we volunteers can do is just like a drop in the ocean. The rest depends on government actions," Tang said.
Additional reporting by Ernest Kao
This article appeared in the South China Morning Post print edition as: swimmers spotted at closed beach despite palm oil spill