Lamborghini and 20 other vehicles found covered in mud, trash and live fish after Typhoon Hato flooded Hong Kong car park
It took three service vehicles more than 24 hours to pump out the sea water that submerged the parking area of a large-scale residential estate in Heng Fa Chuen
An orange Lamborghini and 20 other vehicles were found covered with mud, trash and live sea basses after an underground car park was flooded during Typhoon Hato.
It took three service vehicles more than 24 hours to pump out the sea water that submerged the parking area of a large-scale residential estate in Heng Fa Chuen. Even after the water had been cleared at 6pm on Thursday, it was another three hours before the car owners were allowed to get in.
Theresa Lee's son owned a BMW valued around HK$300,000 that was in the car park.
"He was busy for work and asked me to send him updates … I cannot do much but just feel a bit pressured," Lee said, adding that it should be covered by insurance.
She said the MTR, which was in charge of managing the property management, had been irresponsible.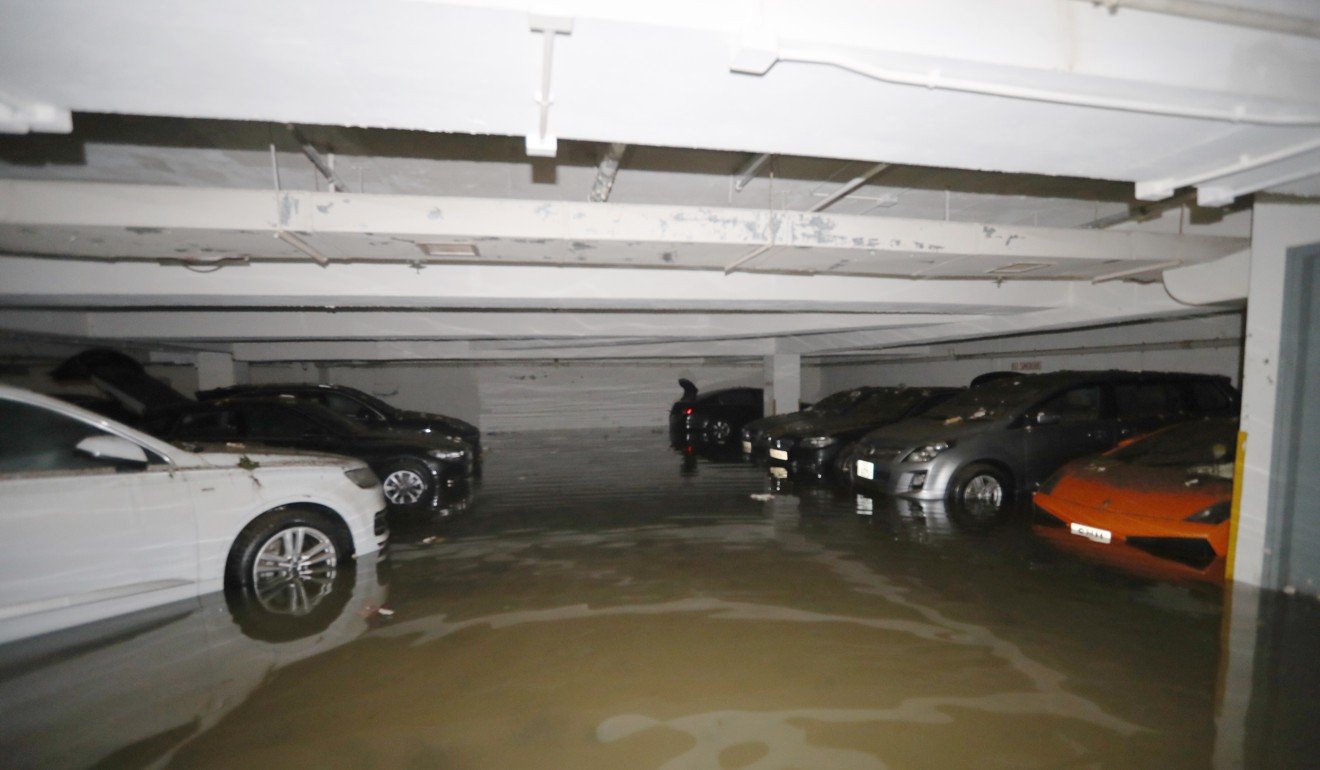 "They did not pile sand bags or notify car owners. They did not do the job well."
Another disgruntled owner who did not want to disclose his name, called for a tow vehicle at around 4pm, but was told not to remove his car before the management office had taken pictures for insurance purposes first. Another BMW service mobile came and left as well.
Of the 39 spaces in the car park, more than 20 were believed to be occupied at the time of the flood, including the orange Lamborghini later seen covered with mud, tree branches, plastic bags and plastic foam.
An insurance consultant, Paul Law Siu-hung, said the owners would be granted the total value of the car – minus a small percentage as an excess – if they had full insurance, while those with third-party coverage only may have to prove the management company had been neglectful to claim compensation.
"There is [usually] one Ferrari, three Porsches and a BMW parked inside," said a car cleaner.
An MTR spokesman said piling sand bags beforehand would have obstructed the exit while lives would have been endangered if they told the owners to drive the cars out in extreme weather.
He described the incident as "unfortunate" and said they had been assisting the residents in any insurance channels.
In response, another owner who did not give his name, said: "It was their responsibility to notify us and it was mine to decide whether I would risk my life to take the car."
District councillor Stanley Ho Ngai-kam said he and the affected owners will issue a letter to MTR headquarters demanding compensation.
The sea basses were returned to the sea.
Meanwhile, some residents of the estate volunteered to clean up the debris left by the storm surges.
One initiator of the effort, Michael Hung, who has been living in the area since 1989, said he was horrified by the amount of trash especially plastic foam strewn around the neighbourhood.
"How you treat nature, nature will reward you the same way," Hung said. "Everyone can work for a bit. Then the whole estate can be back to normal as soon as possible."
More than 20 residents, young and old, had joined the operation.