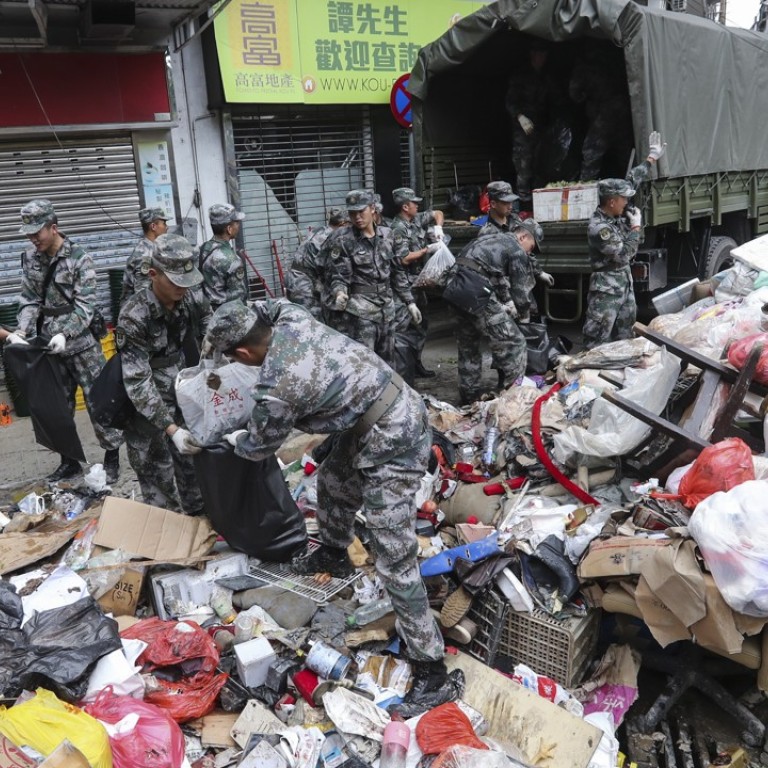 Up to 10 people feared trapped in flooded underground car parks after Typhoon Hato devastates Macau
Authorities say recovery work in progress at three flooded underground car parks, while PLA soldiers are deployed for first time to help casino hub pick up the pieces
Macau authorities on Friday night said they were carrying out recovery work at three flooded underground car parks amid fears that up to 10 people could have been trapped inside by the worst storm to hit the casino hub in more than half a century.
The city's death toll from Typhoon Hato climbed to 10 after another man's body was found in an underground car park, the fourth person to have drowned in that way.
Fire services chief Leong Iok-sam said they were looking into unconfirmed reports from residents that up to 10 people could have been trapped in the car parks during the storm.
Chinese People's Liberation Army soldiers on Friday marched from their barracks into the streets of Macau for the first time in history, not to keep the peace but to pick up the pieces.
At the request of the Macau government, the PLA garrison based in the casino hub after its return to Chinese sovereignty in 1999 took the unprecedented step of deploying 1,000 soldiers to help with the recovery effort.
Starting at 10am, truckloads of troops fanned out across the city for the big clean-up in the areas hit hardest by Typhoon Hato on Wednesday, clearing debris and spraying disinfectant.
The unprecedented move came a day after Macau Chief Executive Fernando Chui Sai-on apologised for being ill-prepared for the disaster brought by Hato, which left more than 200 injured and tens of thousands without power or water.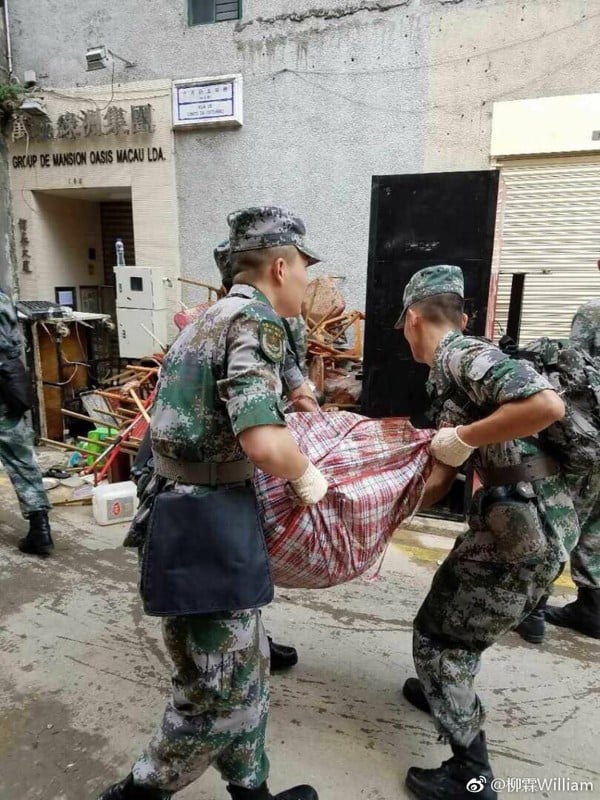 The storm also claimed 10 lives in the mainland's Guangdong and Guangxi provinces.
Macau's government said the PLA was asked to help in accordance with the city's mini-constitution, the Basic Law, as well as the Law of the People's Republic of China on the Garrisoning of the Macau Special Administrative Region.
It marked the first time in history that PLA troops from either Macau or Hong Kong were deployed in the streets, and residents welcomed their help.
"A strong view is taking hold here that the PLA has saved the bacon of the Macau government, a source in the casino hub said. "That view is forming because there was genuine public anger and discontent that the government of a city with one of the highest per capita GDPs on the planet was so lacking in terms of its preparedness for, and response to, this storm. The anger has been significantly lessened by the arrival of the PLA to help clean up the mess."
In Hong Kong, where a deployment of the PLA could be a much more controversial affair because of polarised political opinion, Chief Executive Carrie Lam Cheng Yuet-ngor was asked if the city might require the PLA's assistance for disaster relief one day.
Lam refused to answer hypothetical questions, but said she believed Beijing authorities were "willing to support whenever Hong Kong or Macau is in need".
Lam said she had called her Macau counterpart to express her support, and suggested that it would benefit both Hong Kong and Macau if the two cities' experts and engineering departments could have more exchanges on municipal administration and flood prevention in the future.
The typhoon shut down Hong Kong for a day and caused plenty of damage and flooding, but the city escaped without fatalities.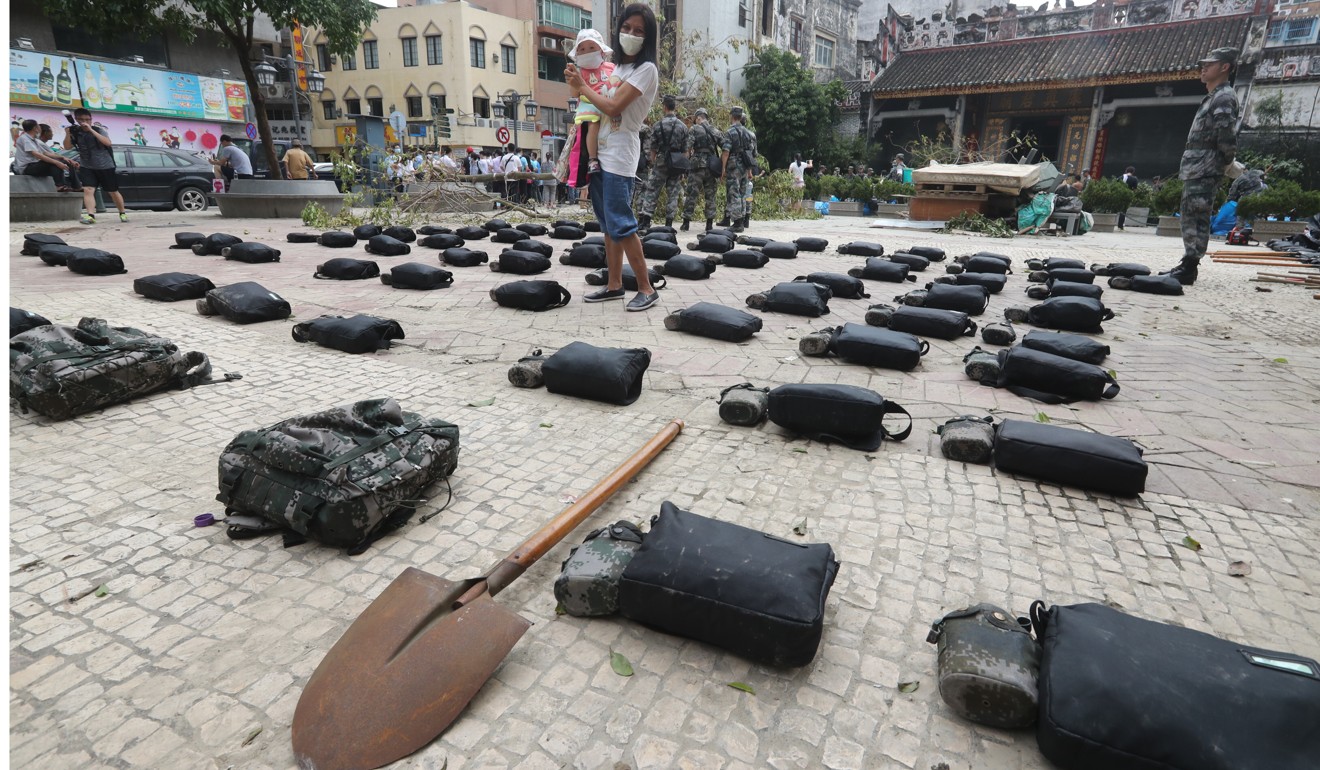 The Post observed about 50 PLA soldiers in the streets of the Inner Harbour – one of the worst-hit areas of Macau – clearing roads, spraying disinfectant and removing storm debris and large objects blocking narrow alleys.
Pharmacy employee Cheung Fan, 43, said: "I think it's OK to have soldiers from the mainland here because this is an emergency. I hope they can help prevent diseases from spreading … There is lots and lots of rubbish. We are afraid of that."
Some residents wore masks due to the smell of dead fish and rubbish rotting on the streets.
"People already removed a lot of stuff yesterday," a local shop owner said. "It would have been better if they came earlier. But in any case, it's good that they help."
Editor Sally Lei, 27, also a Macau resident, said: "It's good we have more people helping, but I hope it is not just a show in front of the cameras."
The area was submerged by up to three metres of water. Piles of trash and furniture were still strewn across the streets as business owners attempted to salvage what they could of their goods and clean their stores.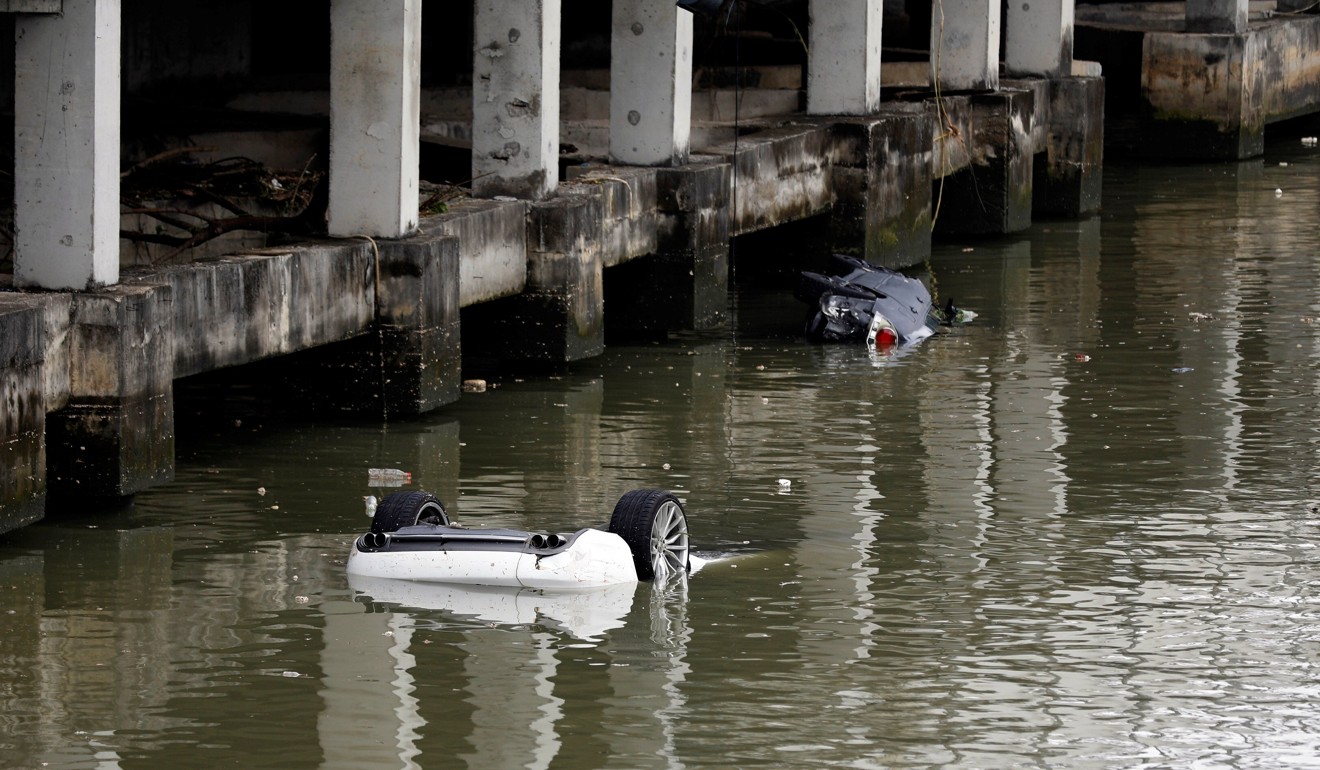 Thousands of Macau residents still had no running water and little to drink on Friday. Supplies were expected to be fully restored only by Sunday.
And another storm was brewing on the horizon for Macau residents – tropical storm Pakhar was expected to hit at noon on Sunday, with a warning signal possibly issued as early as Saturday, according to a Macau weather bureau spokeswoman.
Dr Chung Kim-wah, a political scientist at Hong Kong Polytechnic University, said the deployment of PLA troops in the former Portuguese enclave had set an "unwise" precedent for Hong Kong.
But Hong Kong-based military affairs commentator Leung Kwok-leung said it was not appropriate to draw parallels between Hong Kong and Macau, and that the PLA could be mobilised for disaster relief and recovery efforts across the country in addition to its primary national defence duties.
"The disciplined forces in Hong Kong are much larger, plus we have civil organisations such as the Civil Aid Service … I believe the Hong Kong government would not easily make such a request [for PLA] assistance," he said.
Additional reporting by Niall Fraser, Xinqi Su and Tony Cheung
This article appeared in the South China Morning Post print edition as: pla in historic deployment to help macau after hato