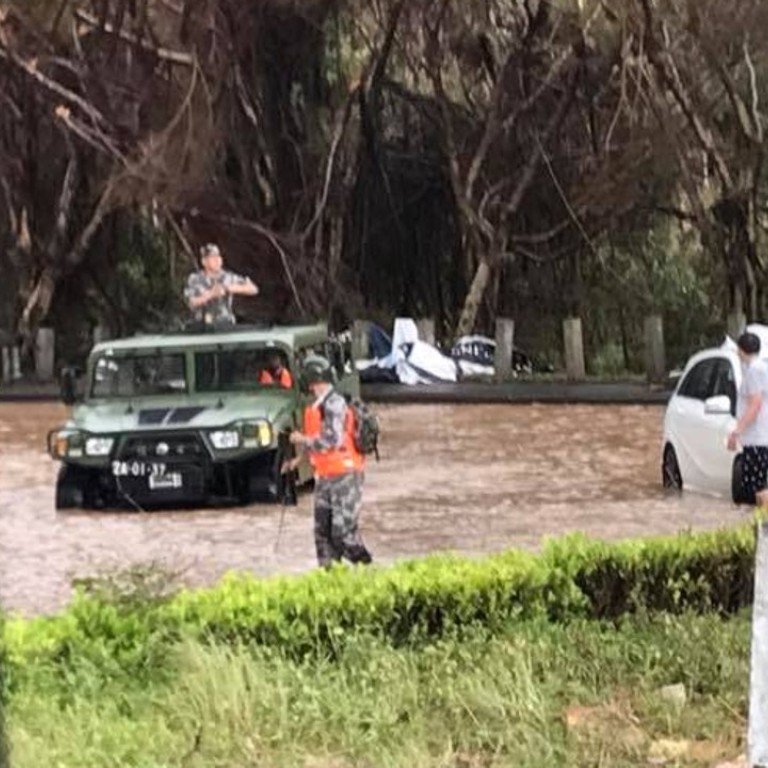 Chinese soldiers on the front line as Macau faces new threat from Severe Tropical Storm Pakhar
Dramatic scene plays out as city faces serious flooding only days after most powerful typhoon to hit city in half a century left 10 people dead
PLA soldiers were seen rescuing four people trapped in a car stalled in high water at a Macau airport roundabout on Sunday, eliciting praise and gratitude online.
The dramatic scene played out as the city faced serious flooding only days after the most powerful typhoon to hit the casino hub in half a century caused widespread destruction and left 10 people dead.
Ieong Fong-tang, a coach driver, took a photo of three PLA soldiers stopping their jeep near a white car stranded in knee-high water at 7.45am Sunday. He uploaded the image on an online forum with a caption reading: "PLA, saving people, road to airport!" The post soon attracted hundreds of likes, and many replied to express their gratitude and support.
Ieong said he first spotted the white car at 7.10am and that the PLA jeep arrived at 7.45am, with Macau police coming at 8.10am.
"The soldiers helped them to pull the car," he wrote. "I can't imagine what would happen in Macau [after Typhoon Hato] without their [PLA's] support."
The national People's Liberation Army were deployed for the first time in the city's history on Friday to help with the aftermath.
Macau's Meteorological and Geographical Bureau cancelled its yellow storm surge warning at 3pm. The warning was issued at 9am.
The territory issued a T8 signal – one of the highest weather warnings – as tropical storm Pakhar moved closer to the city than originally expected. The storm made landfall at around 9am Sunday at Taishan, a city in Guangdong province about 77km west of Macau.
The bureau issued the lower No 3 signal at 1pm.
The latest storm came only five days after the former Portuguese enclave was battered by
Typhoon Hato
, the strongest storm in 53 years. Hato claimed 10 lives, including four who drowned in flooded car parks within the city.
Macau's water supply was still not fully restored, and authorities continued to work to clear rubbish left by the storm.
The storm prompted criticism of Macau's government for failing to be properly prepared for the typhoon.
Residents were concerned about the government's preparedness as Pakhar approached.
"We are quite worried about Pakhar," Macau resident Ana Chio said. "We are afraid there will be floods, blackouts and water shortages again. It's really one trouble after another."
Chio said she had been staying at home, conserving water and charging up the batteries of her electronic gadgets.
Another Macau resident surnamed Lei, however, expressed less concern.
"I'm not that worried. I just put up some tape on the windows and bought some food," he said, adding: "I don't think the government is prepared for this typhoon."
On social media, the criticisms aimed at Macau weather authorities persisted as Pakhar approached, with some sharing screenshots of the city's website and that of the Hong Kong Observatory.
Users accused Macau officials of issuing weather signals too late.
"How come the typhoon is closer to Macau, Hong Kong hoisted already T3 and Macau is just considering to hoist T3 during the night?" a Facebook user wrote on Saturday as Pakhar approached.
Macau observatory chief, Fong Soi-kun, resigned on Thursday after the government was slammed for its response to Hato. His successor, Florence Leong, pledged on Friday to improve the bureau's communication and strengthen prevention measures.