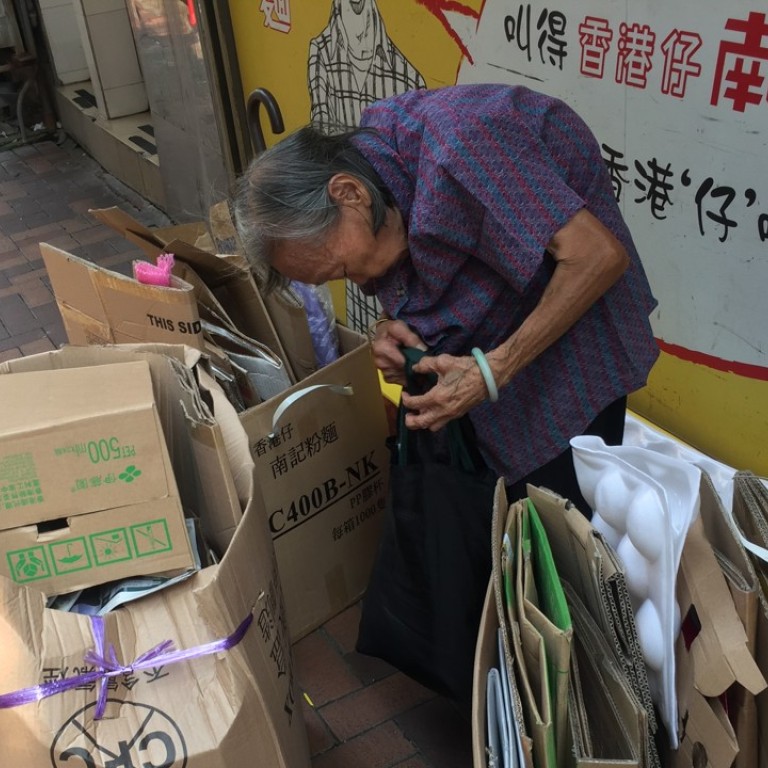 Cardboard collectors struggle as prices fall amid strike by waste paper exporters
Some shop owners notice slowdown in clearing of paper waste, but individual collectors continue to pick up used boxes for resale
Amid a week-long strike by Hong Kong's waste paper exporters, an 89-year-old grandmother, who has collected used cardboard in Causeway Bay for years, continued with her daily "job" on Saturday as she tried to make ends meet despite a price slump.
The
industrial action by local firms
was a response to a
shift in mainland policy
, announced in July, with the aim of banning imports of 24 types of polluting "foreign rubbish" by the end of the year. About 1,000 recycling plants across the mainland failed to get a permit to bring in foreign waste, causing a logjam of stock in Hong Kong.
The elderly cardboard collector, who calls herself "por por" (Cantonese for "granny"), said she had to help make a living by selling what she picked up from shops in the tourist district. She lives with her son in a subdivided flat that they rent for HK$6,000 a month.
Resting outside a noodle shop with three boxes of cardboard piled about as high as her head, the hunchbacked old woman said she was not discouraged by the drop in recycled cardboard prices.
Watch: Mountain of waste paper piles up in Tsuen Wan
The shop she sells cardboard to in Causeway Bay now pays only HK$0.50 per kg, down from HK$0.70 earlier this week, when exporters first warned of their strike.
"I am very tired," she said twice as she dragged her boxes to the shop about 200 metres away. "[But] I still need to sell cardboard to help the family."
"Por por" is one of hundreds or thousands of cardboard collectors in Hong Kong hit by the mainland import restrictions.
Chief Secretary Matthew Cheung Kin-chung said the government had launched contingency measures and had been liaising with the mainland authorities to find a solution.
He added that in the long run, further discussion was needed on how Hong Kong should handle and recycle waste paper.
Another elderly cardboard collector, surnamed Lo, said the price of cardboard at the recycling shop in her district had dropped from HK$0.80 per kg to HK$0.60.
"I have nothing to do ... I don't mind if the price has dropped," said Lo, who operates in Wan Chai. "But I have to collect more to earn the same amount I used to get."
She said she was buying less meat to lower her food costs.
A shopkeeper at a fruit stall in Wan Chai said he did not notice any slowdown in the collection of waste cardboard at the market.
"The boxes did not pile up as people have kept on collecting," he said.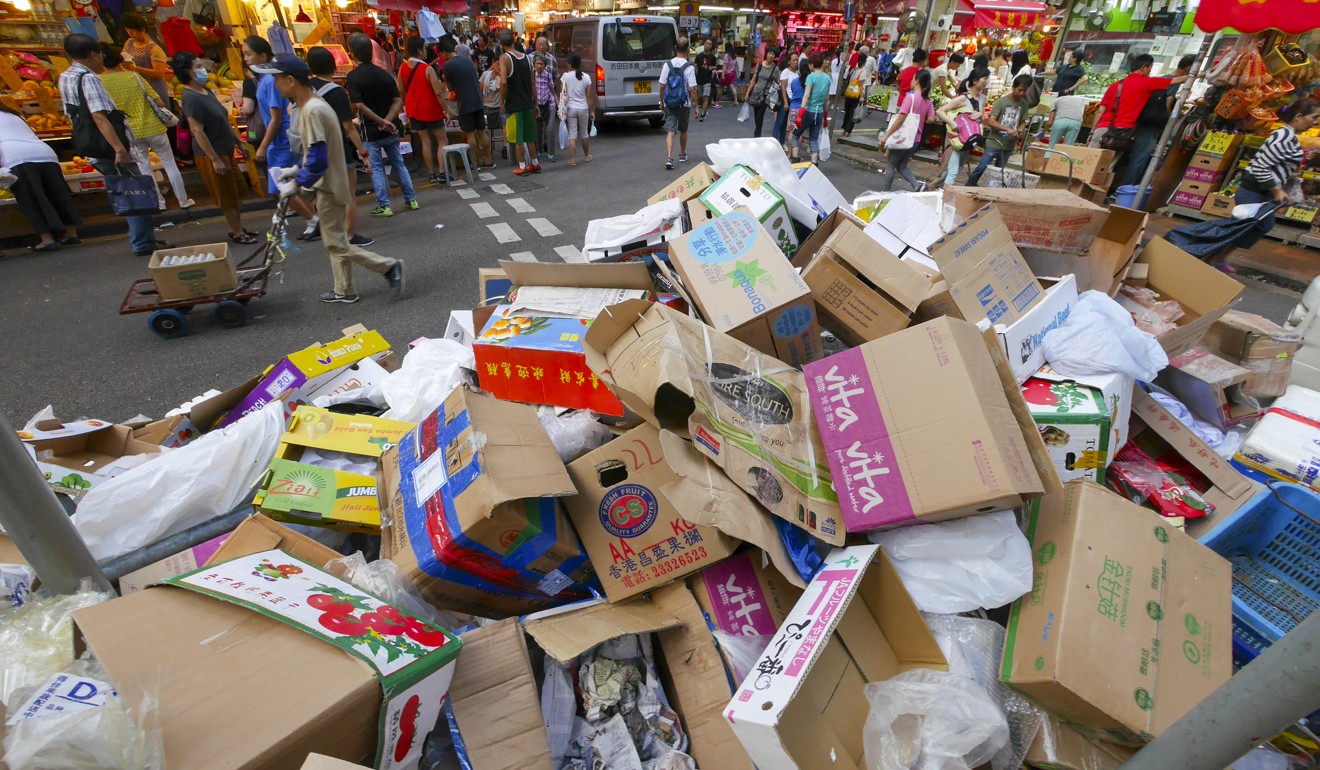 The Post observed at least three cardboard collectors on the Wan Chai streets flattening boxes and placing them on carts.
But Ms Chan, who works in a dried seafood shop in the district, said it was taking longer for boxes placed outside her shop to be taken away.
"The boxes could be gone in five minutes in the past. But now they are still here after 20 minutes," she said.
Paper boxes were seen piling up outside a refuse collection point near Bowrington Road Market. A waiter from a nearby seafood restaurant said fewer people were collecting them. A garbage truck appeared at about 4pm to remove some of the boxes.
Health minister Professor Sophia Chan Siu-chee said the Food and Environmental Hygiene Department would assign more manpower to collect waste cardboard on the streets. More recycling bins would also be placed at refuse collection points in various districts.
Additional reporting by Kimmy Chung