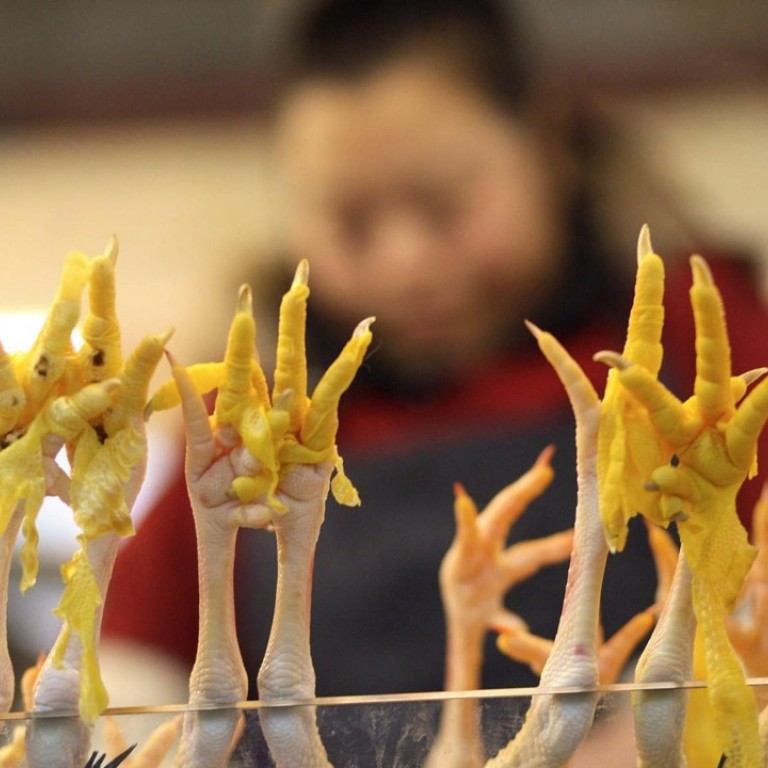 Hong Kong bans meat imports from Brazilian firms after pet food sold for human consumption
Some 10 batches of meat, which are not believed to have gone on sale locally, were believed to have false certificates
Meat imports from an exporter and two plants in Brazil have been suspended after 200 tonnes of chicken feet and animal organs produced as pet food were claimed to be fit for human ­consumption.
The Centre for Food Safety said 10 batches had been imported over the past year from the same exporter, but their health certificates, suspected to be fake, did not indicate they were for pets.
The centre has reported the case to Hong Kong police and Brazilian authorities. Meat products from the exporter and two factories involved in the 10 problematic batches, which weighed more than 200 tonnes, have been banned from Hong Kong immediately. Inspection of health certificates of meats imported from Brazil would also be stepped up.
The city had a blanket ban on meat products from Brazil in March this year, after 21 Brazilian companies were found to be linked with bribery and tainted meat scandal. Meat producers were suspected over bribery of inspectors to ensure their meat, which was either rotten or tainted with Salmonella, was given the proper certification.
The latest scandal was ­revealed after the centre received a complaint in May from a food importer, which suspected the health certificate of a batch of chicken feet from Brazil was problematic. Brazilian authorities confirmed the certificate for the meat, meant for pets, was falsified.
Dr Sarah Choi Mei-yee, the centre's assistant director for food surveillance and control, said ­current evidence did not show the batches in question had been made available in Hong Kong.
"Eight of them have been re-exported to mainland China and Vietnam. One was still detained at the container port," said Choi.
The remaining batch of chicken feet was sold to a local buyer, but Choi said the city's 20 major retailers claimed they did not sell that batch of meat – its whereabouts is still being investigated.
"We will demand the Brazilian authorities confirm the authenticity of the health certificates of the remaining nine batches and notify us," she said.
Police said they are "highly concerned" about the case, which was first referred by a department on Tuesday. The Mong Kok district crime squad is following up.
Dr Samuel Yeung Tze-kiu, the centre's consultant in community medicine and risk assessment and communication, said the health risk would not be significant for those eating the chicken feet and organs in question.
"Western culinary culture usually does not include chicken feet. Therefore animal parts which Westerners do not eat would be used as pet food in the food processing line," Yeung said.
He said thorough cleansing and cooking could reduce risks.
This article appeared in the South China Morning Post print edition as: Pet food from Brazil sold as fit for humans