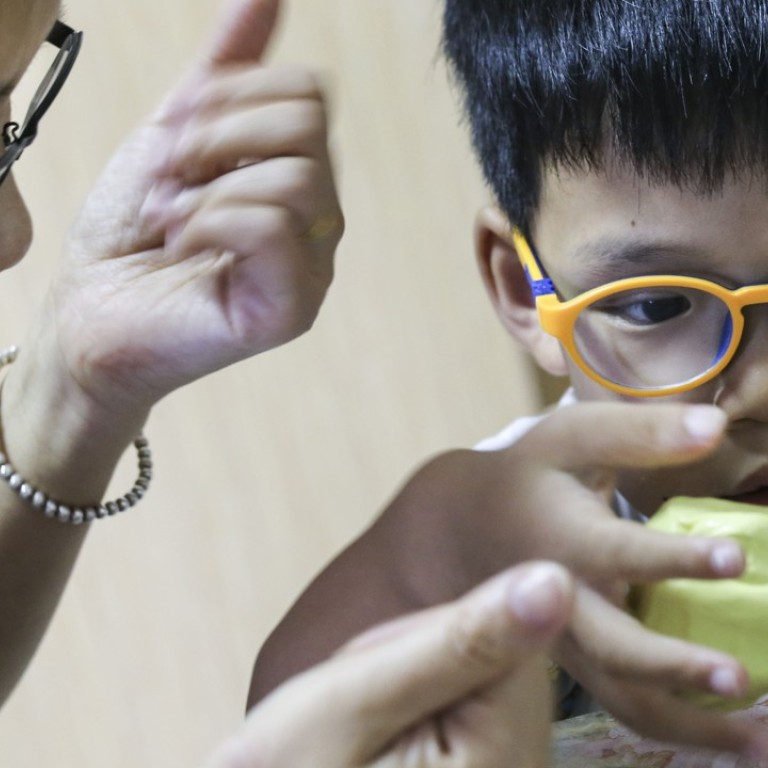 Breakthrough deal means this Hong Kong seven-year-old can get the drugs he needs
Xiao Hiu-chun will get weekly injections for the rest of his life, to slow the effects of his rare condition
It's a rare chance for a boy with a rare disease.
After
two years in limbo
, seven-year-old Xiao Hiu-chun shed tears of joy on Friday, on finding out he would soon have lifelong access to an expensive drug which could keep him healthier for longer.
That was the outcome of a government deal with the drug manufacturer to split the cost of the medication.
Hiu-chun was born with a flared-out chest and deformed wrists and legs. He was diagnosed, aged three, with Mucopolysaccharidosis type 4A, which is thought to affect one in 300,000 people.
Now weighing 15kg only 92cm tall, he has barely grown in the past five years for lack of a key enzyme.
And he has been waiting for the past two years for subsidised access to a drug which costs HK$2 million per year.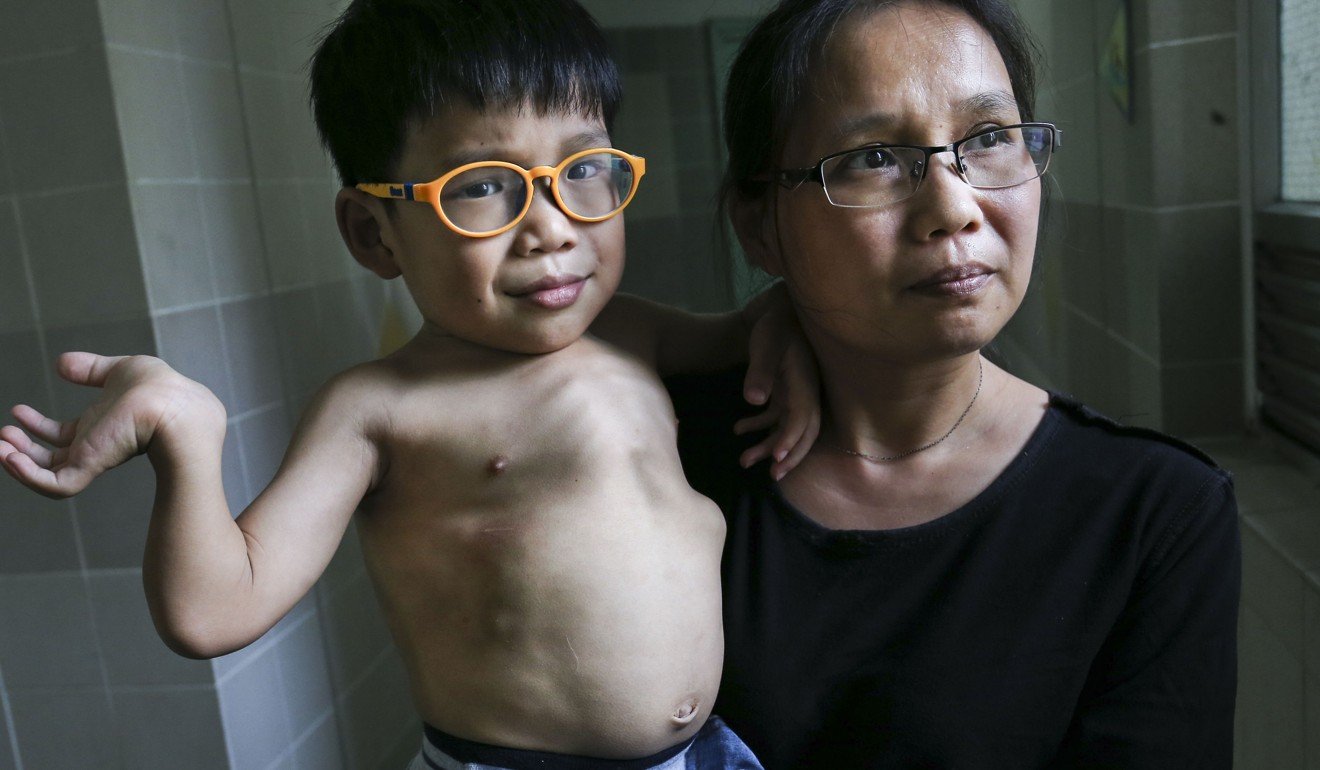 The intravenous drug, which helps slow down the deterioration of bodily functions, was introduced to Hong Kong in June 2015. But the Hospital Authority does not normally subsidise it. Previous government efforts to negotiate with the manufacturer and bring the cost down failed.
But on Friday the Hospital Authority revealed an agreement with the maker, BioMarin, to split the cost of providing medication to the child for the rest of his life. How much each side would pay was not disclosed.
From November onwards, the child, who had never taken medication for his disease, will pay HK$15 for one weekly injection, a standard fee for ordinary drugs in public hospitals.
The boy's mother, Liu Yongfang, said the boy cried "tears of joy upon hearing the good news."
"I thank the doctors and the drug manufacturer. We're now very hopeful for his future," she said, though she added that she hoped the drug would have no adverse side effects.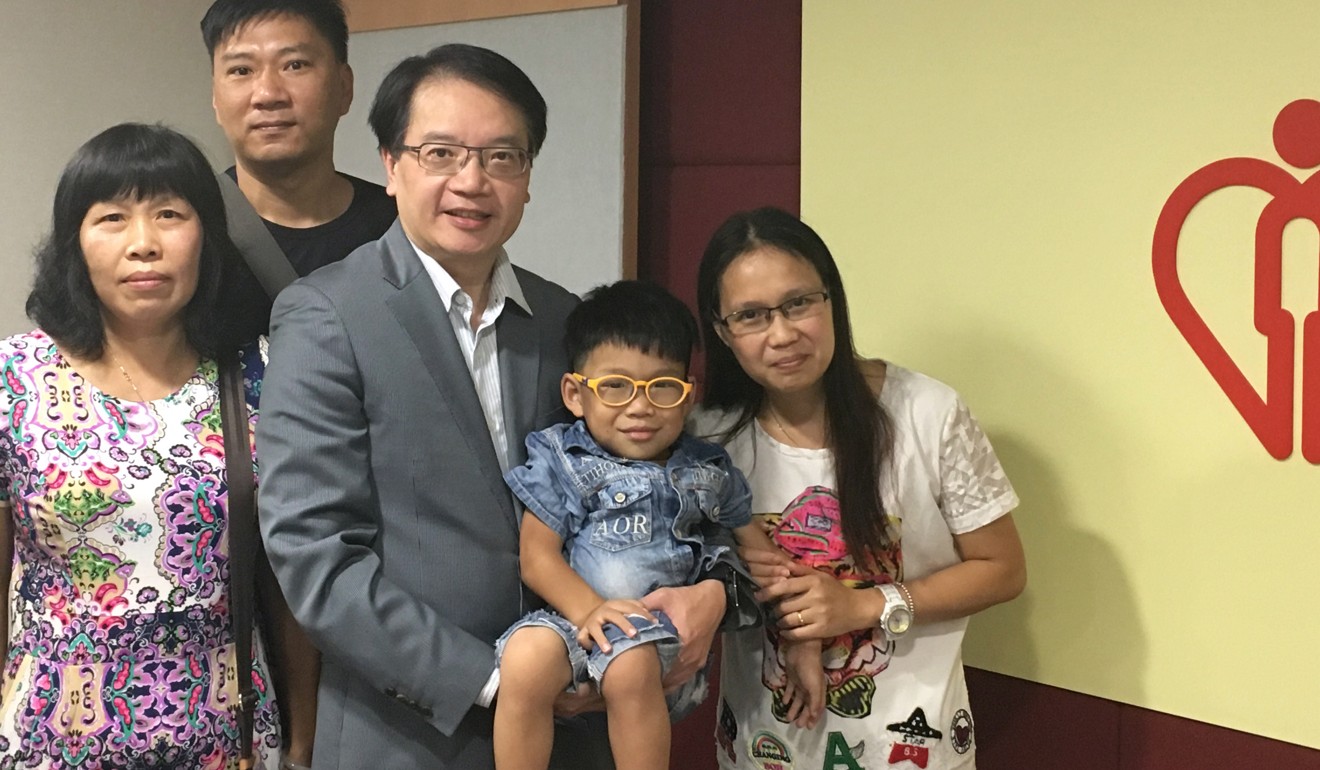 Dr Cheung Wai-lun, a director at the Hospital Authority, said the boy's case was an exception.
"We agreed on this arrangement because his sickness is still at a preliminary stage and his body functions are mostly sound ... So he deserves to start the treatment, which hopefully will help restore his health. But it can't cure his disease," Cheung said.
He said the government had approved HK$75 million to subside medication for 22 other patients with the same disease, but only on a case-by-case basis, meaning patients with rare diseases would have to approach the authority to ask for help buying new drugs.
Labour Party legislator Fernando Cheung Chiu-hung said the deal was good for all concerned because the boy got the drugs he needed, the pharmaceutical company made a profit and the authority could afford the outlay.
He urged the government to clearly define policies on patients with rare diseases, who number about 75,000 in the city, according to the Hong Kong Alliance of Rare Diseases.