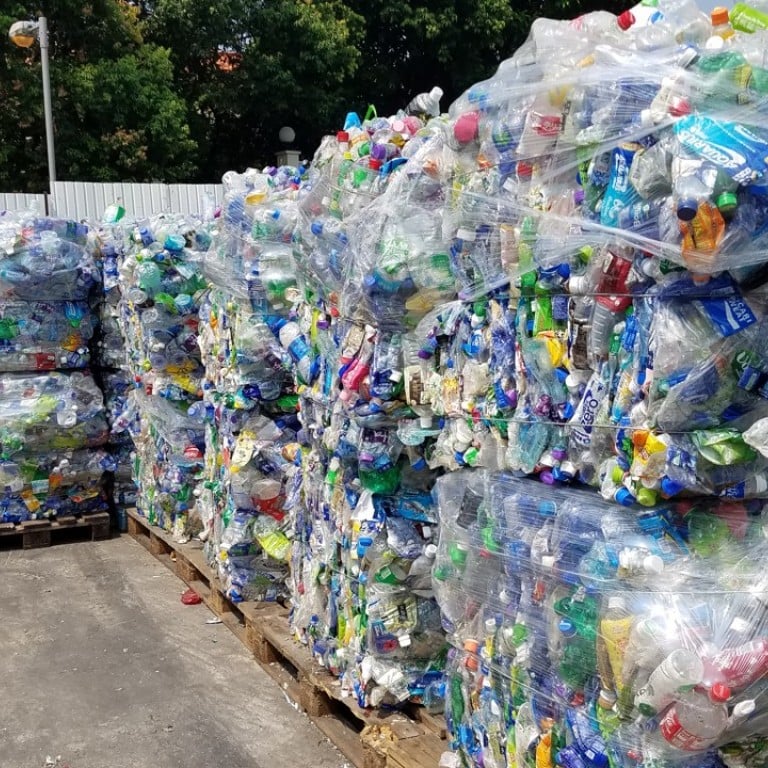 Future grim for half of Hong Kong recyclers with new China waste import rules looming, study finds
University researchers visited more than 200 firms and found industry also faces a manpower shortage, long working hours and a risky occupational environment
Half of the recyclers in Hong Kong – especially those in the plastics business – are at risk of closure with mainland China implementing more stringent requirements for importing waste next year, a university study has found.
The future of plastic recycling is particularly grim because none of the local plants visited by researchers contain the facilities needed to meet the new requirements.
Baptist University researchers, who visited 205 recycling companies, said the industry also faced a manpower shortage, long working hours and a risky occupational environment.
"The recycling business is helping Hong Kong to minimise its disposal of waste, which is filling up dump sites," said university biology professor Jonathan Wong Woon-chung.
"But many companies are struggling very hard to make a profit, especially the small ones."
About 300 local recycling firms will from January 1 face tighter mainland waste import rules – under which it will stop importing 24 types including waste plastic, unsorted scrap paper, textiles and slag from steelmaking – as part of a campaign against "foreign garbage" that it said was harming the environment and public health.
Responding to the change, the local recycling strategy will only focus on three types of paper – cardboard, newspaper and office paper – and
two types of plastic
, rinsed bottles for drinks and personal care products.
The Baptist University study found that 70 per cent of the 205 recycling plants visited were small businesses with fewer than five workers. Half of the companies reported that they were losing money even before the new regulations.
Some 70 per cent of employees said they worked over nine hours a day, with some putting in more than 12 hours.
The study also found that less than 10 per cent of the firms provided staff training on occupational safety, while almost 10 per cent did not have fire hazard facilities.
Of 64 firms that deal with plastic waste, Wong said none owned facilities that turned scrap plastic into clean pellets to be exported to the mainland as industrial raw material, a new requirement in contrast to the current practice to crush, package and ship it.
For 142 paper firms, half reported that they had started to divide waste into different categories, making it easier to match the new mainland standards.
Wong believed the shift in mainland policy would pose a huge challenge to the survival of local plastic recyclers compared with those who collected paper or aluminium waste.
"To allow the sector to work effectively and maintain sustainable development, the government should provide more support," Wong said.
The government formed the Recycling Fund two years ago and recently earmarked HK$20 million (US$2.56 million) to help local recyclers buy ­machines to improve the quality of their products.
But Lau Yung-pui, of the Hong Kong Recycling Chamber of Commerce, said many of the workers were old and unskilled in filling out the forms, and he urged the government to simplify the applications.
"It is difficult for the small businesses to improve when their resources and manpower are so tight," he said.
This article appeared in the South China Morning Post print edition as: Recycling firms struggle to meet new mainland rules