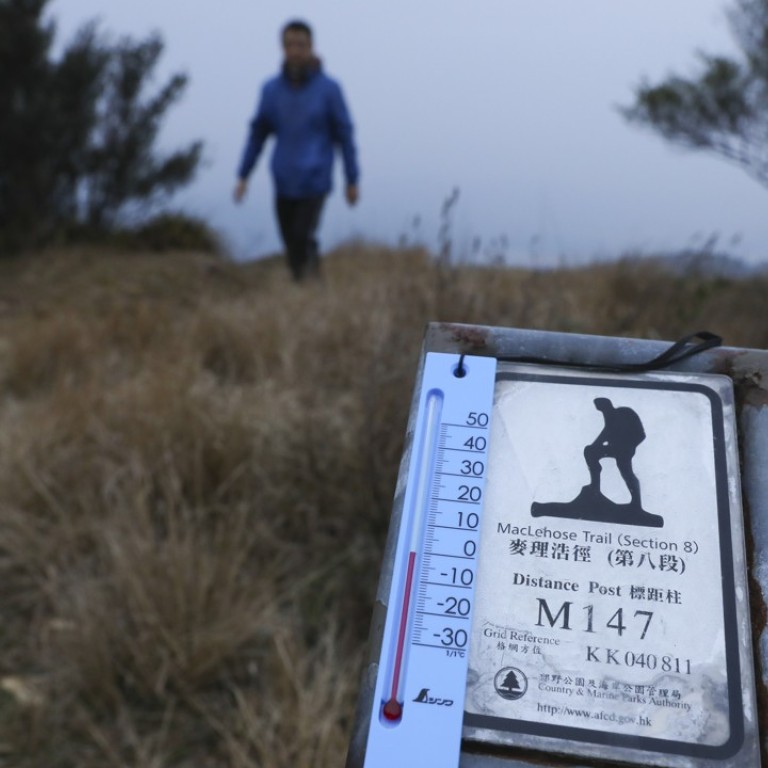 Observatory issues third frost warning of year as shivering Hongkongers told warmer weather on the way
Relief from the cold snap is forecast to begin from Wednesday, with daytime temperature highs hovering in the mid to high teens
The Hong Kong Observatory on Monday afternoon issued its third frost warning of the year, as the city was getting ready to endure another night of very cold weather despite warmer weather forecast for later this week.
The frost warning was issued at 4.30pm on Monday, cautioning farmers to mind their crops.
Relief from the cold snap is forecast to begin from Wednesday, with daytime temperature highs hovering in the mid to high teens. It will be warmest this week on Saturday at 19 degrees.
But Hongkongers will still have to get through the next two days of very cold weather, with the mercury dipping to eight degrees Celsius tonight, and a few degrees lower in the New Territories.
The Centre for Health Protection urged the elderly and people with chronic illnesses to take extra precautions during the cold snap.
"Elderly people have less insulating fat beneath their skin to keep them warm and their body temperature control mechanism may be weaker. Their body may not be able to appropriately respond to the cold weather," a spokesman said.
For parents with babies, the spokesman said they should keep their little ones "sufficiently warm", but not to overclothe them in order to avoid overheating.
The extended weather forecast predicts warm weather during Lunar New Year, with temperatures hovering in the low 20s.
The cold weather has contributed in the flu surge overwhelming public hospitals in the city.
On Sunday, accident and emergency units in 17 public hospitals saw 5,329 new patients, with 972 people transferred to medical wards, pushing the average inpatient bed occupancy rate to 111 per cent.
United Christian Hospital in Kwun Tong and Queen Elizabeth Hospital in Ho Man Tin were the busiest, operating at 134 and 119 per cent respectively.
According to a spokeswoman for the Senior Citizen Home Safety Association, since midnight on Monday, 896 elderly persons used their call service to seek assistance.
Seventy-seven people required hospital treatment, mostly for shortness of breath or body pain.