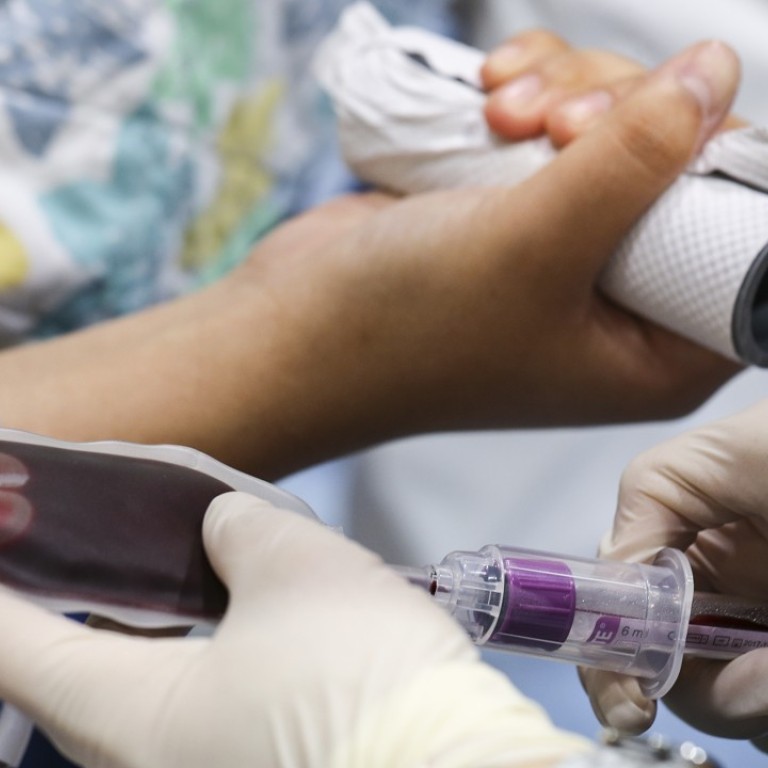 Bad weather, fewer first-timers and poor diets: 3 reasons Hong Kong's blood donation rate is at a low
A 5.3 per cent drop in collections compared with 2016 sparks concern over more challenges as city ages
Around 15,000 fewer Hongkongers chose to donate blood in 2017 compared with the year before as bad weather kept more people at home and not as many first-time donors stepped up to the mark.
The Red Cross Blood Transfusion Service described the rate of donations as unsatisfactory and warned of further challenges collecting blood as the population aged.
Total donor attendance fell 4.7 per cent to 312,972 last year, and 68,319 of them were rejected, mainly because of low blood iron levels.
This meant only 244,653 successful collections were made, 5.3 per cent less than in 2016.
About half of the rejected donors – 35,673 – were told they could not donate because of low levels of haemoglobin – the protein in red blood cells that carries iron. These problems are mainly caused by poor diet.
The number of first-time blood donors also fell 8.3 per cent to 33,626.
"Overall, our 2017 figures were not that satisfactory. The 4.7 [and 5.3] per cent drops are quite significant. Our collections were mostly insufficient … and inventories are still low," Dr Lee Cheuk-kwong, chief executive and medical director of the service, said on Thursday at an annual press conference.
Lee said blood collection drives were seriously affected or even terminated owing to the unstable weather last year.
Five typhoons requiring the warning signal No 8 or higher ravaged the city between June and October last year, while cold snaps in recent weeks might have also lowered public motivation to give blood, he said.
The declines were registered at all nine of the service's donor centres as well as at collections from its mobile blood drives, mobile vehicle centres and university campus centres.
At least 1,100 bags of blood must be collected daily to meet demand from the city's hospitals. With less blood collected, around 487,094 units of blood products – including red blood cells, platelets and plasma – were issued to hospitals for transfusions, a 1.3 per cent decrease from 2016.
The service conceded that this target would be even more difficult to meet amid an ageing population.
The most recent urgent donation appeal was issued on January 26 by the Red Cross as it said "inventories for all blood types have been depleted to an alarming level amid persistent high demand from local hospitals".
The service said it would strengthen public education and awareness for blood donation, as well as stress the need for interested donors to improve their iron intake. An investment in online appointment services is also expected to enhance service quality.
Managed by the Hospital Authority, the Red Cross Blood Transfusion Service is the sole public institution supplying blood to both public and private hospitals.
Anyone between the ages of 16 and 66, weighing over 41kg and in good health is eligible to donate blood. Male and female adult donors aged 18 or above can donate every 75 days and every 105 days respectively. Young people aged between 16 and 17 can donate every 150 days.
This article appeared in the South China Morning Post print edition as: Big drop in blood donations sparks fear of shortage