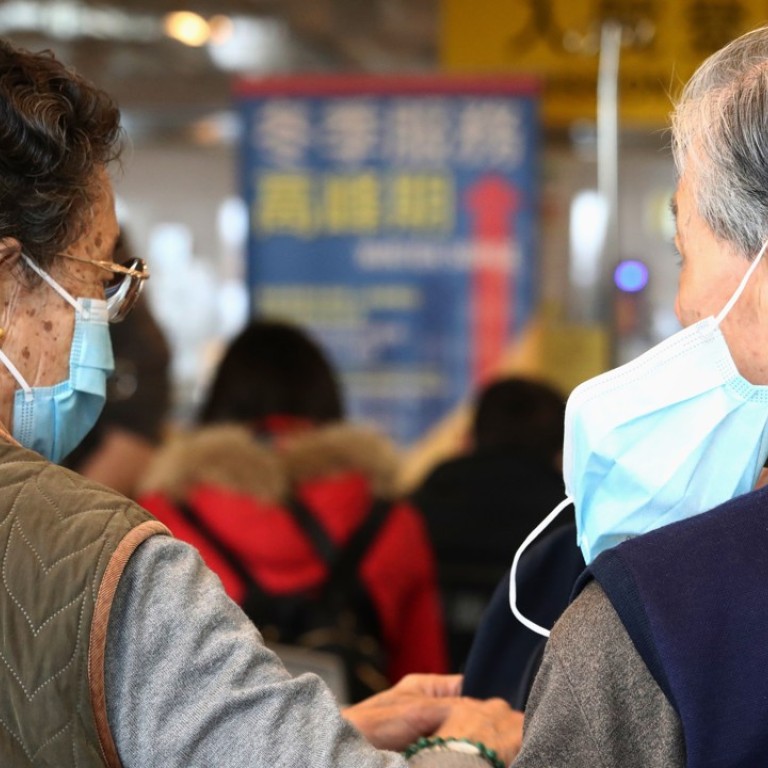 Hospitals see rush of patients amid flu surge and end of Lunar New Year break, resulting in waits of over eight hours
There remains a desperate need for flu vaccines across the city, with the winter flu peak season expected to last until the end of May
Overburdened public hospitals in Hong Kong saw a rush of patients on Tuesday, the first work day after the Lunar New Year break, as the city continued to battle the winter flu surge.
The onslaught meant those with less severe symptoms were forced to wait for more than eight hours to see a doctor.
This was the case at lunchtime at the accident and emergency (A&E) units of five hospitals: Queen Elizabeth, United Christian and Tseung Kwan O in Kowloon, and Prince of Wales and Tuen Mun in the New Territories.
The situation was better on Hong Kong Island, with patients told to wait for either over one or two hours at three hospitals before they could see a doctor.
There remains a desperate need for flu vaccines across the city, as hospital wards are packed to maximum capacity with flu patients.
The Hospital Authority said the 17 public hospitals it managed dealt with 6,595 accident and emergency cases on Monday, with the overall occupancy rate of inpatient beds at 119 per cent, an increase from 111 per cent from Sunday.
At Queen Elizabeth Hospital on Tuesday, about 50 people were at the A&E department including about 15 who were on beds.
A man surnamed Yung said he was at the hospital with his wife for a follow-up.
While they did not wait long this time, the To Kwa Wan resident said it was common for the hospital to be packed, resulting in a wait of more than four hours each time he came.
He said he hoped that the city's two medical schools at the University of Hong Kong and Chinese University would train more staff.
While the situation was better at the Pamela Youde Nethersole Eastern Hospital in Chai Wan, a man surnamed Chong, who had symptoms of vomiting, said he was prepared to wait for half a day as he was aware of the tight manpower situation.
Allowing health care workers from overseas to take jobs in Hong Kong would be a possible solution to the problem, he said.
By 6.45pm on Tuesday, patients with less urgent cases in the emergency departments of Tuen Mun Hospital, Queen Elizabeth Hospital and Prince of Wales Hospital still had to wait over four hours to be seen by doctors.
The waiting time at Ruttonjee Hospital and Pok Oi Hospital was over three hours.
Professor David Hui Shu-cheong, an expert in respiratory medicine from Chinese University, said the number of beds in medical wards at some public hospitals had increased from 40 to about 57 recently.
Hui said some surgical wards were crowded as the number of beds in each ward had risen to at least 50, from the usual 40.
As of Tuesday, 15 children had been reported with severe flu, two of whom had died.
The latest case of illness was announced on Tuesday by the Centre for Health Protection, involving a seven-year-old boy who had fever, cough and muscle pain since Sunday.
The boy, who lives in mainland China and was not vaccinated, was admitted to Queen Mary Hospital on Monday after developing seizures. He was diagnosed with flu complicated with encephalopathy. He was in a stable condition on Tuesday.
Between January 7 and Monday, 352 adult cases of severe flu were reported, with 214 resulting in death.
The authority's chief executive Dr Leung Pak-yin said on Monday that hospitals were in a "protracted war" against the flu, with the winter peak season expected to last until the end of May.
Meanwhile, the city is experiencing a continued shortage of flu vaccines despite the arrival of extra batches before the Lunar New Year holiday.
At a Tai Po clinic operated by Dr Chiu Sik-ho, a staff member said flu vaccines had arrived, but stocks were only enough for those who had previously made appointments to have the jabs.
She said the clinic had to check if it could get more vaccines from suppliers before taking in walk-in patients seeking vaccination.
The Post also spoke to three other clinics across Hong Kong Island, Kowloon and the New Territories. All of them said they were still waiting for vaccines to arrive, with two adding that they anticipated new batches to be delivered by the end of February.
General practitioner Dr Douglas Chan Nim-tak said he had obtained 20 extra doses of flu vaccines earlier this month, but these were used up on the second day after they were made available.
He said he had ordered more stock but was not told how many doses he could get and when they could be delivered to his clinic.
Tim Pang Hung-cheong, a patients' rights advocate for the Society for Community Organisation, said the government should plan earlier for flu vaccination for the next winter flu season.
"The government has bought extra vaccines in a rush only when more people sought vaccination," Pang said. "There have not been sufficient plans in raising the flu vaccination rate."
This article appeared in the South China Morning Post print edition as: Flu patients wait eight hours at hospitals