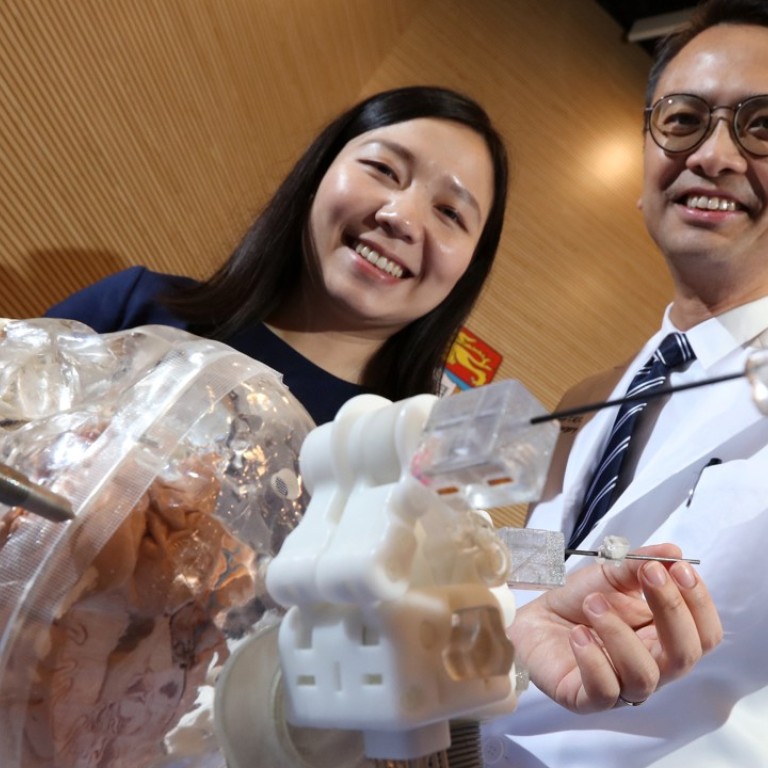 Hong Kong engineers develop world's first robotics system capable of performing brain surgery inside an MRI scanner
Device greatly reduces time needed for delicate operation to treat illnesses such as Parkinson's disease
Hong Kong engineers have developed the world's first robotics system capable of performing brain surgery inside an MRI scanner, paving the way for more accurate and efficient treatment of illnesses such as Parkinson's disease.
The new device also greatly reduces the time needed for the surgery, which can last up to a whole day, as it can simultaneously work on both sides of the brain.
Deep brain stimulation, a therapy performed through stereotactic neurosurgery, can help treat the symptoms of Parkinson's disease, which afflicts the nervous system. The surgical process requires doctors to manually implant electrodes inside the brain.
However, the procedures require extreme accuracy to avoid damaging surrounding tissue.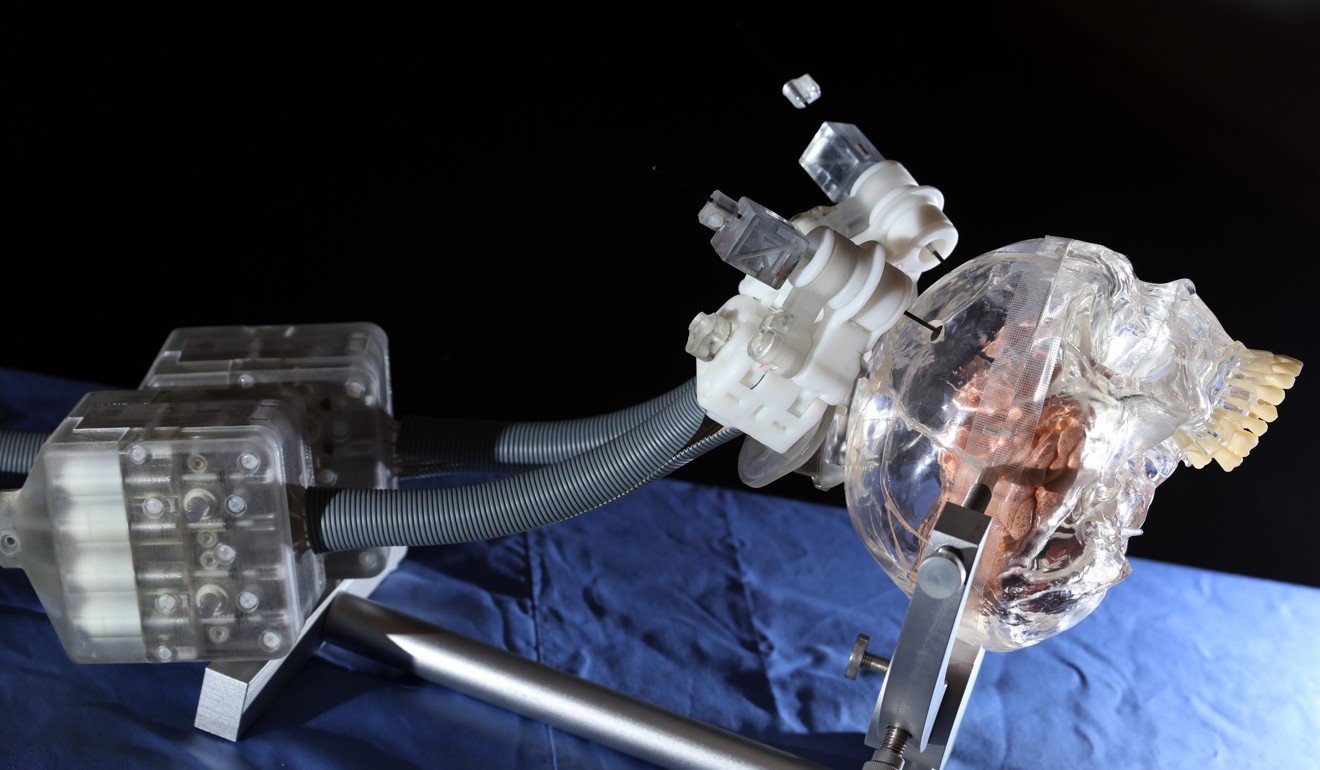 Currently doctors are using robotic systems guided by magnetic resonance imaging (MRI) to perform the surgery. But the process cannot be done simultaneously while the MRI is in use due to interference from electromagnetic motors commonly used in robots.
Doctors must often move a patient in and out of the MRI scanner to manually adjust the positioning of a needle. The needle needs to be inserted into the brain before proceeding.
The new device was designed and developed by a University of Hong Kong mechanical engineering team and tested by neurosurgeons from the Chinese University. After five years of research and more than a dozen prototypes, the problem was resolved by developing a hydraulic powered robotic system.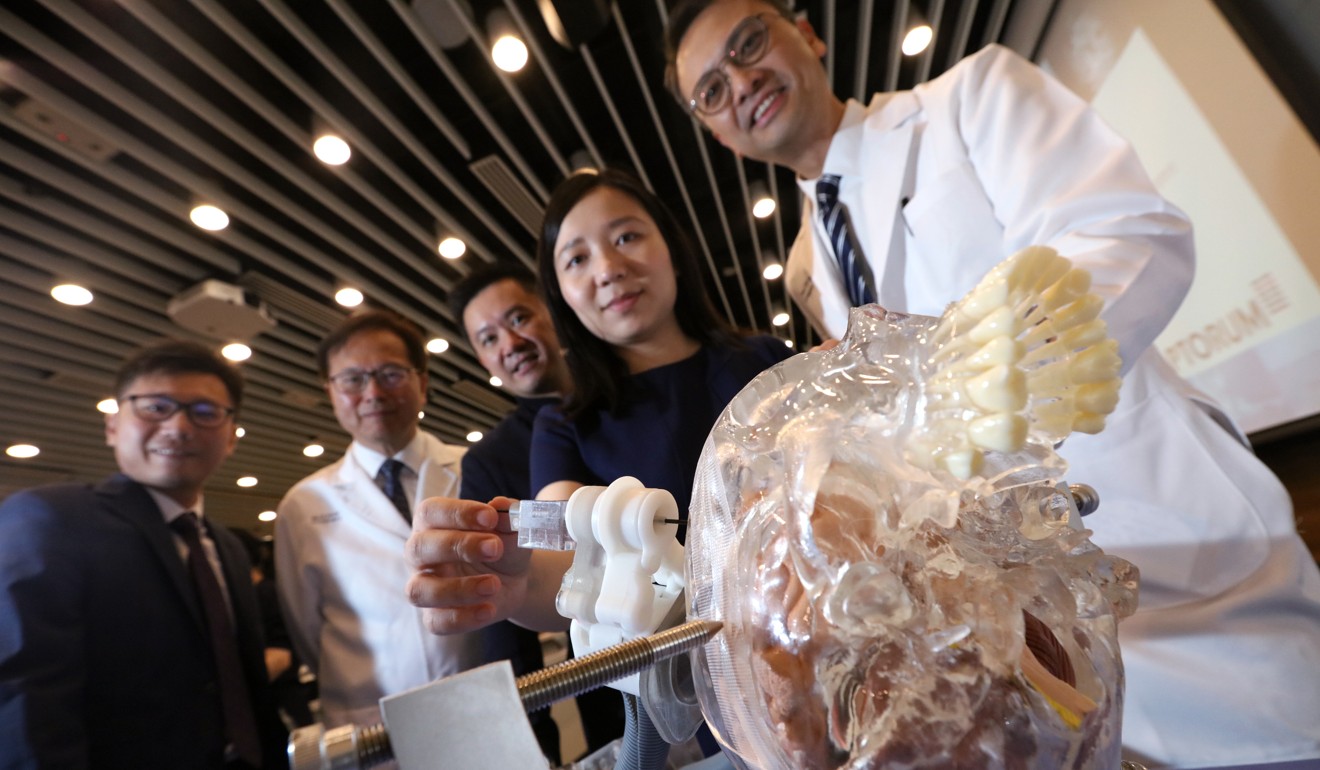 "This robot can accurately control and position the needle without affecting the MRI image quality during the operation ... and allows doctors to see in real time where the needle is placed," explained Dr Kwok Ka-wai, who led the HKU team.

The design is more compact than current robotic systems and can simultaneously work on both the left and right sides of the brain, unlike those on the market. The engineering breakthrough could also help reduce the operating time spent by doctors in Hong Kong who rely on a more conventional method that takes between eight and 12 hours to complete.
During surgery, the procedure is performed while the patient is conscious under local anaesthesia. Surgeons rely on verbal and physical interactions with the patient to ensure the electrode is accurately positioned.
The conventional procedure can take up to a whole day because doctors can only work on one side of the brain at a time and then repeat the procedures on the opposite side.
"This process is quite time-consuming and creates pressure and discomfort for the patient," Chinese University consultant neurosurgeon Dr Danny Chan Tat-ming said.
With the new device, patients can be put under general anaesthesia while doctors can operate from a control room.
The team plans to conduct further studies and hopes to carry out clinical tests on patients within the next two to three years.
If successful, the technology could also be applied to other MRI-guided uses, such as biopsies for prostate or breast cancer.
This article appeared in the South China Morning Post print edition as: HKU robotic device could revolutionise brain surgery