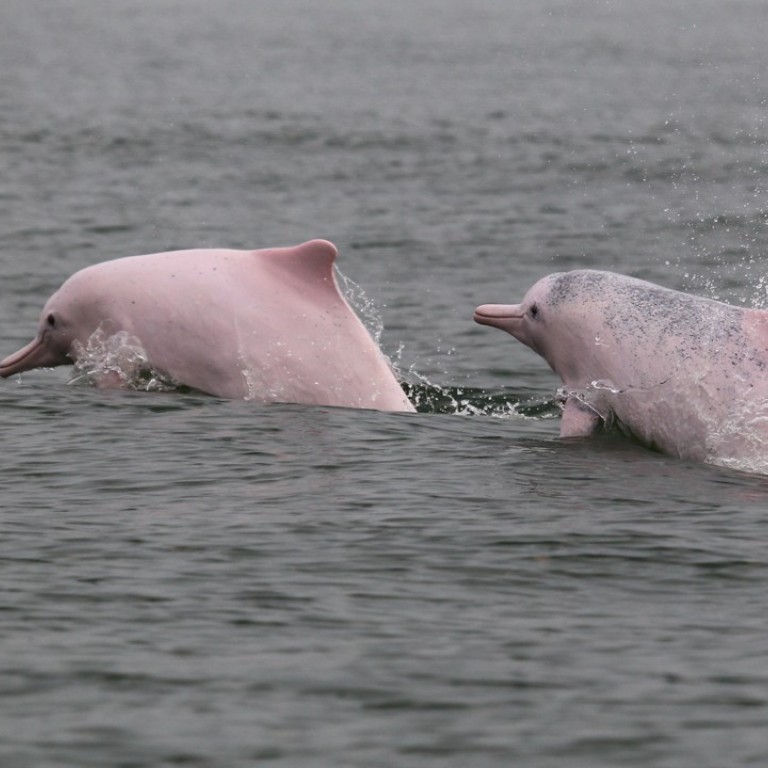 Hong Kong's Chinese white dolphin numbers remain critically low – and reclamation and construction could make it worse
New government report shows population stuck at historic low, and that the pink marine mammals are avoiding areas of major construction and high-speed ferries near Lantau Island's northeast
The number of Chinese white dolphins in Hong Kong waters remains "critically low", according to a new government report, with experts worrying that future reclamation and construction could lower it further.
Just 47 of the pink sea mammals were spotted from April 2017 to March 2018, according to the latest report by the Agriculture, Fisheries and Conservation Department. That is the same number as the local population sank to in 2016-17, the lowest since records began in 2003.
There were 188 in 2003. That number plunged to 87 in 2014-15, and 65 in 2015-16.
"Although we did not see a drop in numbers, it still is at a historic low. We are not optimistic," Taison Chang Ka-tai, chairman of the Hong Kong Dolphin Conservation Society, said.
"I think we should only be optimistic when we see a recovery or a rebound in numbers."
All 47 were spotted in the animal's main local habitat, the waters surrounding Lantau Island. None were spotted in northeast Lantau, for the third year in a row. Most frequented west and northwest Lantau.
The dolphins have largely disappeared from northeast Lantau since 2012, when work on the
Hong Kong-Zhuhai-Macau bridge
started, and high-speed ferry traffic from the airport's Sky Pier increased.
Even with most of the bridge work completed last year, there have been "no signs of recovery at all", said Dr Samuel Hung Ka-yiu of the Cetacean Research Project, which conducted the study.
"It remains to be seen whether eventually there will be some level of recovery in dolphin usage in this once-important dolphin habitat," Hung wrote in the report.
With the ongoing work on Hong Kong International Airport's third runway, and upcoming reclamation projects such as the Tung Chung New Town extension, Chang was worried that the situation could worsen.
"In the next 15 to 20 years, with one construction project following after the other, we're concerned that dolphin numbers in Hong Kong waters in the future could drop even further," he said.
After seeing dolphins leave the northeast of Lantau with the bridge construction, he said that future projects could force them to move again or even leave Hong Kong waters altogether for mainland China.
Conservation group WWF-Hong Kong said the new figures showed an urgent need for the government to improve monitoring around construction sites, such as using real-time acoustic monitoring devices instead of just relying on sightings. This is because dolphins can easily swim undetected into construction zones underwater.
"Such systems are widely used elsewhere and provide a new layer of protection to the dolphins from construction activities. The government should consider adopting this technology in existing and upcoming construction sites," said Dr Lindsay Porter, a senior research scientist at the University of St Andrews, in a WWF-Hong Kong statement.
"This will considerably reduce risks to dolphins and porpoises."
Two proposed marine parks to protect Chinese white dolphins and finless porpoises to the south of Lantau are slated to be created this year and next year.
Experts have suggested joining the two parks, which are next to each other, to make them more effective in protecting marine life.