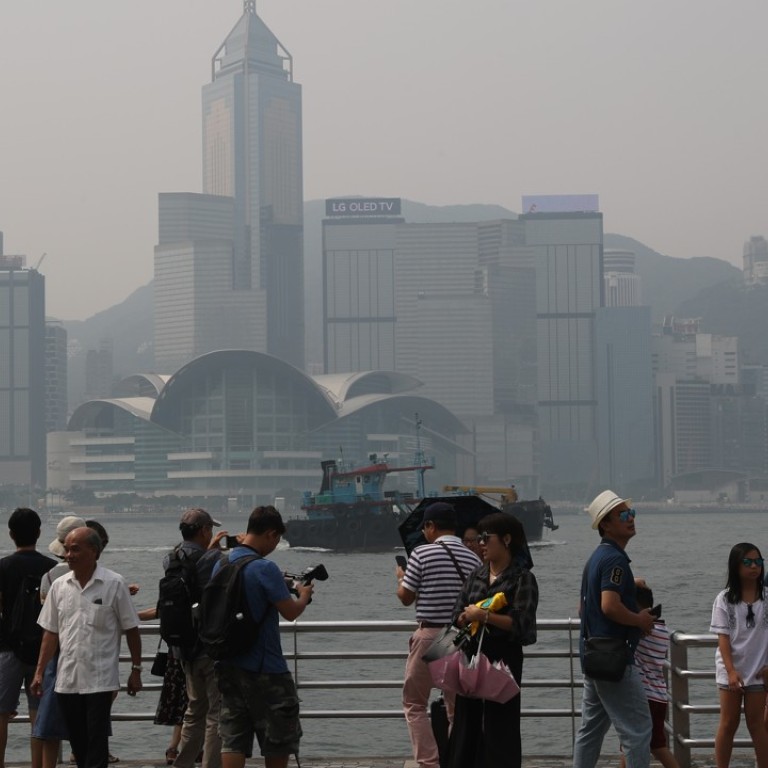 Air pollution blankets Hong Kong, with nitrogen dioxide and ozone mass causing serious health risk
Windless conditions and baking heat result in haze over region, with relief coming only next week
A blanket of haze hung over Hong Kong for most of Saturday, with 14 of 16 air quality monitoring stations reaching the highest level of 10+ on the pollution index at 5pm, indicating a "serious" health risk.
The stations in Tai Po and Tung Chung recorded a 10, meaning a "very high" health risk. The situation improved slightly in the evening, with 12 stations having an index of 8 to 9, also a "very high" health risk and the remaining stations showing readings of 5 to 7.
The Environmental Protection Department (EPD), in a midday warning on Saturday, said pollution levels in the air would remain "higher than normal" until stronger winds next week bring relief.
"Higher than normal levels of nitrogen dioxide and ozone have been recorded since this morning," the department said.
"Hong Kong is being affected by an air mass with higher background pollutant concentrations. In addition, the light wind hinders effective dispersion of air pollutants."
The weather has been hot with light winds and sunny periods recently but showers are expected in the coming days. Winds are also likely to strengthen.
The wind force will be at level 2 to 3 on Sunday, meaning "light" to "moderate" but will be at level 4 to 5 next Wednesday and Thursday, meaning "moderate" to "fresh".
The Observatory said the city would likely have cloudy weather, rain and squally thunderstorms in the middle of next week.
The
Post
reported on Tuesday that local ozone pollution had
surged 20 per cent since 2013
, reaching a two-decade high while concentrations of major pollutants had dropped.
Ozone is formed when nitrogen oxides and volatile organic compounds – emitted from vehicles, industrial activities and power plants – mix in the air under sunlight. It is closely linked to regional pollution. Sources of volatile organic compounds can come from anywhere within the Pearl River Delta, including Hong Kong.
Studies have linked prolonged exposure to ozone with damaged lung tissue, particularly among the elderly and children. Pulmonary functions can also be reduced and airways sensitised to other irritants and allergens.
Family doctor Dr Cheng Chi-man said poor air quality would pose greater risks to people with existing respiratory or heart diseases.
For example, air pollution could trigger breathing problems for sufferers of asthma or chronic obstructive pulmonary disease.
"Air pollutants could irritate the windpipe ... leading to difficulty in breathing," Cheng explained.
He said people with chronic heart disease were more likely to develop a heart attack on days with poor air quality.
Cheng advised people, especially those with the underlying diseases, to reduce their time spent outdoors.
"If they have to go out, avoid going to areas with more serious air pollution. Do not engage in intense physical activities."
The department also advised that once air pollution reaches serious levels, employers of outdoor workers should assess the risk of such labour and take appropriate preventive measures.
Additional reporting by Danny Lee
This article appeared in the South China Morning Post print edition as: Highly unhealthy air pollution could last until midweek