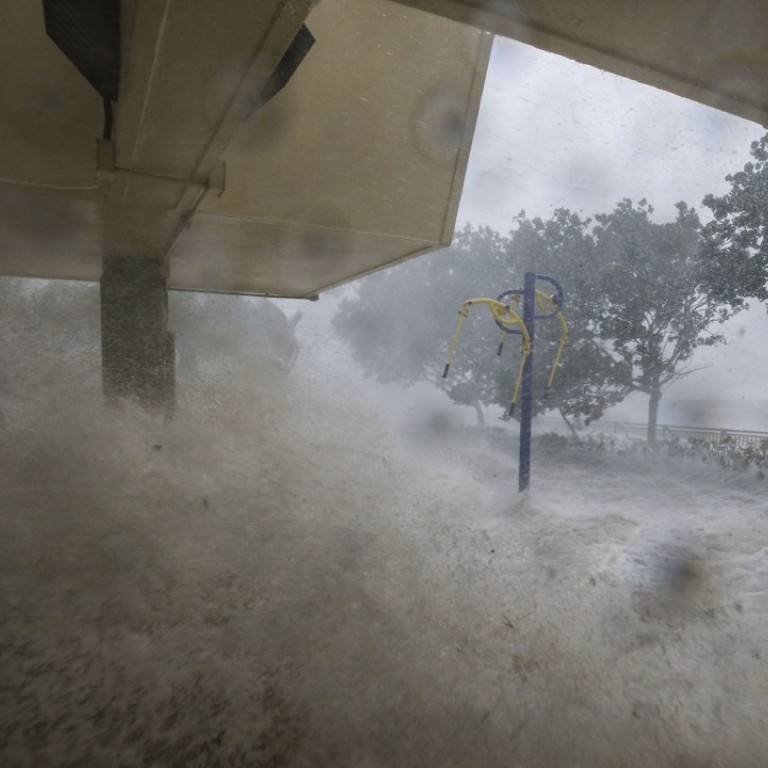 Hong Kong begins slow recovery after Typhoon Mangkhut batters city
No 8 warning signal downgraded to No 3 on Monday morning as monster storm no longer a threat to city
Hong Kong managed to avoid serious casualties after a mauling on Sunday by one of the most powerful storms on record to hit the city, but was facing a long and difficult recovery from extensive damage, flooding and travel disruption.
The city's major bus companies announced on Monday morning they would continue to suspend most of their services, while ferry and rail operators said their services could not resume in full.
Severe Typhoon Mangkhut shut down the city for the entire day, forcing residents to stay indoors for a harrowing 10 hours under a No 10 warning signal, as high-rise buildings swayed, windows shattered, scaffolding was blown off skyscrapers, the lift shaft of a building under construction in Tai Kok Tsui collapsed, and roads were blocked by severe flooding and fallen trees.
Mangkhut, named after the Thai word for mangosteen, was a super typhoon when it triggered the No 8 signal at 1.10am. The storm had weakened slightly into a severe typhoon when the signal was upgraded to No 9 six hours later, and then raised to the highest level at 9.40am as it tore into the city with wind speeds of 175km/h (108mph).
While the city was spared a direct hit, it could not escape the ferocity of Mangkhut.
At its most intense stage, maximum sustained wind speeds near the centre of the storm clocked in at 195km/h, making it the most powerful since Typhoon Hope in 1979, and stronger than Super Typhoon Hato last year.
Mangkhut also struck from a further distance, then came within 100km of the city at its closest.
Video clips and photos circulating on social media depicted extraordinary scenes of destruction under the onslaught.
Rescuers were called in as torrential rains left more than two dozen neighbourhoods in waist-deep water, among them low-lying coastal areas such as Lei Yue Mun, the Heng Fa Chuen residential neighbourhood and the evacuated fishing village of Tai O on Lantau.
Storm surges caused sea levels to rise as high as four metres above usual in Tsim Sha Tsui.
Sirens rang out on empty streets throughout the day as emergency responders struggled to keep up with the surge of panicked calls to the 999 hotline.
Lam Siu-hung, 46, who lives with her husband and six-year-old daughter in a rooftop home in Tai Kok Tsui, said their metal-sheet roof was shaking violently around noon, while water seeped in through the ceiling and walls.
"I was really afraid the roof might be blown away so I called 999," Lam said. "But the line was busy." They ended up seeking refuge in a building corridor.
There were nearly 200 reports of fallen trees, and key arteries such as Lockhart Road in Wan Chai, Kam Sheung Road in the New Territories, and several lanes of the Lion Rock and Shing Mun tunnels had to be closed to traffic. Aberdeen Tunnel was partially shut due to flooding.
Public transport came to a grinding halt, while the MTR Corporation could only keep skeletal train services running along underground sections of track. Hundreds of passengers were stranded at stations.
Hundreds of travellers were stranded at the airport as well, while nearly 900 flights were cancelled.
In Hung Hom, dozens of windows were blown out of a commercial building, sending paper and documents flying in the wind like confetti.
The electricity supply to about 40,000 CLP customers, mainly in the northern New Territories, Yuen Long and Sai Kung, was disrupted, ranging from brief cuts to voltage dips, with the utility firm blaming it on damaged overhead power lines.
CLP managing director Chiang Tung-keung said the storm's destructive effect on power supply facilities and customer services had been more severe than expected. "Emergency service teams are being deployed to carry out restoration works under safe circumstances," he said.
More than 200 people sought hospital treatment during the storm, while a damaged path leading to a helipad at St John Hospital on Cheung Chau shut down helicopter transport services.
Due to sudden voltage dips and uncertainties about power supply, five public hospitals had to use backup systems during the typhoon, though patient services remained normal, according to the Hospital Authority.
In neighbouring Macau, which had to shut down all its casinos, 20,000 households were facing power cuts, while severe flooding in the inner harbour area made two main roads unusable.
At least 17 people were injured, but the city appeared to have been spared the death and destruction brought by Hato last year.
Shenzhen and Zhuhai in mainland China were also hit by partial blackouts and flooding, while all major cities in the Pearl River Delta region were in a state of emergency as Mangkhut headed their way.
Transport was paralysed in the "Greater Bay Area", with nearly all flights grounded and intercity train and bus services suspended.
At least two deaths were reported in Guangdong province.
The No 10 signal was downgraded to No 8 at 7.40pm as Mangkhut began pulling further away from Hong Kong, and residents started emerging in the streets, despite the Observatory warning the danger was not over.
The signal was downgraded to a No 3 at 5:20am as the threat receded.
The government announced schools would remain closed on Monday as a precaution, regardless of any typhoon or warning signals. Extensive damage and blocked roads also prompted several universities to cancel classes and close offices.
Chief Executive Carrie Lam Cheng Yuet-ngor urged employers in the private sector to be flexible about work hours, and understand that employees might face difficulty getting to work.
The city was expected to spend days picking up the pieces and cleaning up.
The Airport Authority estimated it would take a couple of days to clear the backlog of 889 cancelled flights.
"It is expected that the weather conditions will still be unfavourable to airport operations on Monday, hence flight operations will still be affected," the authority said in a statement. "[The airport] will implement flight rescheduling on Monday and possibly Tuesday … to ensure an orderly recovery."
Heavy damage to overhead lines at some 50 locations along the MTR network, mostly at exposed sections of the East Rail and Light Rail lines, left it doubtful whether full services could resume overnight.
"Due to the bad weather, we expect that it would greatly increase the time and difficulty for any maintenance and repair works," MTR chief of operations engineering Tony Lee Kar-yun said.
The
Hong Kong-Zhuhai-Macau Bridge Authority
said non-essential workers had been evacuated from the bridge and all vessels within three nautical miles from the structure would be ordered to leave the area. Two high-powered tow boats would be stationed nearby to protect the bridge from incoming vessels and prevent collisions.
The moves came amid concerns whether the soon-to-open bridge would be able to take Mangkhut's winds.
Several ferries services, including those between Cheung Chau and Mui Wo, and the North Point-Hung Hom-Kowloon City route, were expected to remain suspended due to "serious damage found at several piers".