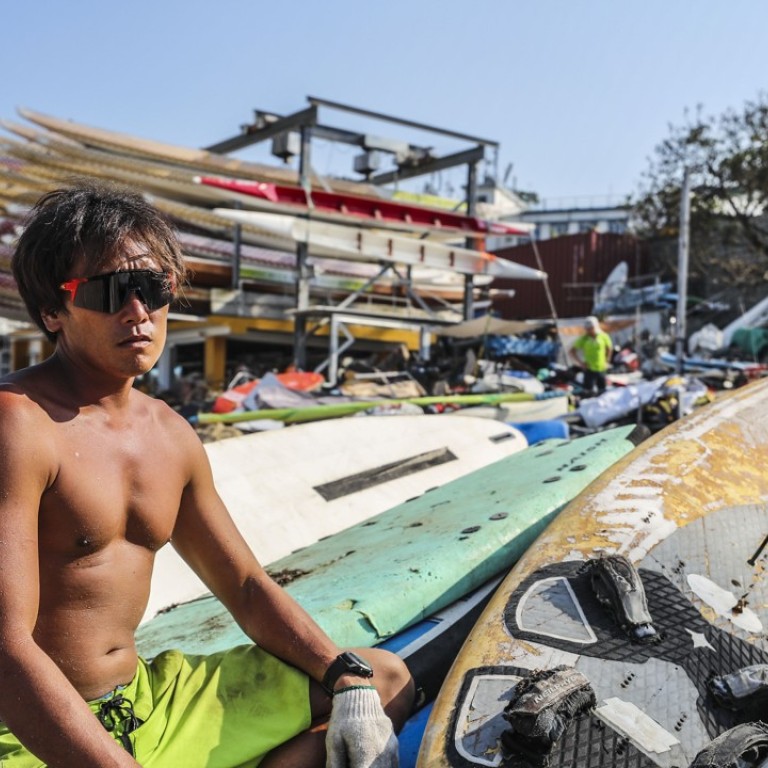 After Typhoon Mangkhut, Hong Kong beaches could take months to recover
One water sports centre estimates more than HK$1 million in losses, while a green group describes the scale of debris 'shocking'
A week after Hong Kong's most intense storm on record battered the city, some scenic coastal areas could take months to recover.
At the front line of the storm's intense winds, swathes of beaches have been left upturned and covered in marine refuse and fallen trees, while sewage spews into the sea due to compromised infrastructure.
Nine local public beaches the Post surveyed last week were still damaged and covered in waste, ranging from plastic bags and wood planks to piles of tree trunks and leaf debris.
At Sha Ha Beach in Sai Kung, broken surfboards and a wrecked yacht dotted the coast. A similar scene was visible at Stanley Main Beach Water Sports Centre.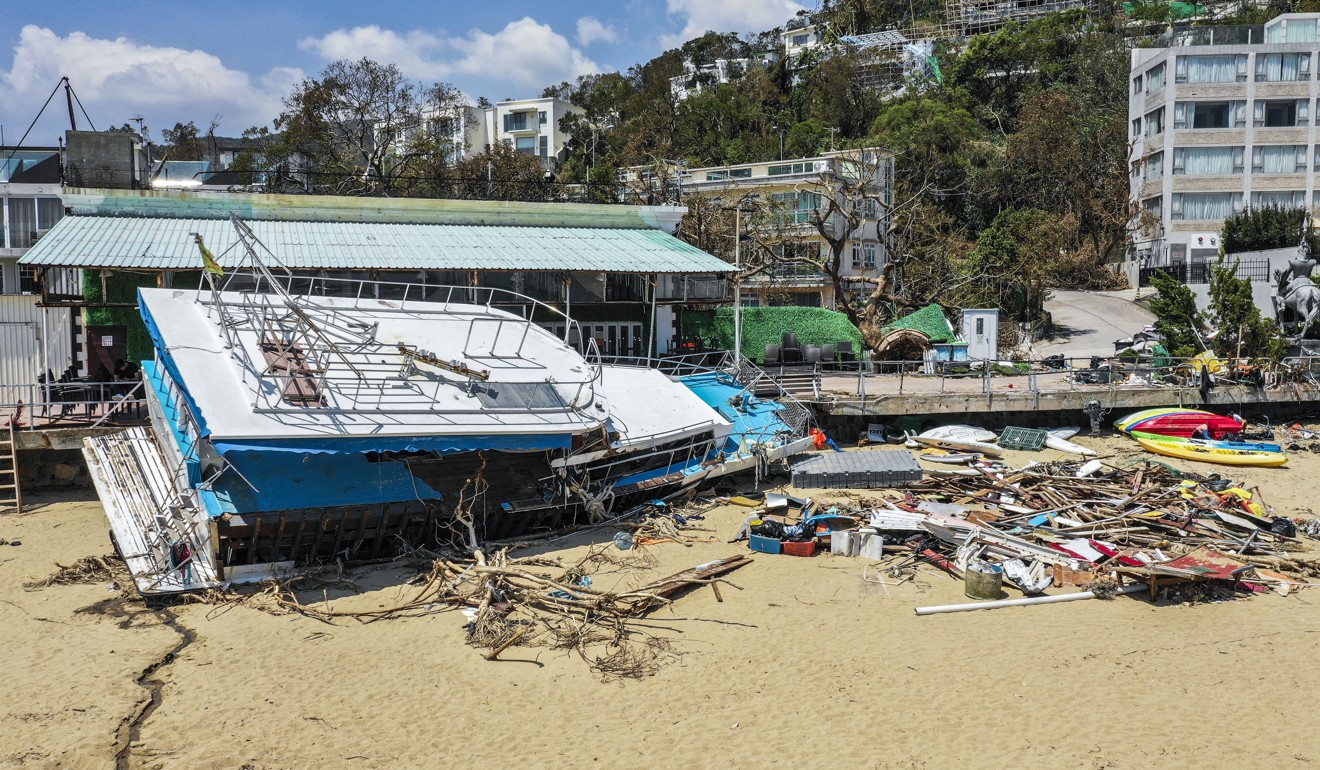 Dennis Yeung, the centre's deputy manager, said its losses would probably exceed HK$1 million (US$128,000).
"Two lifeboats and 20 dinghies were all broken," he added with a sigh. His team used chains and pulleys to drag what was left of a lifeboat out of the water.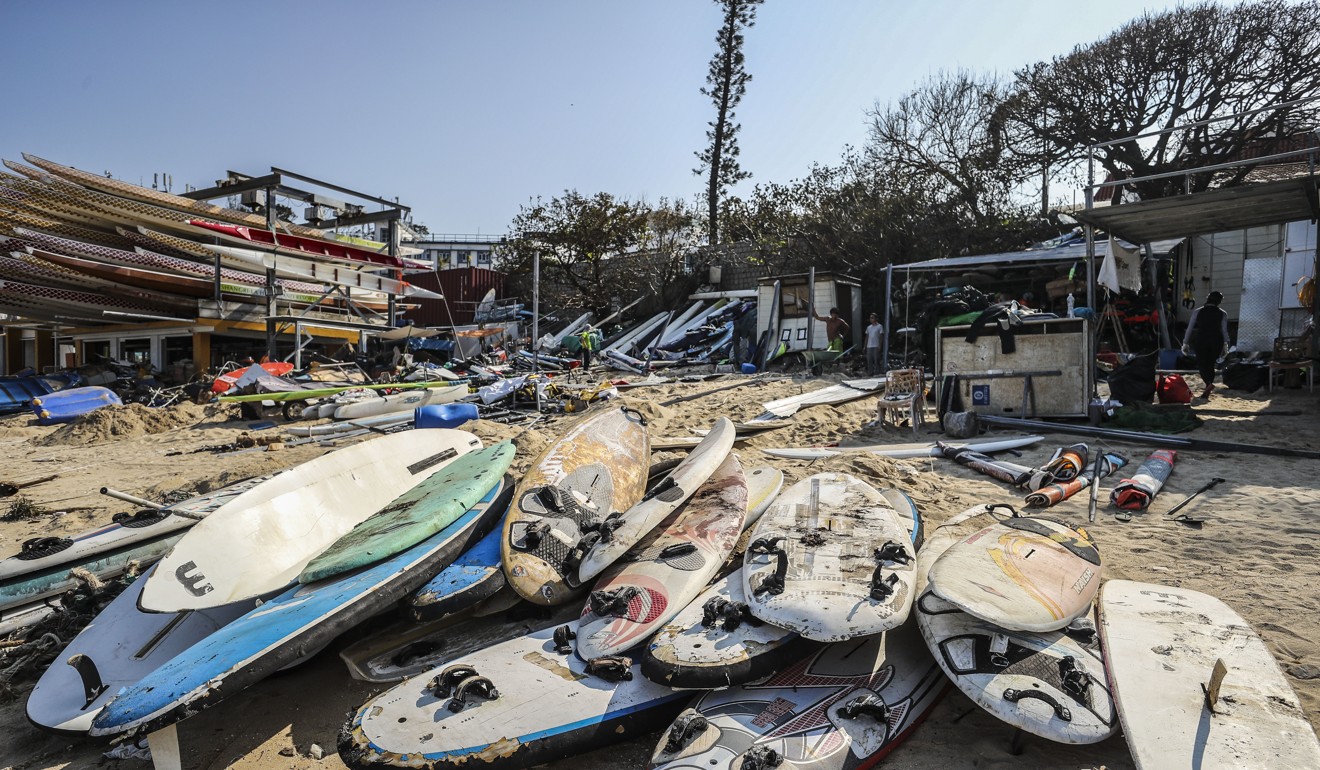 "It will take us at least three months to get the place back to what it was like before the storm."
Toilets, changing rooms and shower rooms were coated with sand blown in by Mangkhut's winds.
On Monday, lifeguards at Silverstrand Beach and South Beach arrived at work to waist-high sand piled up in their offices. At Deep Water Bay Beach, sand on the ground floor blocked almost all the doors and windows, and dunes had formed along the road behind it.
Even coastal structures took a beating. Lifeguard towers at Shek O Beach stood askew and windowless.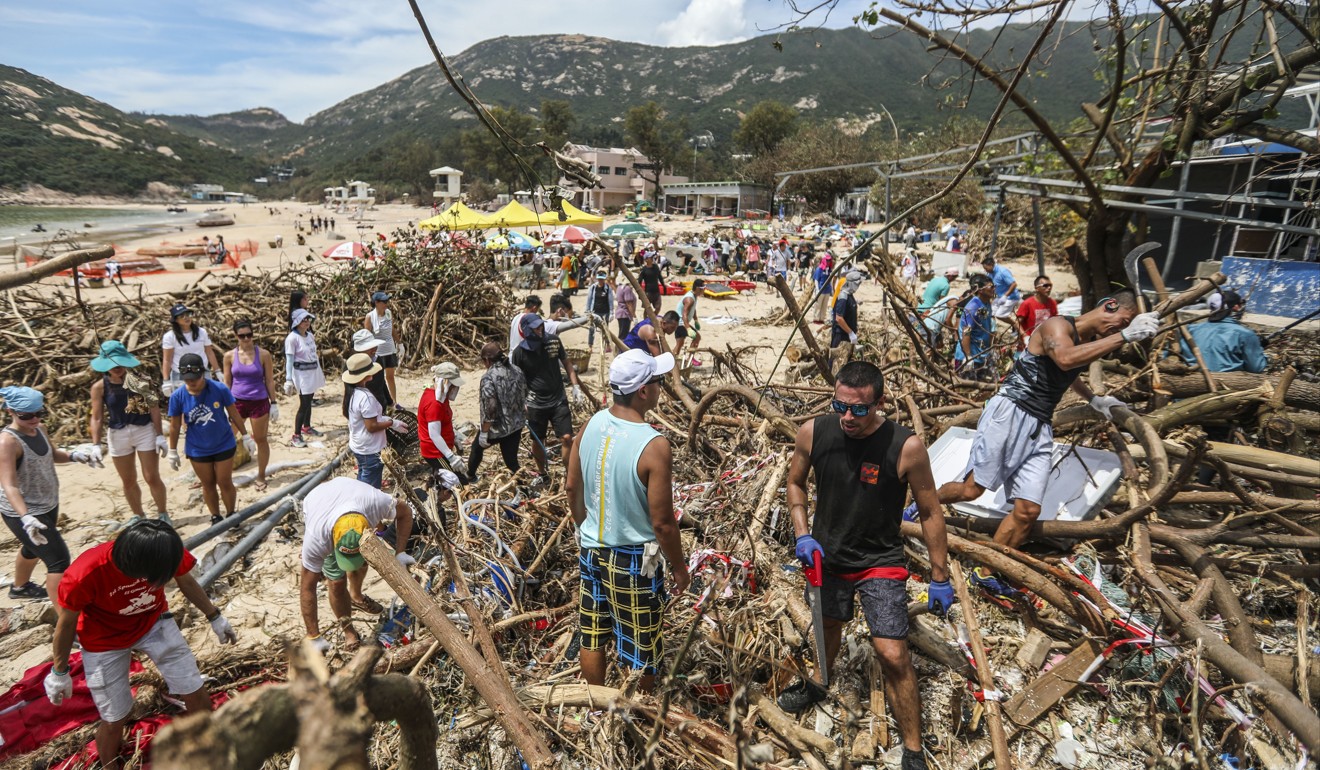 A cement balustrade in front of the toilets had toppled over, exposing a mess of water pipes, red bricks and steel bars.
To make things worse, three sections of water mains in Southern District on Hong Kong Island had been broken, leading to a discharge of sewage and a warning from officials for swimmers to stay away from Deep Water Bay and Shek O beaches. Repairs are expected to take at least three weeks.
A storm-damaged sewage treatment facility was also found to be
leaking waste
into Sai Kung waters. It could take months to fix.
And across much of Hong Kong's coasts, rubbish has blanketed shorelines in a dense mixture of polystyrene, plastic and empty drink bottles.
"The scale of polystyrene ... is shocking," said Tracey Read, founder and chief executive of the NGO Plastic Free Seas. "Even if it's 100 or 50 bags per day removed from the beaches, it's way too much for the environment."
The group was one of several scrambling to organise clean-ups to save the city's beaches. In the first four days alone, Plastic Free Seas collected more than 460 bags, mostly comprising foam and plastic drink bottles. Read said the volume far exceeded what was left behind last year by
Typhoon Hato
, which caused 10 fatalities in
Macau
alone.
"[Polystyrene] is such an insidious form of plastic and one that we should be getting out of using," she added. "Once it's out in the environment in this size and volume we can't clean it up it, and it makes its way into the sand, soil, water, food chain – everywhere."
Read said now was a golden opportunity for a clean-up as the refuse had been washed ashore and into tight piles. But she feared rainfall could cause them to disintegrate and return to the sea.
According to Hong Kong Clean-up, 168,750 volunteers In Hong Kong supported post-typhoon clean-up efforts across the city throughout the week.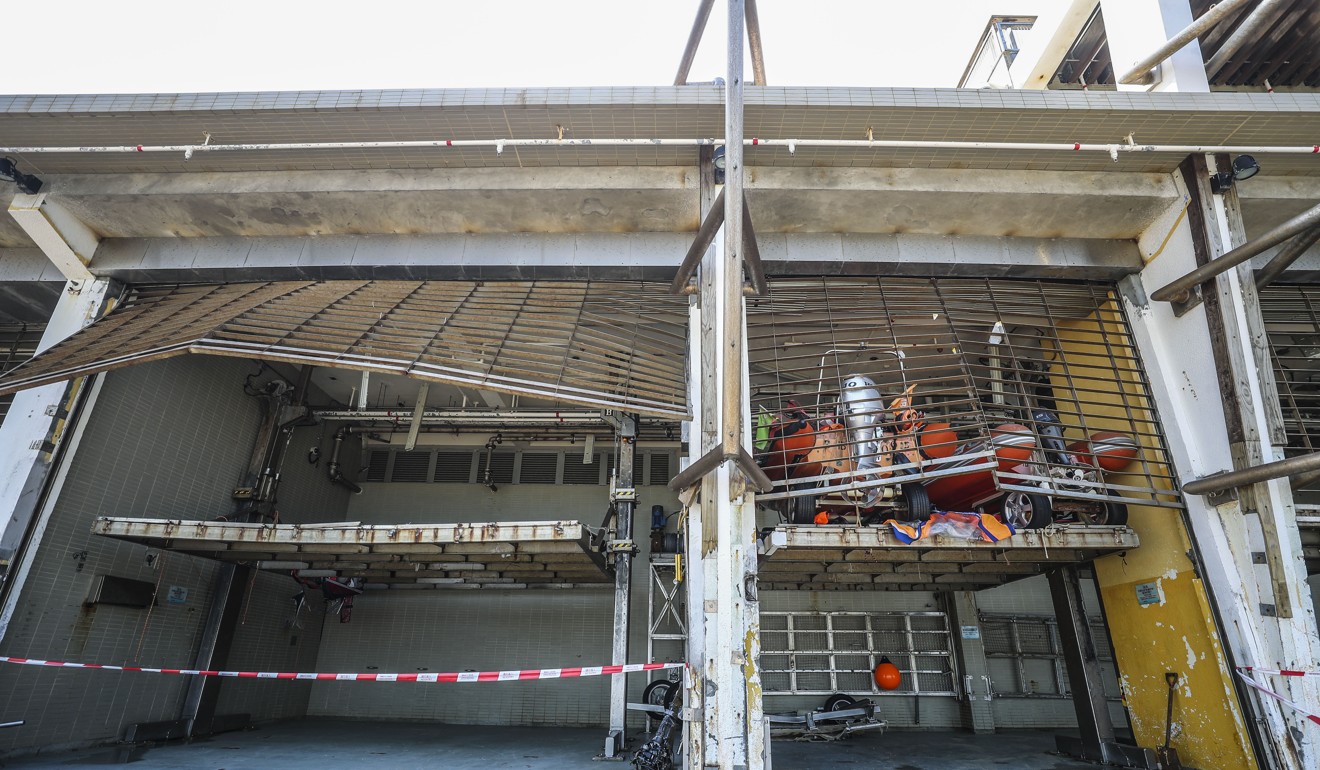 Group founder Lisa Christensen said: "Typhoon Mangkhut has gone, but its damage remains."
To complicate matters, access to many non-gazetted beaches has been hindered by storm damage, thus slowing clean-up efforts.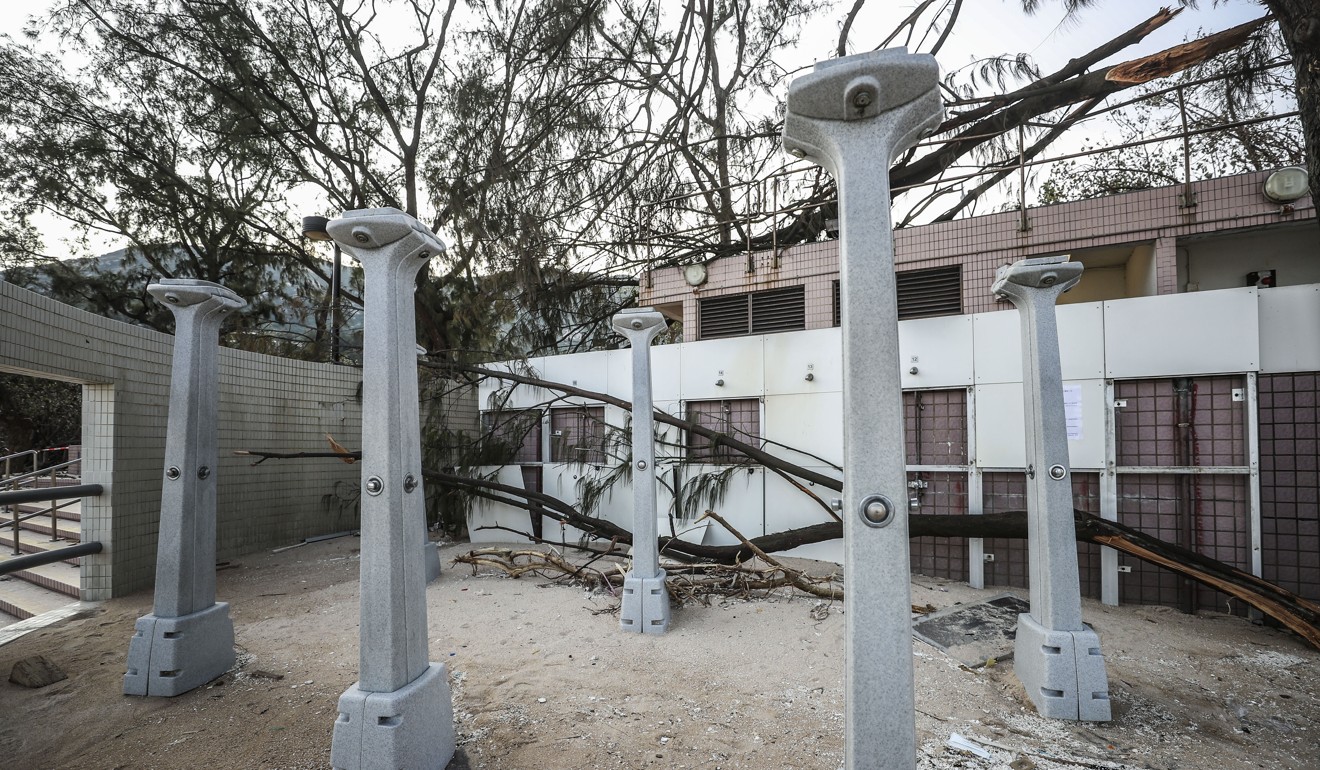 Public beaches stayed closed on Sunday and would remain so until clean-up and repair works were completed, the Leisure and Cultural Services Department said.
The Environmental Protection Department added the city had seen about 30 to 40 per cent more waste after the typhoon.
Meanwhile, the Food and Environmental Hygiene Department was collecting about 1,000 tonnes of rubbish per day through Thursday on some 1,700 truck loads.
"The department will closely monitor the situation, keep close contact with other departments concerned and allocate extra resources as required so as to complete the clean-up work as soon as possible," a spokesman said.
This article appeared in the South China Morning Post print edition as: City still picking up pieces a week after super storm