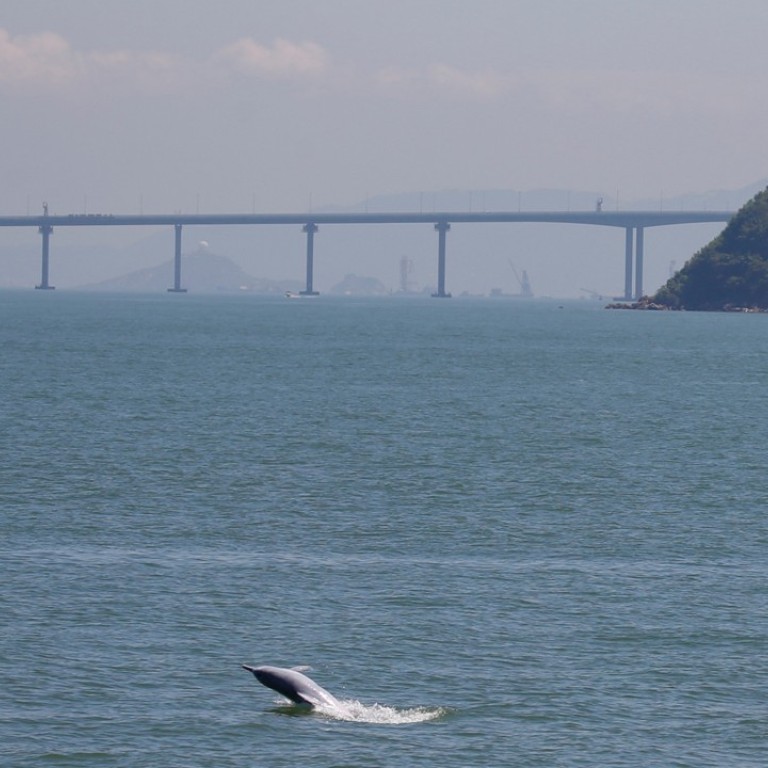 Hong Kong activist groups decry worker deaths and drop in dolphin population caused by construction of mega bridge
A total of 20 workers were killed and more than 500 injured during construction of the Hong Kong-Zhuhai-Macau Bridge
Dolphin numbers around the structure fell by over 40 per cent despite measures to mitigate effects of construction
Labour rights and conservation activists highlighted the deaths of workers and the destruction of dolphin habitats in construction of the Hong Kong-Zhuhai-Macau Bridge as the opening ceremony for the mega infrastructure link
took place on Tuesday morning
.
Conservationists also called for a review of Hong Kong's environmental assessment system, saying loopholes meant mitigation measures had been ineffective in halting the drop in the number of Chinese white dolphins in the area.
Construction of the bridge, which cost Hong Kong about HK$120 billion (US$15.3 billion), began in 2009. Building on the Hong Kong end started in 2011.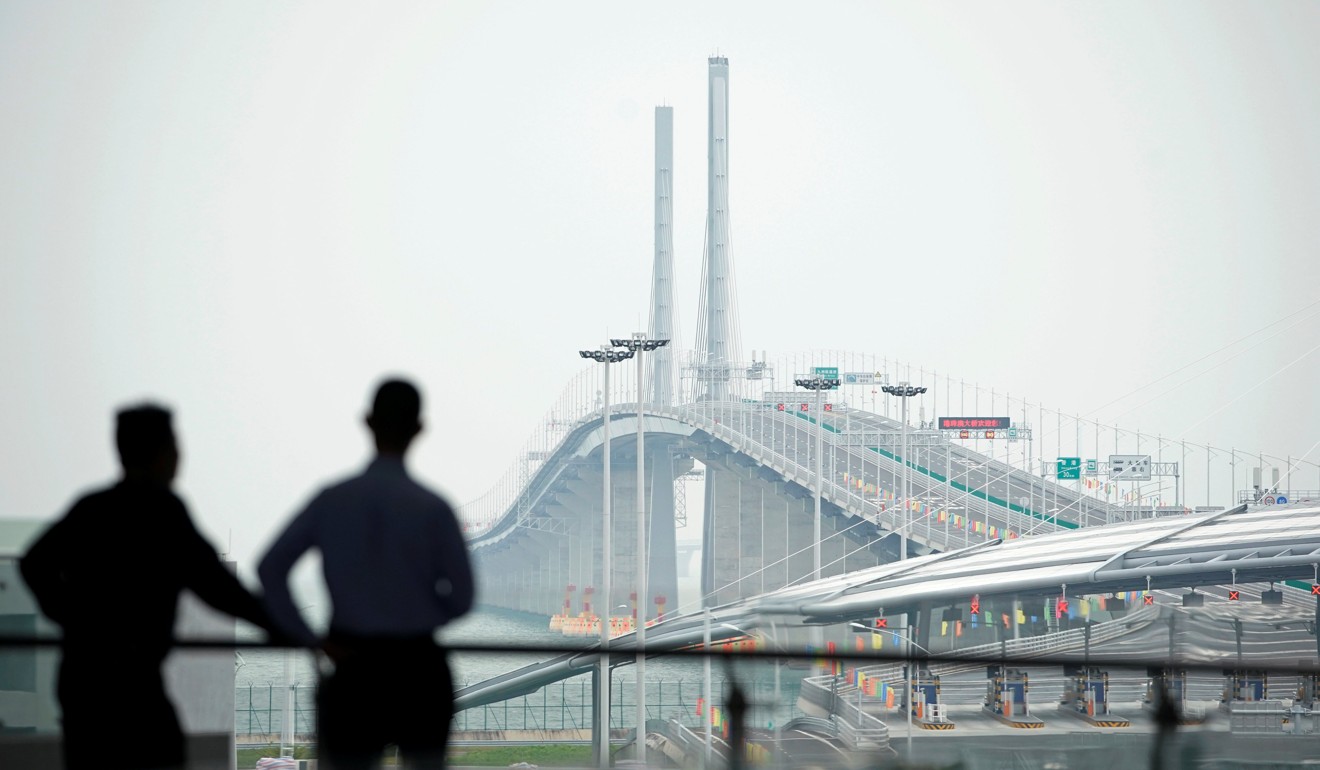 Chan Kam-hong, chief executive of the Association for the Rights of Industrial Accident Victims, said on RTHK on Tuesday morning that the 55km bridge had cost 11 workers their lives on the Hong Kong section, and nine on the mainland part. But he said the Hong Kong government had told him two of those deaths on the local section were not considered industrial accidents related to construction of the bridge.
Chan said shortcomings in safety measures taken by the project contractors were "completely outrageous".
"Some workers died after falling into the sea … It was later revealed that life jackets provided by the contractors were substandard," Chan said.
Penalties for such negligence were not enough of a deterrent, he added.
Chan said the law stipulated possible imprisonment and fines of up to HK$500,000 for such infractions, but in reality, the heaviest punishment liable contractors faced was a fine of about HK$80,000.
"I hope everyone will remember that during construction, 20 workers were unfortunately sacrificed and more than 500 workers were injured," Chan said.
He hoped the government would set up a memorial to commemorate those who died.
Construction of the bridge also destroyed the habitat of Chinese white dolphins, according to environmental activists.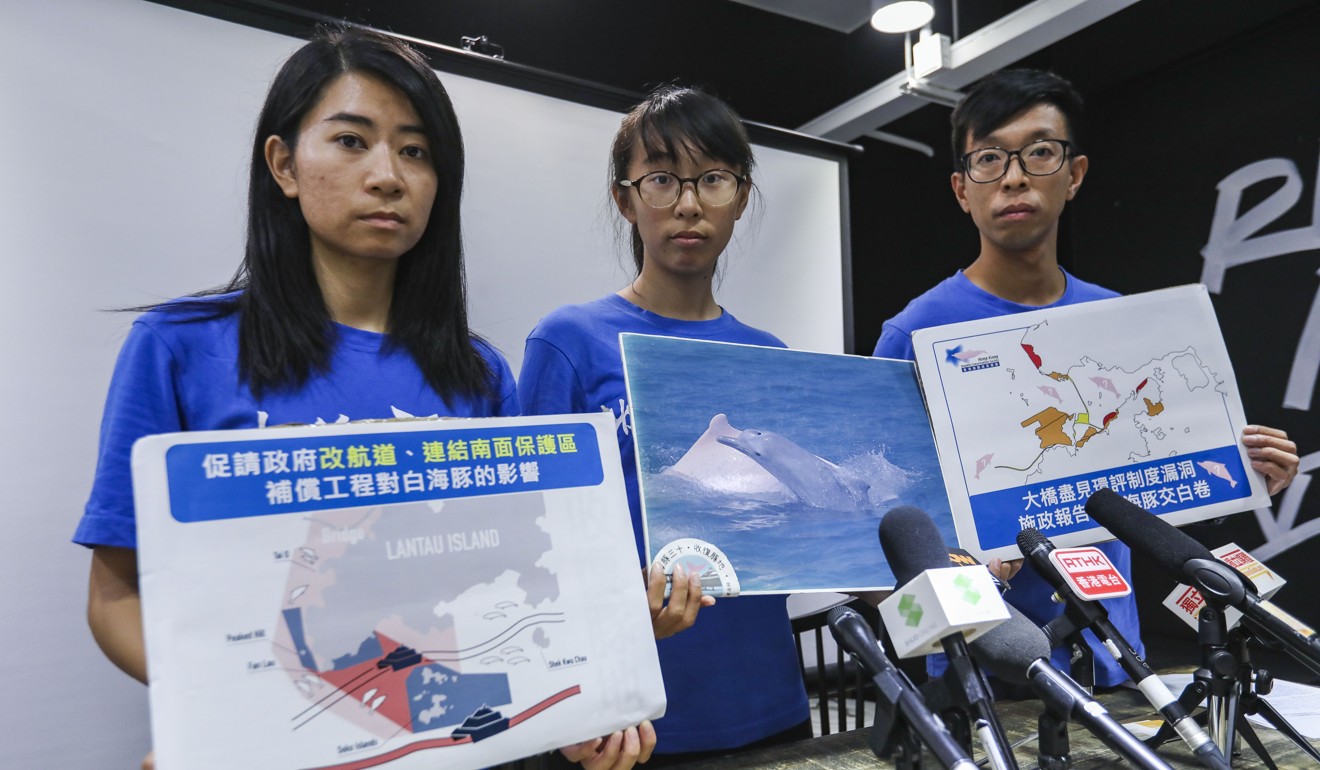 Taison Chang Ka-tai, chairman of the Hong Kong Dolphin Conservation Society, said on the same radio programme that the dolphin population in Hong Kong waters had fallen by more than 40 per cent, from 80 to 47, in the past six years.
He said that while contractors had put in place mitigating measures, such as deploying equipment to minimise underwater noise, not enough had been done to ensure they were effective.
"Those measures had to be done under monitoring. If they were found to have not achieved the expected results, and [dolphin numbers] fell below a certain threshold, they should have done further mitigation work to maintain environmental factors or keep dolphin numbers at an acceptable level," Chang said.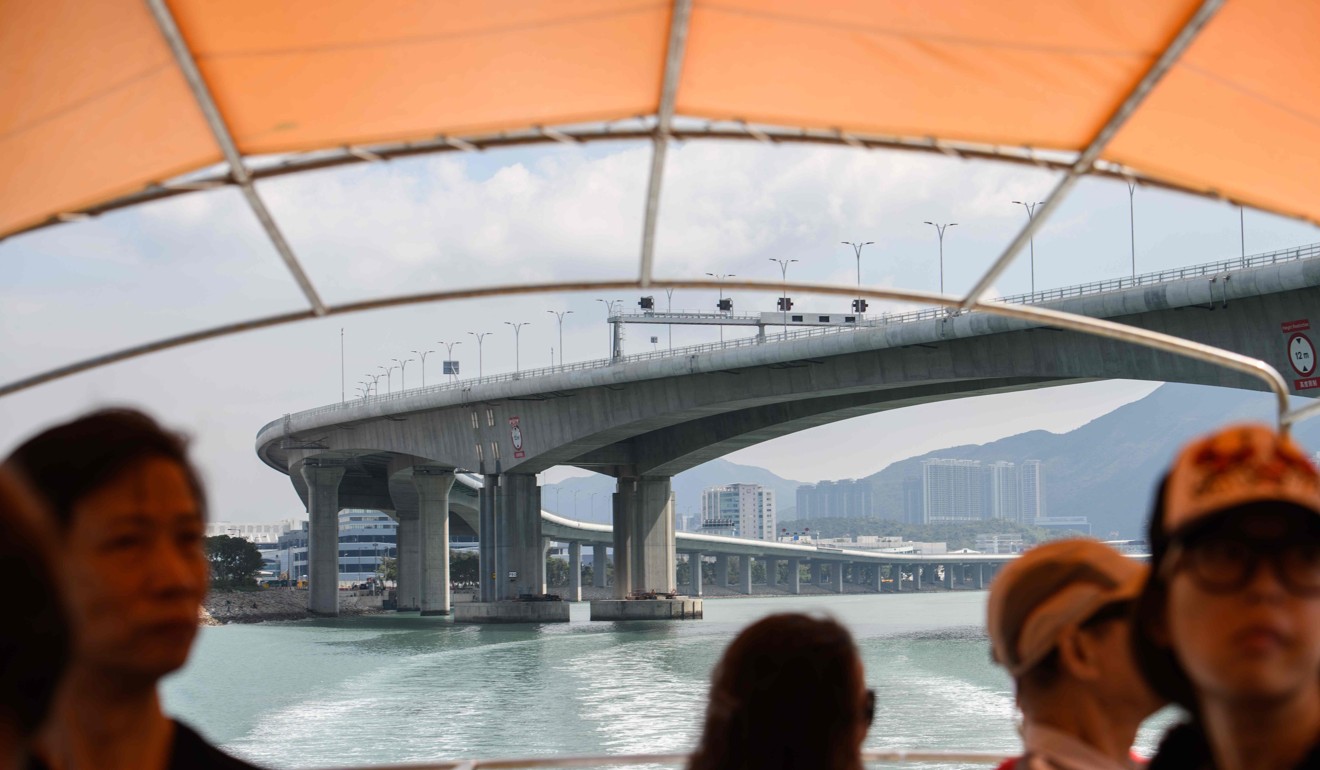 "But we found that when those mitigation measures were ineffective, no remedy was taken to keep the drop in dolphin numbers within an acceptable area," said Chang, describing this as a loophole in the city's environment assessment system.
With the dolphin population north of Lantau Island dropping to almost zero over the last six years, Chang said such "dramatic change" meant the government and contractors could not deny the relationship between the bridge project and the decrease.
Chang also said extra steps should be added to the current assessment system to review mitigation measures taken by project contractors and to notify them as to whether those measures were effective.
Michael Lau Wai-neng, a member of the government's Advisory Council on the Environment, said the current assessment system had been in place for around 20 years.
In the past, no work has been done to review whether mitigation measures carried out by contractors were effective enough.
He said the Environmental Protection Department should study past experiences to see how the current system might be improved and problem areas identified.