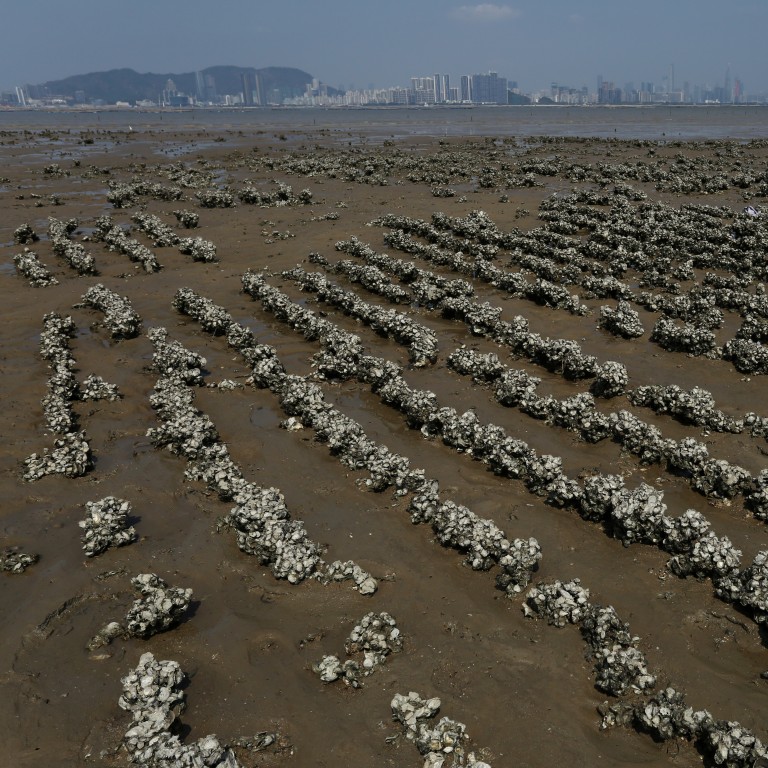 Hong Kong oysters served up as natural defence against flooding caused by climate change
Project hails the shellfish reefs as nature's solution to coastline impact of climate change
Conservationists say the oysters act as a barrier to slow storm surges and protect communities from rising sea levels
As the tide rolls out in Deep Bay, neat rows of grey, clustered oysters are revealed, stretching a kilometre across the mudflats along the coast of Pak Nai in the New Territories.
Environmentalists believe the bunches of shellfish could play a key role in protecting Hong Kong's coastlines from the effects of
climate change
, including the rise in sea levels and increasingly damaging flooding brought by extreme storms.
"We think the oyster reefs are one of the solutions to climate change," said Joe Cheung Ho-yi, conservation education manager of The Nature Conservancy (TNC), an international non-governmental organisation that is working in Hong Kong.
The reefs, which can rise up to three metres, can act as a first barrier to slow storm surges and minimise damage to coastal communities, she said.
The shellfish at Pak Nai were first cultivated by farmers hundreds of years ago. TNC is embarking on a project to restore the reefs and Hong Kong's 700-year-old oyster farming tradition.
It hopes it can reintroduce millions of oysters at Lau Fau Shan and Yung Shue O in Sai Kung in the next five to 10 years, after monitoring and calculating the capacity of those areas.
Cheung said that globally, 80 per cent of oyster reefs have been depleted due to human activity, with entire reefs dug up for use as fertiliser and to build homes.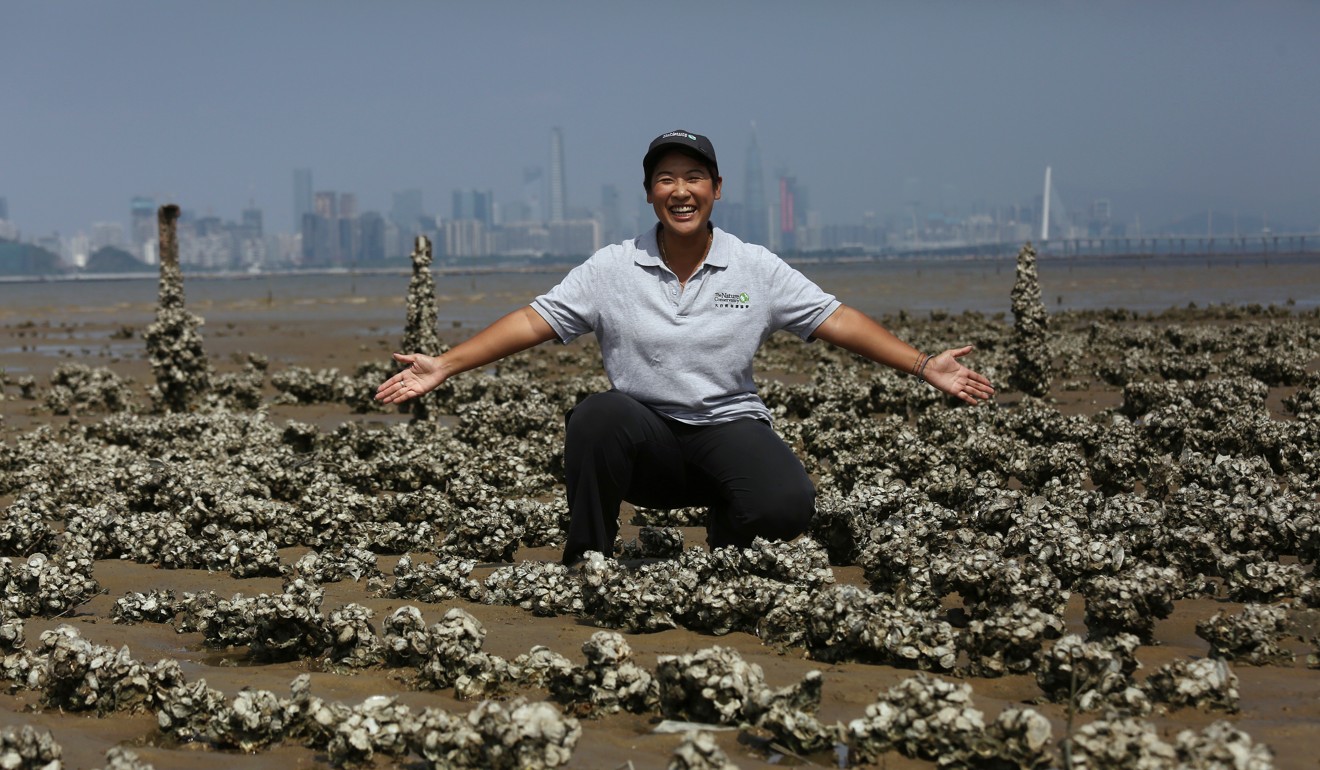 TNC was founded 68 years ago in the United States and now has 72 branches globally, including 19 in the Asia-Pacific region. It has oyster reef restoration projects in 150 other locations worldwide.
New findings by US-based climate science non-profit Climate Central indicate that
rising sea levels
brought on by climate change could affect 850,000 people in Hong Kong in areas that could be under water by the end of the century.
Annual flooding could affect 1.3 million people in Hong Kong even with a moderate rise in sea levels, said the lead author of the study, US-based computational scientist Scott Kulp, Climate Central's senior developer.
"There's a silver lining," Kulp said. "We found that globally, 110 million people are already living below the high-tide line, which suggests we already have coastal defences in place protecting people. But those defences will have to be maintained and improved as sea-levels rise."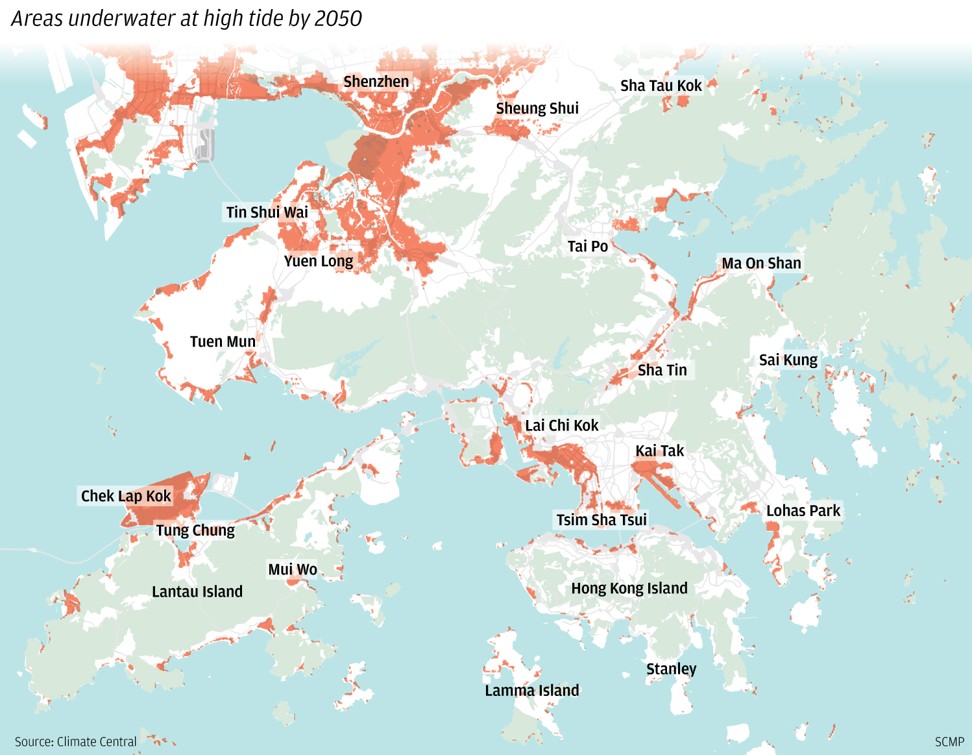 Founded in 2008, Climate Central comprises teams of journalists and scientists, including researchers on climate statistics and rising sea levels.
TNC's oyster reef restoration project could be a way to strengthen Hong Kong's defences, particularly along the northeast coast of the New Territories, where Climate Central forecasts annual flooding by 2100.
Boze Hancock, TNC's senior marine habitat restoration scientist, said the impact of rising sea levels is usually felt most acutely when combined with extreme events such as typhoons, hurricanes or tsunami, resulting in more destructive flooding and damage to communities.
"And that's where marine habitats play a part," he said.
Oyster reefs increase friction between waves and the sea floor, slowing down storm surges and creating a natural sea wall, he explained. The Netherlands has already been experimenting with a combination of oyster reefs and dykes, using the reefs to reduce damage to the man-made dykes.
While natural oyster reefs can take more than 1,000 years to form, the process can be accelerated by creating a concrete base for oyster larvae to grow on.
TNC's pilot projects in Lau Fau Shan and Yung Shue O use oyster shells collected by volunteers from the mudflats in Ap Chai Wan. The shells are sun-dried before being put back into the water to form the base.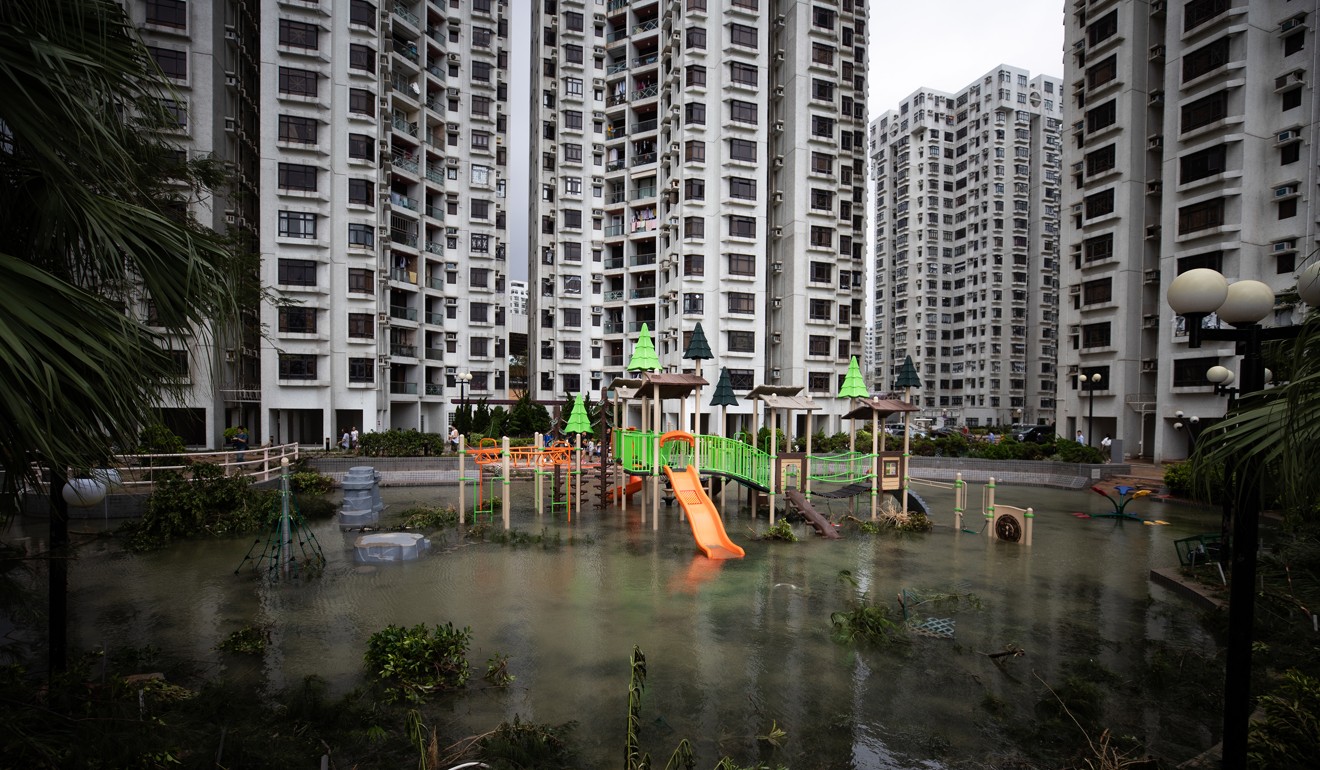 As the oysters grow, they also act as filters to clean polluted water — a single oyster can filter up to 200 litres of water a day in summer temperatures — and improve the biodiversity of the mudflats, providing shelter for young crabs and fish during low tide.
Cheung said: "Hong Kong is lucky in that it still has natural recruitment of oyster larvae, which are washed down from the Pearl River. That means we don't need to grow our own or import them."
TNC hopes the data collected from the monitoring project will persuade the government to provide funding to expand the project.
In a reply to the Post's enquiry, the Civil Engineering and Development Department said it had engaged consultants to study coastal hazards under climate change across the city since April.
"Based on the outcomes of the study, the government will consider enhancement measures, which may include man-made or natural options whichever are suitable, and management measures, to strengthen our city resilience," the department said.
It is also considering eco-shoreline features such as deploying oyster baskets at suitable man-made structures to help enhance biodiversity and restore near-shore marine ecology.
Cheung said: "People tend to come up with complex engineering solutions to deal with problems. But we want to return to nature and tradition. Nature always has a solution."
This article appeared in the South China Morning Post print edition as: Oysters seen as defence against flooding