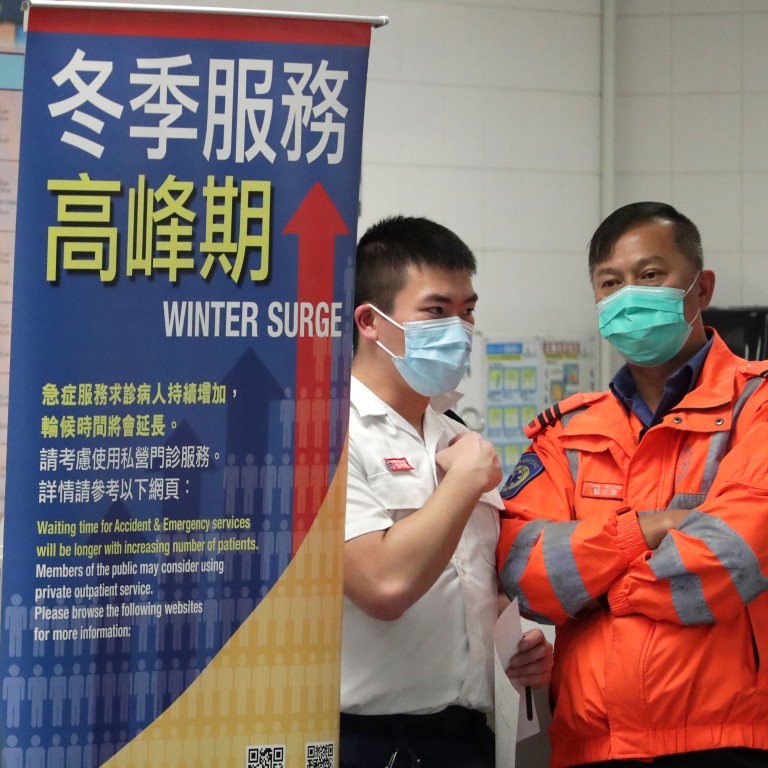 Wuhan pneumonia: Hong Kong widens net for suspected cases but medical workers fear already overstretched hospitals will suffer
Under new criteria, people will be reported if they have symptoms and either visited a mainland hospital or had close contact with virus-afflicted patient
Public hospitals are already full as the city entered the peak flu season last week
The strain on Hong Kong's public hospitals, already overstretched by the peak flu season, could worsen after health authorities widened the net for suspected cases linked to the Wuhan pneumonia outbreak, medical workers fear.
A representative of a health care workers' union said increasing the turnover rate for hospital beds could be among the solutions to tackle the problem, while a medical expert urged local authorities to step up surveillance by introducing health declaration forms for passengers arriving on flights from Wuhan, which announced its second death of the outbreak on Thursday night.
At least 41 people have been struck down in Wuhan, in central China's Hubei province, with pneumonia caused by a new coronavirus, in an outbreak linked to a seafood market in the city.
Japan on Thursday confirmed its first case of the disease and Thailand its second one on Friday.
Hong Kong's Centre for Health Protection announced on Thursday that criteria to report a suspected case of the coronavirus would be expanded.
Initially, suspected cases were identified as those who had either fever and respiratory infection or pneumonia, and had been to Wuhan within 14 days of falling ill.
Under the latest arrangements, which still include the initial criteria, people would be reported if they had those symptoms and had either visited a mainland hospital or had close contact with a patient confirmed to have the virus.
Dr Arisina Ma Chung-yee, president of the Public Doctors' Association, said: "If those who visited a hospital on the mainland will also be considered, it is likely the amount of suspected cases will much increase."
She said that unlike in Hong Kong where patients with common ailments such as the cold or flu would go to a clinic, those seeking help on the mainland were more likely to visit a hospital's outpatient department and be given intravenous fluids for even minor issues.
Hong Kong's public hospitals were already full as the city entered the peak flu season last week. Statistics on Thursday showed the overall occupancy rate for beds was 105 per cent.
Between noon on Thursday and noon on Friday, three more suspected cases of the Wuhan pneumonia were reported to Hong Kong health authorities and isolated in public hospitals, bringing the total to 81 since December 31. Among them, 75 have already been discharged.
Lau Hoi-man, of the Hong Kong Allied Health Professionals and Nurses Association, echoed the concerns over seeing more patients under the expanded criteria.
He said a possible way to handle the extra number of patients was to speed up bed turnover rates.
"Perhaps patients who have not yet recovered will need to be discharged or sent to a rehabilitation hospital … so beds can be freed up for new patients," Lau said.
Ma said it would be difficult to use holiday camps for quarantine – as occurred during the severe acute respiratory syndrome (Sars) outbreak in 2003 – as suspected cases this time had fever and respiratory symptoms that required medical care.
Dr Ho Pak-leung from the University of Hong Kong said that the authorities had no choice but to expand the screening net, given the disease's development.
"There is a need to strengthen screening and thus the net has to be bigger," he said. "There could be more than one source of infection."
He said there were reasons to believe limited human-to-human transmission of the disease had occurred, given the present spreading pattern.
He urged the Hong Kong government to introduce health declaration forms for passengers on flights from Wuhan to identify patients who were sick but not feverish.
Chinese University's Professor David Hui Shu-cheong said the move to include mainland hospitals among the reporting criteria could reflect a bigger concern.
"They are worried there might be confirmed cases in other mainland cities in the future," Hui said.
A Department of Health spokesman said expansion of the reporting criteria was "a prudent approach". The Hospital Authority said it would "dovetail with the widened reporting criteria".
Meanwhile, Thailand confirmed its second infected case of the new coronavirus on Friday, involving a 74-year-old Chinese woman who arrived in the country on Monday. A source said the woman did not visit any markets or have contact with wild animals in Wuhan.
The second fatality in Wuhan was a 69-year-old man who had a heart muscle infection and tuberculosis. He died early on Wednesday but his death was only announced almost two days later.
Additional reporting by Jitsiree Thongnoi
This article appeared in the South China Morning Post print edition as: Extra pressure on hospitals as net for outbreak widened