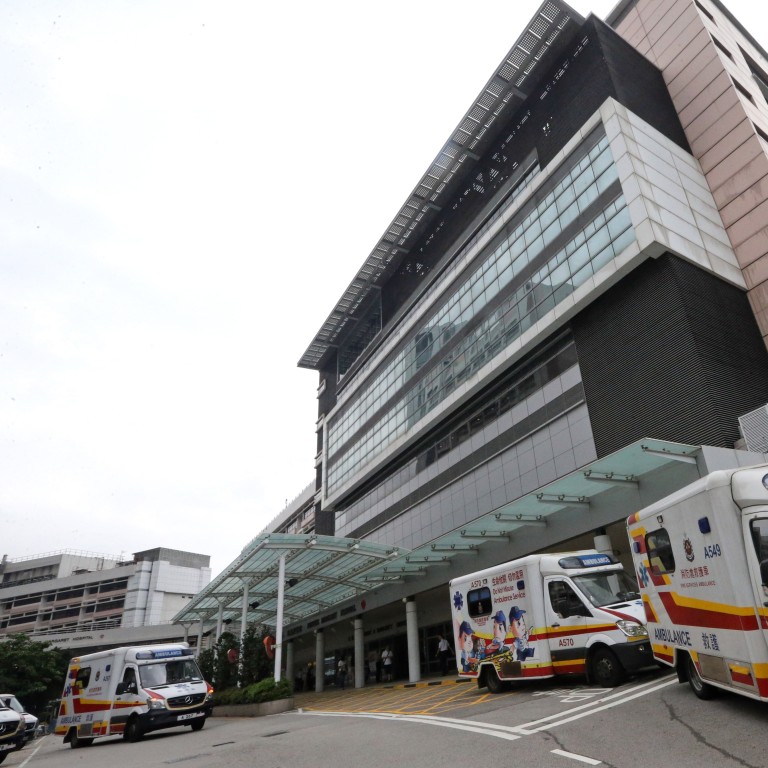 China coronavirus: Hong Kong will ban anyone who has been to Hubei province from entering city, in response to mounting calls to tighten border checks
The denial of entry will be for anyone from the province and anyone who has visited in the past 14 days, except for residents of city
Macau further ramps up measures, announcing that about 1,100 Hubei visitors need to return to the mainland or they will be placed in isolation
Hong Kong will ban from midnight the entry of all residents of Hubei and anyone who had visited there in the last 14 days, except for those from the city, the government decided late on Sunday evening in a bid to contain the spread of the coronavirus first detected in the province's capital, Wuhan.
The move came amid mounting calls for authorities to tighten or shut the border with the mainland as the city reported three more confirmed cases of the infection, raising the total to eight so far.
Macau, meanwhile, further ramped up its measures against the outbreak, announcing that about 1,100 Hubei visitors in the city needed to return to the mainland or be placed in isolation.
The new patients included a Hong Kong resident who was allowed to leave a public hospital after seeing doctors for a dog bite and despite telling staff he had been to Wuhan, the epicentre of the outbreak.
The other new cases involved the husband of a 62-year-old mainland woman who was the third confirmed patient in the city and a Hong Kong woman who had recently visited a Wuhan hospital.
Confirmation of the infections came as medical unions piled more pressure on the government to close the border with the mainland, a day after Hong Kong Chief Executive Carrie Lam Cheng Yuet-ngor
declared the outbreak an emergency
and rolled out a series of measures to prevent further infection.
Lam had resisted calls on other border control measures, beyond requiring travellers from across the border to fill up health declaration forms and rejected criticism that the city had been slow to act. The city's sixth case, a 47-year-old Hongkonger, had been in Wuchang, in Wuhan, from January 16 to 23. He worked in accounts at a wet market, but not the one where the virus originated, Dr Chuang Shuk-kwan, head of the communicable diseases branch of the Centre for Health Protection, said in an afternoon briefing.
The patient had a fever, which later subsided, last Monday night and went to a hospital in Wuhan. He returned to Hong Kong on Thursday by high-speed rail via Shenzhen.
The man was bitten by a dog in Wuhan in December and received rabies shots but went to Ruttonjee Hospital in Wan Chai for further treatment on his bite on returning to Hong Kong, Chuang said.
According to Chuang, the man had told staff he had been to Wuhan – where the new virus has killed 56 people – although it was unclear if he had said he worked at a market. As he showed no fever symptoms, he was let go after staff told him there was no need for further vaccinations, Chuang said.
Under the current reporting criteria, only patients showing symptoms have to be reported to the authorities, even if they have visited Hubei, of which Wuhan is the capital, or a hospital on the mainland.
After coming down with a fever on Friday, the patient returned to the accident and emergency ward at Ruttonjee Hospital on Saturday. His first test for the coronavirus was confirmed positive on Sunday.
"He wore a mask on his first visit to hospital and we are liaising with the hospital to see if any medical staff need to be quarantined," Chuang said, adding that the man's wife and daughter would be sent for isolation.
Health authorities were tracking train passengers who sat near him.
The man in the seventh case had travelled with his wife from Wuhan to Shenzhen, and then on to Hong Kong by high-speed rail on January 19 to visit their daughter.
The woman developed fever and cough on January 20. She sought treatment at Tuen Mun Hospital on January 23 and was admitted for isolation on January 24. Tests confirmed the infection on January 25.
The man, along with the couple's daughter and son-in-law, was transferred to Lady MacLehose Holiday Village for quarantine and later showed symptoms.
The eighth case, a Hong Kong resident who lives in Fanling, had visited relatives in Wuhan from January 9 to 18. She had close contact at a Wuhan hospital with a confirmed case.
She was stopped at the border at Lo Wu on January 25 and referred to North District Hospital and developed a fever with a cough and sore throat.
Earlier, Dr Chung Kin-lai, director of quality and safety of the Hospital Authority, said the first six patients were in stable condition and 107 people had been put under quarantine in hospitals as of Sunday, with a total of 382 suspected cases reported.
As the number of cases grew steadily over the course of Sunday, residents at Fai Ming housing estate in Fanling, along with masked protesters, blocked roads with rubbish bins and threw petrol bombs at the lobbies of buildings.
They were protesting against a plan by the government to use unoccupied buildings in the estate as a quarantine site or dormitory for medical staff fighting the epidemic.
Riot police were called in and several residents ended up being pepper sprayed as officers sought to remove the roadblocks.
The second day of the Lunar New Year was also marked by an intensifying debate within the medical community and politicians about whether to close the border with the mainland to minimise the risk of people with the virus travelling into the city.
Critics also said the government was not enforcing stringent enough checks at border control points. Amid threats from a medical staff union that public doctors would go on strike if the government did not act more decisively in caring for their well-being – including not closing the border – the Hospital Authority's Chung said he hoped colleagues would act with caution.
"I don't want to see that happening as I know the impact could be enormous," Chung said. "I hope they can give it thorough thought, and we will be open-minded in communicating with colleagues."
He said some demands were beyond the authority's scope but officials would help pass on workers' demands to the government.
Chung said there were enough masks and protective gear for all hospitals and the authorities had been arranging hostels and hotel rooms for staff who wished to be isolated from their families.
In a related development, a source at Queen Mary Hospital told the Post that five nurses had taken leave together on Sunday, in a protest against delays in containing the disease and in an attempt turn their respiratory ward into an isolation ward.
In response, the hospital said four nurses from the ward felt unwell and sought medical help at accident and emergency and were given two days of sick leave. It denied online rumours that the nurses were from an isolation ward and said services were not affected. 
Officials at the briefing also said a third campsite, Po Leung Kuk Jockey Club Pak Tam Chung Holiday Camp in Sai Kung, would be used for quarantine purposes.
Medical workers' representatives have called on the government to tighten border controls.
Dr Arisina Ma Chung-yee, president of the Hong Kong Public Doctors' Association, accused the government of acting too slowly.
"If we still only focus on cutting ties with Wuhan, our prevention work is doomed to fail. The largest threats to Hong Kong are from [neighbouring] Guangdong province and Shenzhen," she told a radio programme forum.
She called on the government to launch crowd control measures – if a complete shutdown was impractical – for example, by reducing the frequency of trains and buses across the border and forcing travellers from Wuhan to undergo mandatory monitor for 14 days.
Hong Kong's health minister Professor Sophia Chan Siu-chee said on Sunday the government was looking at whether to increase border controls, including shortening operating hours at checkpoints.
However, she said closing the border to the mainland entirely was impractical.
"[The government] would definitely consider stepping up border control measures, but [we would also have to look into] which option would be the best at a certain time," the secretary for food and health told a television programme.
Chan added the administration would discuss the matter with mainland authorities before enforcing new border measures. Meanwhile, Macau confirmed three new cases of the Wuhan virus on Sunday, raising its total to five.
Officials from Macau said one of those infected was a 58-year-old Wuhan resident, who arrived in the casino hub via Hong Kong on a ferry.
The woman, who boarded a ferry from Hong Kong to Macau on Wednesday, was found to have a low fever at a hospital the following day, according to the Macau government.
Hong Kong's health officials said the woman tested negative in Macau for the coronavirus initially, before having a positive reading at another hospital in the same city.
Health chief Chan said the Hong Kong government would immediately start tracing those who might have come into contact with the woman, but did not say whether the city's administration had received prior reports from Macau authorities.
Additional reporting by Chan Ho-him
This article appeared in the South China Morning Post print edition as: HK bans entry from Hubei in bid to contain virus